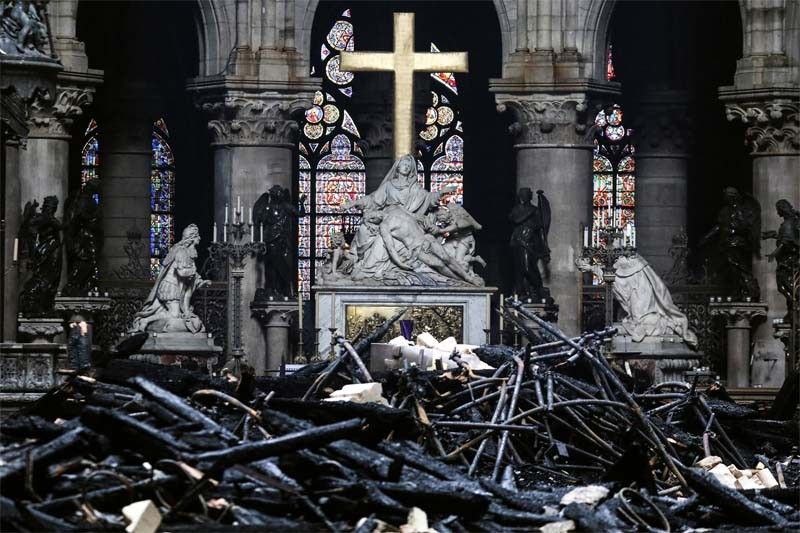 A picture taken on April 16, 2019 shows the altar surrounded by charred debris inside the Notre-Dame Cathedral in Paris in the aftermath of a fire that devastated the cathedral. French investigators probing the devastating blaze at Notre-Dame Cathedral on April 15, 2019, questioned workers who were renovating the monument on April 16, as hundreds of millions of euros were pledged to restore the historic masterpiece. As firefighters put out the last smouldering embers, a host of French billionaires and companies stepped forward with offers of cash worth around 600 million euros ($680 million) to remake the iconic structure.
AFP/Ludovic Marin
WATCH: The Vatican responds to the devastating Notre-Dame fire
(Agence France-Presse) - April 17, 2019 - 7:15pm
VATICAN, Holy See — Pope Francis stands with France and is praying for Roman Catholics and Parisians alike after a devastating fire raged through the iconic Notre-Dame cathedral in the heart of the city," the Vatican said Tuesday.

"The pope is close to France, he is praying for French Catholics and for the people of Paris in face of the terrible fire which has ravaged Notre-Dame cathedral," the head of the Vatican press office Alessandro Gisotti wrote on Twitter.


"He offers his prayers to those trying to face up to this dramatic situation," he added.