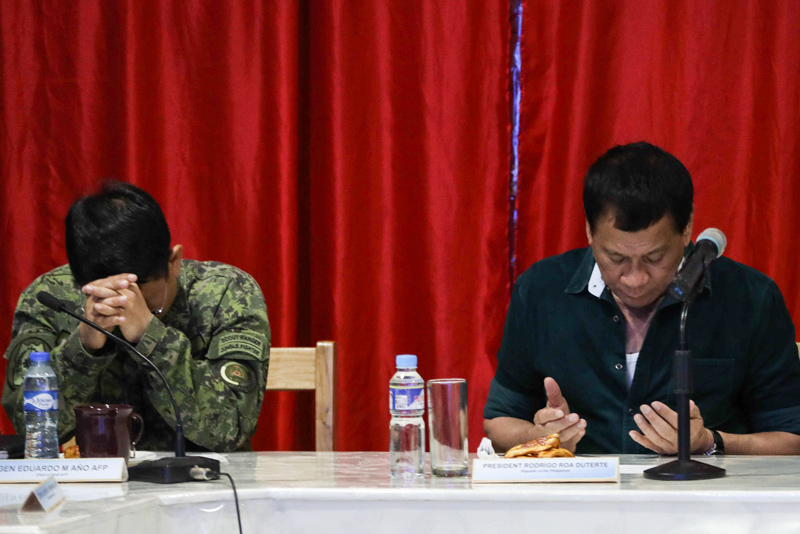 President Rodrigo Duterte attends a situation briefing at the 2nd Mechanized Infantry Brigade headquarters in Iligan City on May 26, 2017. PPD
For Duterte, this is how long martial law will last
(philstar.com) - May 30, 2017 - 3:59am
For how long does President Rodrigo Duterte plan to impose martial law over the whole Mindanao? He has made several, seemingly contradicting statements about it.
Duterte vowed to solve "all the problems that ail Mindanao" during the length of martial law there. But doubts have also been raised on whether state actors can quash the ISIS-inspired Maute group that marched into Marawi or the ISIS threat within 60 days.
Extremism and its product, terrorism, are complex problems dealt by nations around the world. It requires an interdisciplinary, holistic approach by government and the civil sectors outside military might.
The Constitution, despite granting presidents the prerogative to declare martial law in cases of "invasion or rebellion," only allows military rule to be upheld for a period "not exceeding sixty days."
FULL COVERAGE: Martial law in Mindanao
When due "invasion or rebellion" when public safety requires it, Congress can extend martial law beyond sixty days upon the initiative of the president. — Video by Efigenio Toledo IV