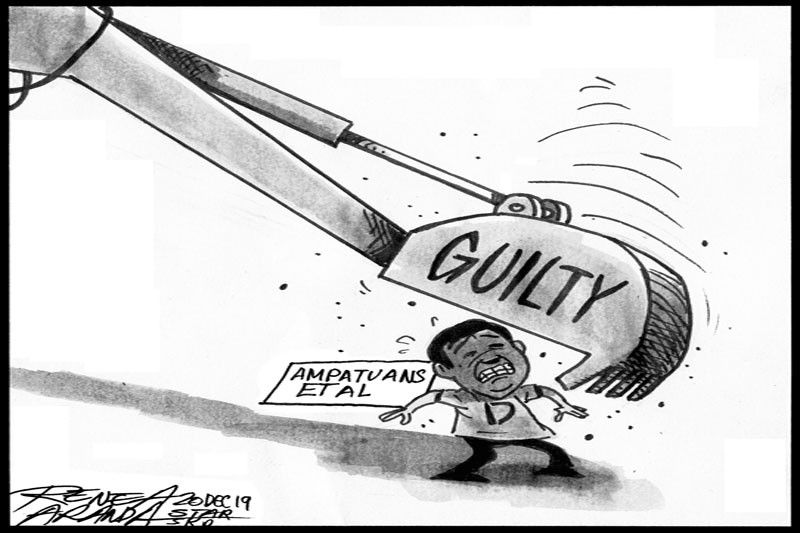 EDITORIAL- Justice at last, but…
(The Philippine Star) - December 20, 2019 - 12:00am
It took 10 years, but when the verdict was finally handed down yesterday, relatives of the victims of the Maguindanao massacre cheered. There was applause in the courtroom annex of Quezon City Regional Trial Court Branch 221 Judge Jocelyn Solis Reyes as the principal perpetrators of the massacre were declared guilty and sentenced to life imprisonment.
And yet the celebration was muted. Only 28 defendants were found guilty while 56 were cleared. The conviction was for 57 murders, after Solis-Reyes declared that there was no solid proof of the death of the 58th victim, journalist Reynaldo Momay.
Amid the rejoicing are the disappointments and concerns about what might happen next. With 56 defendants cleared, including two members of the Ampatuan clan, there are valid concerns raised by the victims' families that violence remains a serious threat in the clan's turf. Most of the guns believed owned by the Ampatuans and their private army remain unaccounted for. The clan is believed to continue enjoying control over substantial funds and other assets. Harassment of witnesses, victims' relatives and prosecution lawyers are possible, and so are more killings. At least three witnesses were killed in the course of the trial.
There are 80 suspects still to be brought to justice, and an appeals process that could take another decade to complete. There is the equally complicated task of going after the assets of the Ampatuan clan.
There are other criminal cases – about 200 of them – still being pursued, including complaints for corruption and obstruction of justice, as well as cases related to the murders and disappearances of witnesses. A victory has been achieved, but the pursuit of justice is far from over.