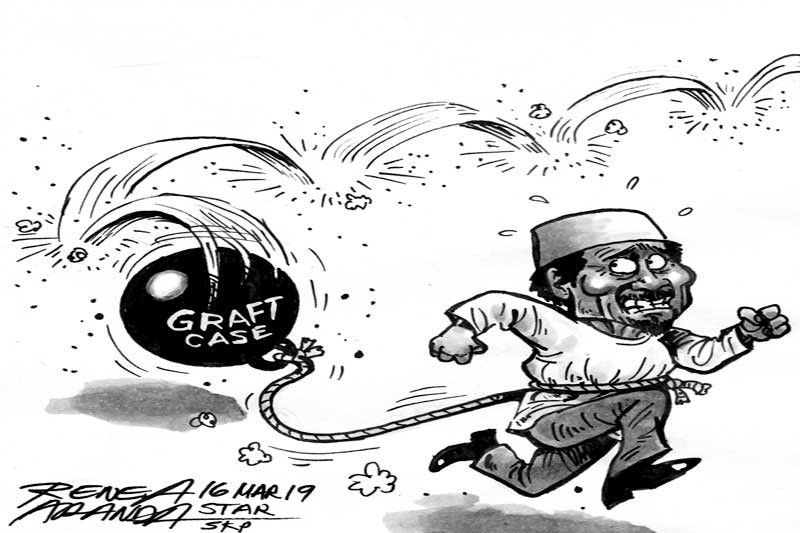 (The Philippine Star) - March 16, 2019 - 12:00am
The procurement of P77.26 million worth of non-existent textbooks and other educational materials was signed way back in December 2000 and July 2001. Nearly two decades later, the graft case for the "ghost" purchase is still crawling along in the Sandiganbayan.
This is the sorry state of the country's criminal justice system. The principal defendant in the case, Nur Misuari, has at least failed to have the complaint dismissed on the basis of "inordinate delay" in his prosecution.
Misuari, founding chairman of the Moro National Liberation Front, is out on bail for the textbook procurement that he approved when he was governor of the Autonomous Region in Muslim Mindanao. In seeking the dismissal of the complaint, he has argued that the deal was "consummated" in 2003 and 2004, when he was no longer ARMM governor and he was detained for rebellion. The Sandiganbayan's Third Division threw out Misuari's appeal on March 8, and ordered him to face trial for two counts of graft and two counts of malversation of public funds through falsification of public documents.
The Office of the Ombudsman filed the complaints in court only in May 2017. It has taken an eternity to indict Misuari. Will it take another two decades before final judgment is rendered in this case? The amount involved is only P77.26 million. No wonder it has taken more than 30 years to convict Imelda Marcos for corruption during her husband's dictatorial regime. And because the ruling is not yet final, the former first lady might never set foot in a prison cell.
Misuari is accused of giving undue advantage to three companies for the ghost procurements, and for falsifying documents to justify the legality of the deal. Whether or not he is found guilty, such practices, unfortunately, are common throughout the government. The best deterrent to corruption is the punishment of the guilty. Thanks to the glacial pace of Philippine justice, however, lessons are never learned, and crooks in government get to enjoy the fruits of corruption.