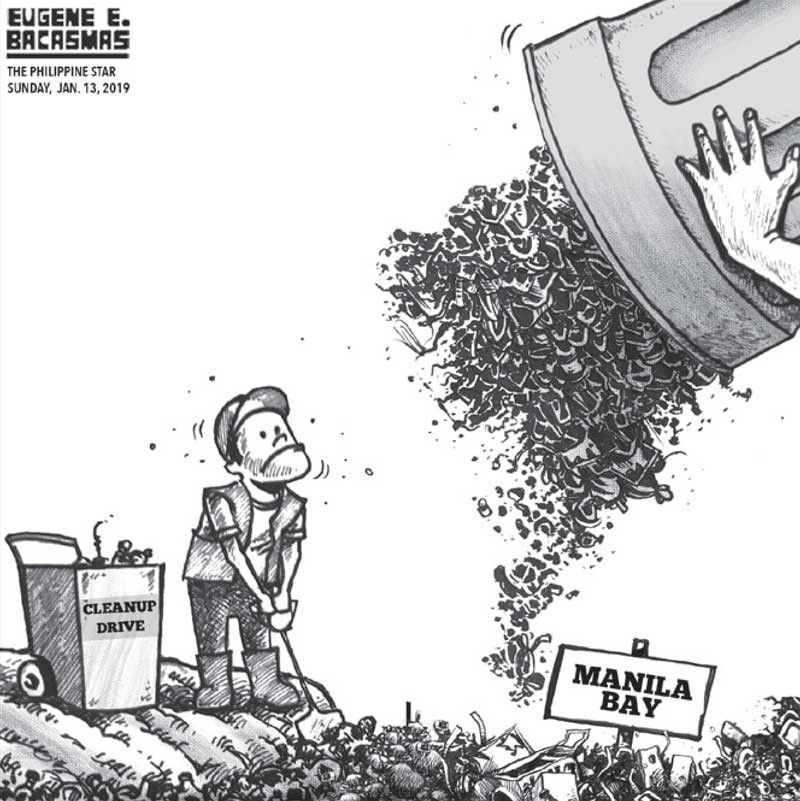 EDITORIAL - Next cleanup: Manila Bay
(The Philippine Star) - January 13, 2019 - 12:00am
It's good to hear the government wanting to clean up Manila Bay. If the heavily polluted Pasig River can be rehabilitated, it shouldn't be impossible to improve the quality of the water in the bay.
This is not Boracay, however, and there must be careful management of expectations. The government is zeroing in on hotels and commercial establishments including casinos by the bay for the cleanup. These establishments can be expected to quickly comply, if they haven't already, since most are connected to water treatment and sewerage systems in Metro Manila.
The bigger challenge is the waste from other sources. Manila Bay is home to the country's busiest international container port and domestic seaport, and there will always be toxic waste from the ships. Around the bay are numerous informal settlements, where people fish for a living, make charcoal and treat the sea as their garbage dump and public sewer. Tons of the garbage wash up along the shores during typhoons.
Environment officials have said the cleanup will include creeks and other waterways in Metro Manila that feed into the Pasig River or directly into the sea.
One upside of the planned cleanup is a possible stop to massive bay reclamation projects approved by local politicians. Artificially shrinking the bay area can aggravate flooding, endanger the livelihoods of marginal fishing communities and further upset the ecological balance around the bay.
Instead of further industrial or commercial development, the protected wetland that has sprung up along the Las Piñas-Parañaque border deserves to be expanded. The mangrove forest has become a bird sanctuary, marine protected area and ecotourism park, helping to mitigate the impact of flooding and storm surges in the area. Some informal settlers can be turned into custodians of ecotourism zones.
Developing a protected wetland around the country's primary seaport is unlikely. The area is congested enough and there are ongoing moves for port expansion. It is possible, however, to improve waste management – both solid and effluent – around the bay.
Even in informal settlements, local government and barangay personnel can mobilize the community for improved garbage management. Those living or working around the bay must be persuaded that it is in their best interest to stop treating the sea as their personal dump.