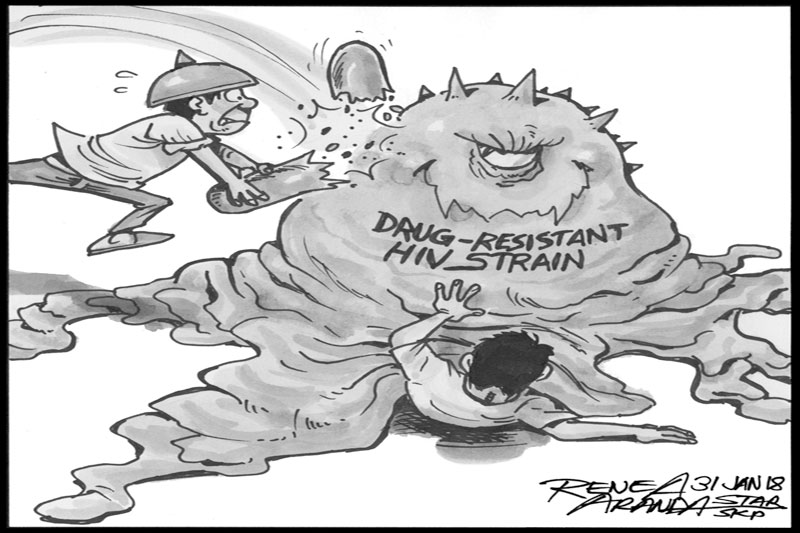 (The Philippine Star) - January 31, 2018 - 12:00am
Here's another reason to take precautions against the AIDS-causing human immunodeficiency virus: health experts warn that a drug-resistant HIV strain is on the rise.
Mutation to resist drugs is a common characteristic of viruses and bacteria, so the emergence of the new HIV strain is not unexpected. This makes safe sex and other precautionary measures all the more important to prevent the spread of HIV. Six months ago the United Nations' health ministry reported that for the past six years, the Philippines has registered the fastest HIV/AIDS infection rate in the Asia-Pacific, with 10,111 new HIV cases recorded in 2017 alone.
There are no signs of a let-up, and the toll keeps growing. From January to November last year, AIDS claimed 428 lives in the Philippines.
Since January 1984 when the Department of Health began keeping a registry of the affliction, 49,733 HIV cases have been recorded in the Philippines, with 4,942 cases developing into full-blown Acquired Immune Deficiency Syndrome and 2,397 deaths. In recent years, the fastest rate of infection has been recorded among men having sex with men, with most of the patients not yet in their 30s.
Health experts have always stressed that HIV can be prevented through the use of condoms and other safe sex practices as well as regular screening for the sexually active. Despite the development of potent drug cocktails against the virus, there is still no guaranteed cure for AIDS. But early diagnosis and treatment can prolong lives.
Other countries such as Thailand have shown that it is possible to reverse a rising tide of HIV cases. Many AIDS victims died at the prime of their lives. With heightened efforts, this tragedy can be eased. Health experts have warned that the Philippines' HIV/AIDS problem has reached epidemic proportions. The country must move quickly to prevent more deaths.