Killings of farmers on the rise under Duterte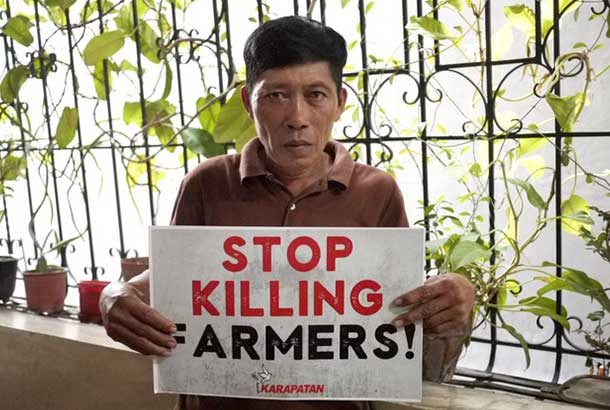 Fifty-three-year-old Rodolfo Tagalog Sr. was harvesting coconuts when he heard and felt the shots.
A bullet almost grazing his right shoulder, he fell instantly from the top of the tree and fractured his left shoulder. He saw soldiers, allegedly from the 2nd Infantry Batallion of the Philippine Army, approaching. He could he not show himself, fearing what would happen if he did. So he hid.
For the next seven days, he crawled around the forest, wounded, and eating nothing but leaves. On the eight day, a boy riding a horse found him and brought him to the village hall of Brgy. San Carlos, Milagros, Masbate.
But the worst was yet to come. He received word that his son and namesake, Rodolfo Tagalog Jr., 22, was killed—by the same team of soldiers who shot at him and whom he hid from for a week.
Last April 15, Rodolfo Jr. was washing his horse by the river when he heard shots. Fearing for his wife and three children, he rushed back home, only to find a group of soldiers already there. He was tied, beaten up, and was dragged some 100 meters away from his house where he was shot five times in the back. His aunt, a witness to the killing, was able to escape.
"I feel pained because my son had no fault, and yet he was killed," Rodolfo Sr. said.
Two other farmers were killed that same day, allegedly by the same group of soldiers. Jerry Cuyos, 22, was shot and killed in his farm while harvesting bananas, while Jocel Rosales, 32, was hacked with the bolo he was carrying and then shot to death.
These Masbate farmers are among the 68 farmers who have been killed in the first year of the Duterte administration, according to the human rights group Karapatan.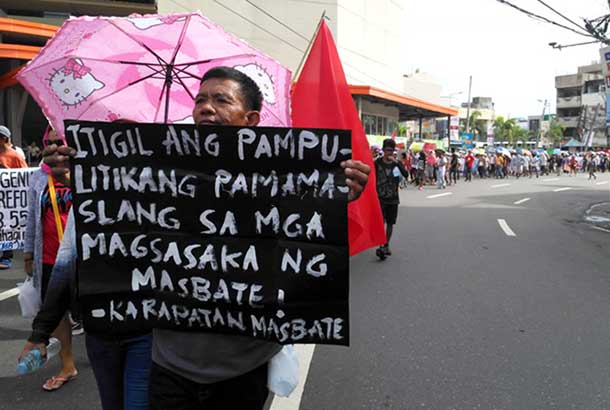 Masbate farmers joined Kilusang Magbubukid ng Pilipinas (Peasant Movement of the Philippines) members from around the country in calling for a stop to extra-judicial killings of farmers, in a protest action in Legazpi City, Albay last July 14. Ilang-Ilang Quijano
Killings of farmers in the countryside have received far less attention than mostly urban-situated drug-related killings during the past year, but have nonetheless been rapidly on the rise all over the country.
In Mindanao, martial law has made it easier for the military to harass farmers. Farmers' killings are also linked to their struggles against big mining corporations, especially in resource-rich ancestral lands of the Lumad in Mindanao.
Data from Karapatan shows that farmers were killed in the regions of Cagayan Valley, Central Luzon, Southern Tagalog, Bicol, Negros, Panay, Caraga, Southern Mindanao, Northern Mindanao and the Autonomous Region of Muslim Mindanao.
Many of these killings have been blamed on the military, who allegedly kill civilians at random while conducting counter-insurgency operations against the New People's Army. For instance, media reports immediately after the deaths of the three Masbate farmers quote the commanding officer of the 2nd IB as saying three NPA rebels died as a result of military operations. Yet, their families insist that they were all civilians.
Farmer Enrique Tumampil, relative of farmers Cuyos and Rosales said: "The military cannot even claim that they were 'caught in the crossfire,' because they were nabbed right before they were killed."
Many of the farmers killed were also community leaders, specifically targeted because of their role in ongoing land disputes. Human rights and peasant organizations point to the military, paramilitary groups, and armed goons of landlords and companies as the suspected perpetrators.
Lumad leader Renato Anglao, for instance, was on his way home from the market with his wife when he was shot by unidentified gunmen last February 3. He was the secretary general of the group Tribal Indigenous Oppressed Group Association, an indigenous peoples' organization representing the Manobo-Pulangion tribe in Brgy. Botong, Quezon, Bukidnon.
At the time of his death, Anglao was leading at least 80 families from his tribe in defending 300 hectares of their ancestral land from attempts at landgrabbing. Rancho Montalvan, owned by Maramag Vice Mayor Pablo Lorenzo, was allegedly eyeing the conversion of their lands to a pineapple plantation.
Irineo Udarbe, chairperson of the Kilusang Magbubukid ng Pilipinas (Peasant Movement of the Philippines)-Northern Mindanao, recalls Anglao with pain and fondness. "He was very kind. He was with us in numerous dialogues and rallies."
Eight other farmers from the Northern Mindanao region have been killed in the past 12 months. A day after Anglao's death, Datu Matanem Lorenado Pocuan, a leader of the Umayamnon tribe, was killed inside his neighbor's house in Brgy. Mangaod, Cabanglasan, Bukidnon. The suspects are members of the paramilitary group Alamara.
Udarbe believes the rise in killings is due to intensifying militarization. The situation has worsened under martial law, he added. "Farmers cannot even go to the town to buy food without clearance from the barangay. IDs are needed to get clearance, and most of the farmers don't have ID," he said.
"They put up posters of members of all their enemies—the Maute group, the NPA, drug suspects. If you look like any one of them, you will be investigated," Udarbe said.
Sixteen cases of killings have occurred in Compostela Valley, targeting farmer activists opposing large-scale mining activities.
Last March 2, for instance, elderly couple Ramon and Leonila Pesadilla were killed inside their home in Gawad Kalinga Village, Brgy. Osmeña, Compostela, Compostela Valley. They were shot by unidentified assailants in front of their five-year-old granddaughter.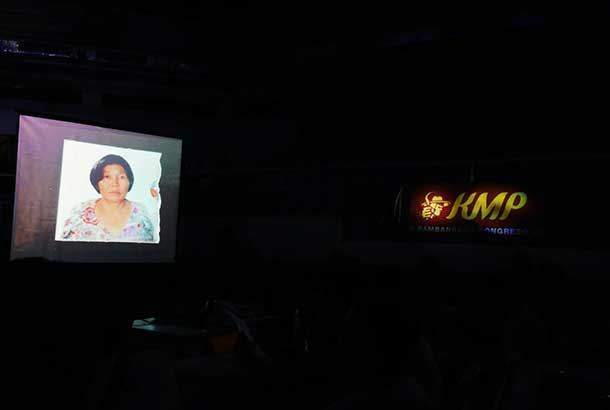 Leonila Pesadilla, who was killed with her husband Ramon inside their home in Compostela Valley, is among the slain farmers given tribute by the Kilusang Magbubukid ng Pilipinas (Peasant Movement of the Philippines). Ilang-Ilang Quijano
The two were active members of the Compostela Farmers Association. The CFA had been opposing the entry of Agusan Petroleum and Minerals Corporation, an affiliate of the San Miguel Corporation, which seeks to explore nearly 12,500 hectares of ancestral lands for mining. The Pesadillas had also donated a parcel of their land to the Salugpongan Community Learning Center, a school for the Lumad.
The CFA—a group the military has accused of being a communist front—believes that the 66th Infantry Battalion is behind the killing of the Pesadilla couple, as well as the earlier killing of their leader Jimmy Saypan. Saypan, CFA secretary general and an anti-mining activist, was gunned down last October 2016 by unidentified motorcycle-riding men along the national highway of Montevista, Compostela Valley.
The military has denied the charges and has dared human rights groups to file a complaint.
But the killings have elicited concern from Global Witness, a London-based NGO that listed the Philippines as the "most dangerous" country in Asia for environmental activists. With 28 killings recorded in 2016, the Philippines also ranked third worldwide, following only Colombia and Brazil.
New cases also continue to crop up—notably in Mindanao, where martial law remains in effect. Since the martial law declaration, Karapatan has documented 10 cases of politically motivated killings of farmers.
Tumampil, uncle of two of the farmers killed in Masbate, said that ironically, the martial law declaration in Mindanao "saved" their village from being further militarized. Members of the 2nd IB—suspects in the killing of his niece and nephew—were deployed to fight in Marawi City.
Still, he knows that the soldiers will be back, and that the possibility of even more killings looms in the horizon,as the Duterte administration enters its second year.
"Martial law will not do us farmers any good. We are its primary victims," he said.
___
Editor's Note: VERA Files is put out by senior journalists taking a deeper look at current issues. VERA is Latin for true.