Are there 4 million drug addicts in the Philippines?
December 16, 2016 | 5:28pm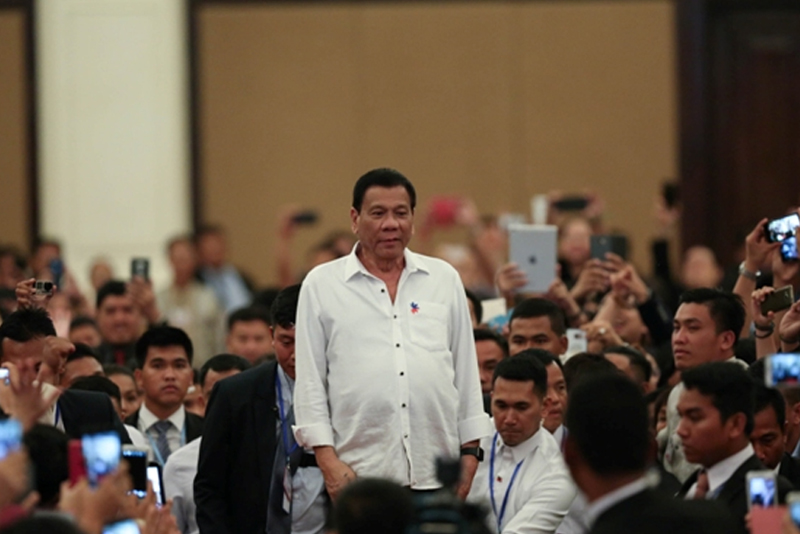 MANILA, Philippines — In his speeches, President Rodrigo Duterte has repeatedly claimed that there are 4 million drug addicts in the Philippines as he explains the rationale behind the war on drugs.
Philstar.com's NewsLab reported that there is scant evidence backing the president's estimates that drug prevalence has increased from 3 million in 2014 to 4 million in 2016.
The Dangerous Drugs Board, a drug policy-making body under the Office of the President, has undertaken occasional nationwide surveys in partnership with educational institutions to come up with a scientific estimate of drug users in the country.
Duterte says there are 4 million drug "addicts," without making a distinction between occasional users and those dependent on illegal narcotics.The DDB notes that there are differences between drug abuse, addiction and dependency.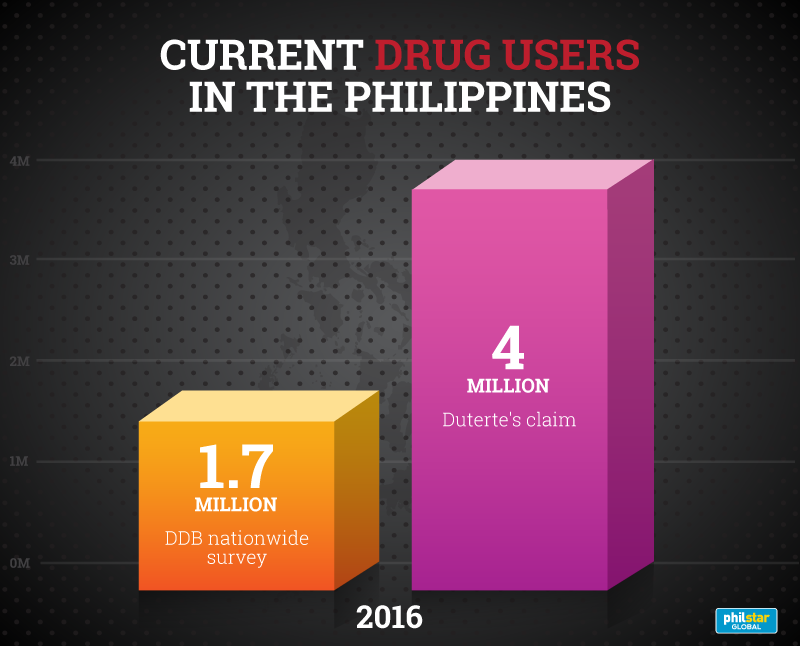 Abuse is the continual use of a drug other than its intended purpose, which, the board said "can lead to drug dependence, a state of physical and psychological dependence or both on a dangerous drug."
Drug dependency, meanwhile, develops "following the use of [a] substance on a periodic or continuous basis" and people who are dependent will experience withdrawal reactions when they stop using.
Drug addiction, on the other hand, "is a complex, and often chronic, brain disease" and manifests as "excessive drug craving, seeking, and use," the DDB said on its website. "Addiction is caused by brain changes caused by constant drug use," it also said.
The DDB's figures, however, count drug "users" in general, and do not come close to the president's estimates.
Based on the DDB's numbers, there appears to have been a decrease in the overall number of drug users from 1999 to 2015. While the figure increased significantly in 2004, it made a sharp drop in 2008 and further in 2012 before increasing again in early 2016.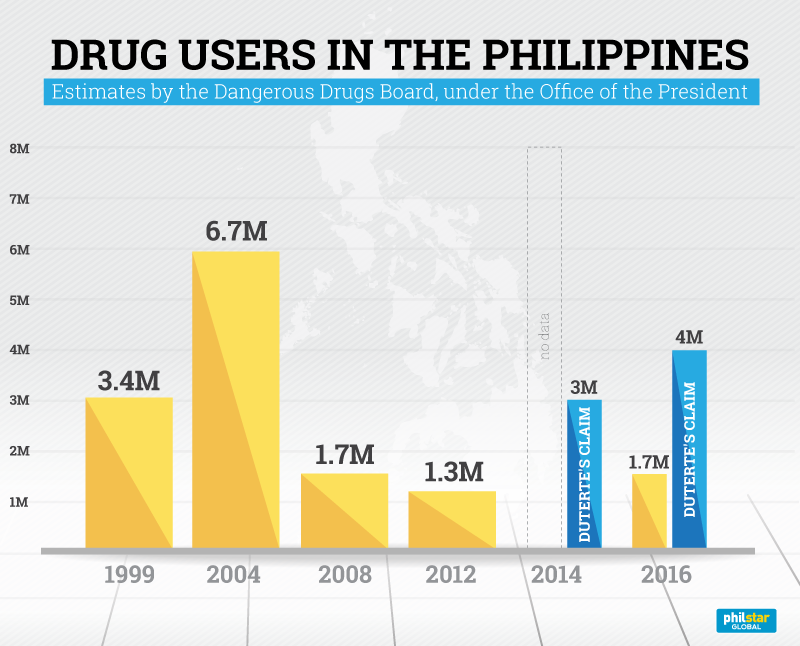 In his speech at the Ten Outstanding Young Men awarding ceremony on Tuesday, Duterte claimed that those so-called 4 million "addicts" will "contaminate another 10 million" in four to six years. Following his projection, there will be 14 million Filipinos addicted to drugs by 2020.
Citing DDB data, some vocal Duterte supporters on social media also noted that drug use did increase from 2012 to 2016 and said the president's projection is plausible.
However, a projection based on merely two data points, in this case 2012 and 2016, is inadequate. Moreover, there is no constancy or pattern in official estimates of drug users since 1999 to project an uptrend in the years to come as the president and his social media supporters claimed.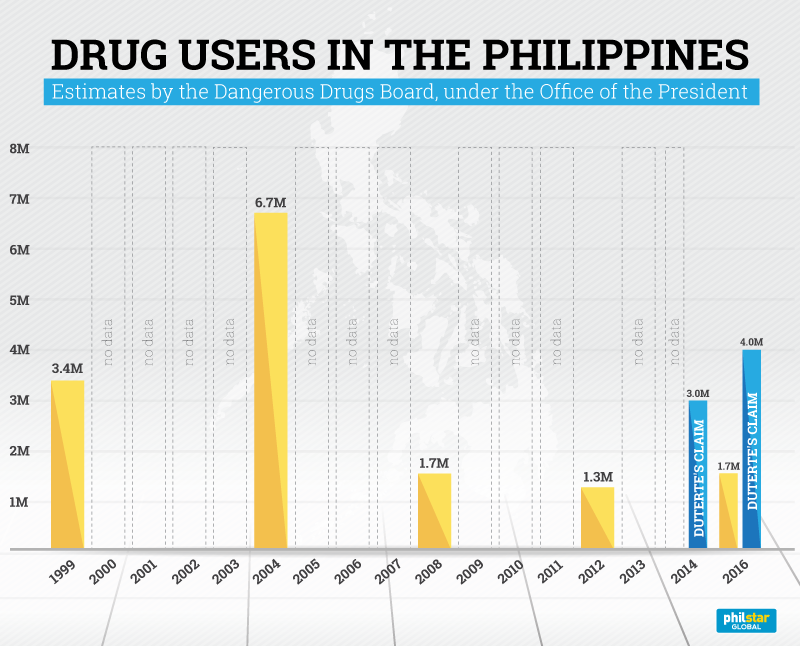 Despite the contrast in the president's and the DDB's numbers, the country's drug prevalence rate of 2.3 percent is still below the global average of 5.2 percent, the United Nations Office on Drugs and Crime told Philstar.com in September.
While drug use remains a social problem that needs to be addressed, given the country's below-average drug prevalence rate, the Philippines is still better off than many countries in the world.