7 die in Taytay fire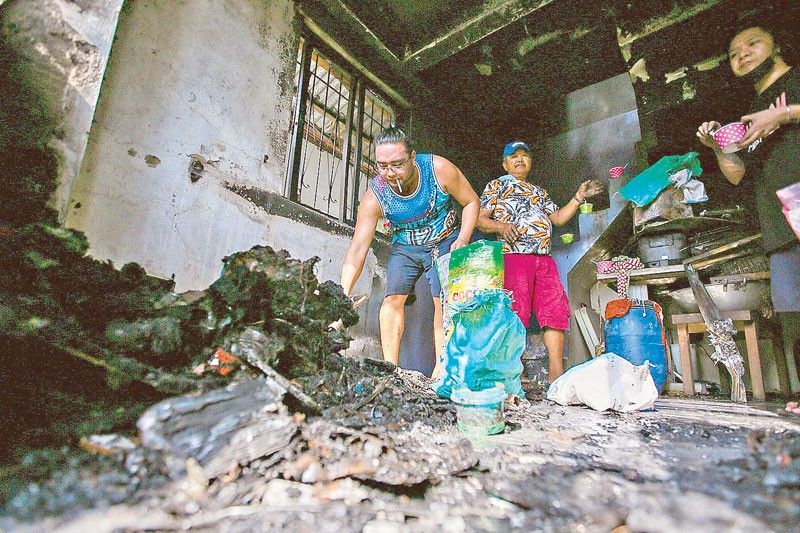 MANILA, Philippines — Seven persons died in a fire that hit a residential area in Taytay, Rizal on Saturday night.
As of yesterday, authorities have yet to identify the fatalities, who were trapped in their house located along Rosario street in Barangay San Juan.
Some of the victims were reportedly found in the bathroom while the others were under the kitchen sink.
The blaze started at 9:43 p.m. and displaced 60 families or 116 people, according to the Taytay municipal information office.
The fire reached third alarm at 10:02 p.m. and was declared out at 11:05 p.m.
Taytay fire marshal Fire Inspector Raymond Cantillon told journalists that the fatalities were relatives.
Cantillon said firefighters had difficulty putting out the blaze.
"The street where the fire broke out was narrow. There was only one entrance and exit. The victims were trapped as the flames spread quickly. Most of the houses in the area were made of light materials," Cantillon said in Filipino.
He said probers have yet to determine the cause of the fire.
An hour later, another fire broke out and left four persons injured in nearby Barangay Dolores, also in Taytay
The blaze, which displaced 133 families or 553 people, broke out at 12:56 a.m.
Probers said after 30 minutes, the fire reached third alarm and was declared out at 3:11 a.m.