List of live online Holy Mass celebrations in Metro Manila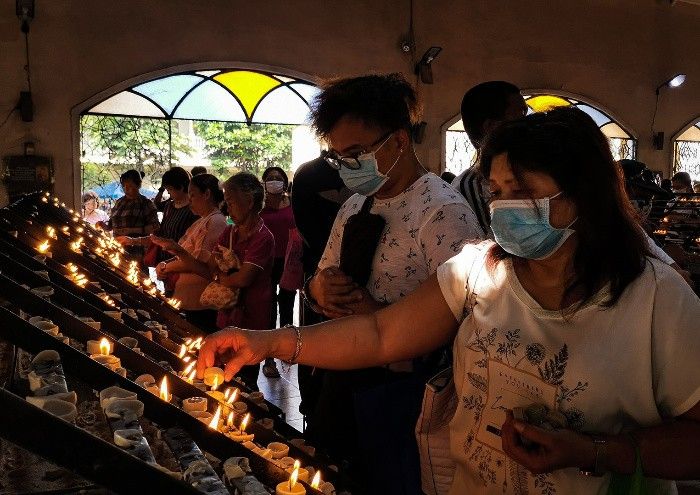 (Originally published: March 15, 2020) The Metro Manila quarantine starting Sunday, March 15 entails measures against public gatherings and social distancing. Catholic bishops responded to the government policy by deciding to set up a live stream of Holy Mass celebrations instead of opening churches' doors until April 14.
The move temporarily dispenses the faithful of the Metro Manila dioceses from being physically present at the celebration of the Mass. Online masses even for the healthy and able are a valid fulfillment of the public worship requisite, especially for the Sunday obligation, for the time period.
Here are live streaming options to participate in the Holy Mass online:
Sambuhay TV Mass by the Society of Saint Paul in Makati
Monday to Friday at 6:15 a.m. and 5 p.m.
Saturday and Sunday at 5 p.m.
National Shrine of the Sacred Heart in Makati City
Radyo Veritas in Quezon City
March 16, Monday at 12 p.m.
Sanctuario de San Antonio Parish in Makati City
Monday to Saturday at 8 a.m.
Sunday at 8 a.m., 12 p.m. and 6 p.m.
Manila Cathedral Mass in Intramuros, Manila
Monday to Friday at 7:30 a.m. and 12 p.m.
Saturday at 7:30 a.m.
Sunday at 8 a.m., 10 a.m. and 6 p.m.
Diocese of Cubao in Quezon City
Monday to Saturday at 8 a.m.
Sunday at 8 a.m., 11 a.m. and 6 p.m.
Quiapo Church in Manila
Daily at 5 a.m., 6 a.m., 12:15 p.m., 3 p.m. and 4 p.m.
San Roque Parish in Mandaluyong City
Monday to Saturday at 6 p.m.
Sunday at 9:45 a.m. and 6 p.m.
Diocese of Kalookan in Caloocan City
Sunday at 6:30 a.m., 7:45 a.m., 9 a.m., 10:15 a.m., 3 p.m., 4:15 p.m., 5:30 p.m., 6:45 p.m. and 8 p.m.
Instructions for attending online Holy Mass
Hearing Mass online is definitely not the same experience as being physically present at the ceremony, current Manila administrator Bishop Broderick Pabillo admitted. It does not mean that attendees cannot be too complacent while viewing the Mass from the comfort of their homes.
"I give you some tips [on] how to profit better from this poor substitute," Pabillo writes in a newly released pastoral instruction.
These include:
Preparing yourselves well for it. Do not watch it with a cup of coffee in hand.
Before the Mass, read the Mass readings to prepare yourselves better to hear them once they are proclaimed.
Have a moment to think of what to thank the Lord for and what to offer him during the Mass.
Remember that you are praying with many fellow Catholics not only in your parish but all over the world.
Stay in a reverent gesture throughout the Mass, standing or sitting properly.
It would be good if the whole family are together.
Do not just watch the Mass, join in it with your prayers, responses and singing.
At the time of communion, say a spiritual communion.