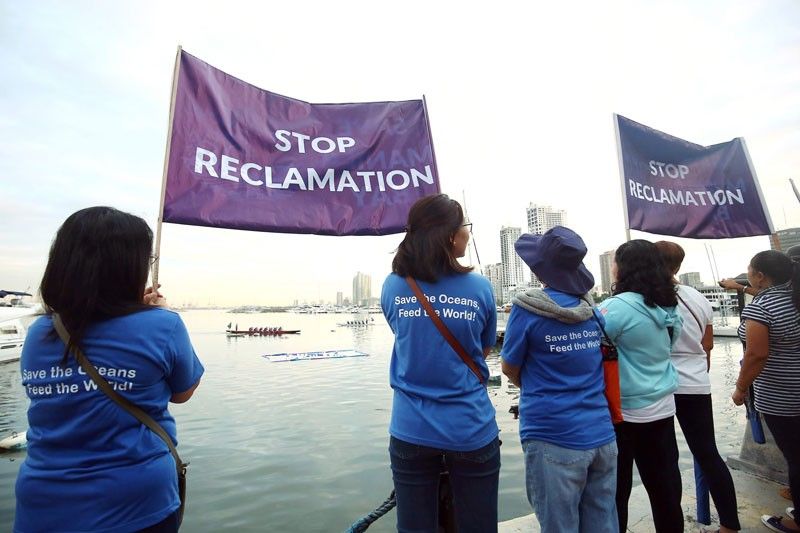 File photo shows environmentalists and fisherfolk protesting the proposed reclamation projects in Manila Bay.
Miguel De Guzman
Reclamation projects to choke Manila – Duterte
Alexis Romero
(The Philippine Star) - February 17, 2020 - 12:00am
MANILA, Philippines — President Duterte would not allow massive reclamation projects in Manila Bay, saying these would choke the city of Manila and imperil its environment.
"Not during my time. Maybe, I will only allow reclamation if it is in connection with the government's projects. I will not allow reclamation projects for the private sector because if you approve one, you approve all. That's how it is," Duterte said during the inauguration of the Sangley Airport development project in Cavite on Saturday.
"You know, when you govern you try to, at least, be equal and fair. But if I do that, I will choke Manila," he added.
Duterte said the next president should look into the possible negative effects of the proposed reclamation projects.
"The entire Manila city would be in danger. For the next administration, whoever gets to be the president, study it carefully," he said. "Being an old city, it will decay if you add so many things in front of Manila Bay."
Around 10,000 hectares from Navotas City to Cavite would be covered by the 25 proposed reclamation projects.
Philippine Reclamation Authority (PRA) general manager Joselito Gonzales said four projects have been given notices to proceed: Navotas City coastal bay, Horizon Manila 418, Pasay 360-hectare reclamation and the Pasay 265-hectare reclamation project.
Groups of envirornmentalists and fishermen are opposed to these projects, which they said could destroy the country's ecosystem and displace thousands of families.
Last year, Duterte signed Executive Order 74, which transferred the PRA to the Office of the President from the Department of Environment and Natural Resources amid the supposed lobbying for the approval of some projects.
The President cited the need to rationalize the approval process of reclamation projects toward an economically and environmentally sustainable development.
"No reclamation. You wait until the next president. They might look at it at a different perspective. But me, I'm just two years away," he said.