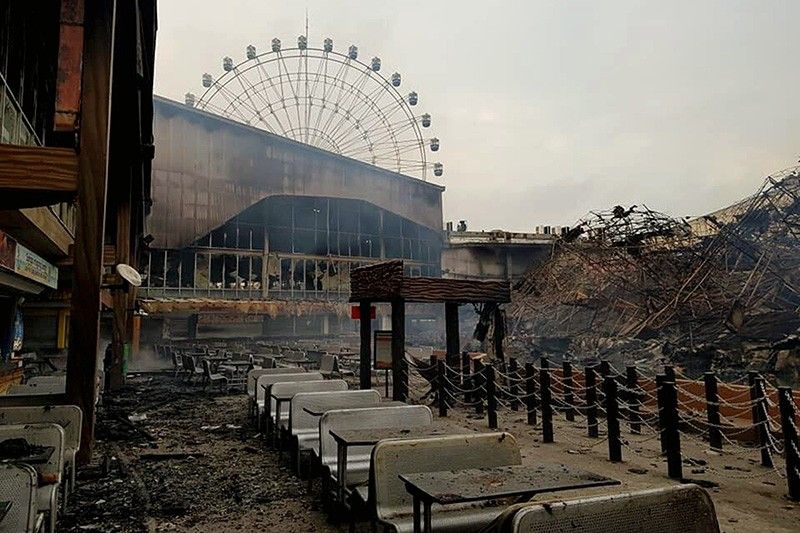 A handout photo from the Bureau of Fire Protection-Pasay shows the remains of Star City's food court and the Pirate Adventure boat ride following a 14-hour fire yesterday.
Fire razes Star City; arson eyed
MANILA, Philippines – A fire destroyed nearly 90 percent of the Star City amusement park in Pasay City yesterday, with investigators checking if the fire had been deliberately set off.
The blaze started at past midnight and reached Task Force Bravo, which meant at least 19 firetruck crews responded to the scene, two hours later.
The fire raged for around 14 hours until it was put out at around 2 p.m., according to the Bureau of Fire Protection (BFP).
The flames also affected the office of the Manila Broadcasting Co., but MBC president Ruperto Nicdao said in a statement that its FM radio stations Love Radio, Yes the Best and Easy Rock will continue operations.
MBC's AM station dzRH is supposed to be back on air within 48 hours, he said.
The park will be closed throughout the Christmas season and may reopen in October next year, officials said.
Probe starts today
According to city fire marshal Paul Pili, a full-blown investigation into the incident will start today.
He earlier said investigators are looking into the arson angle after ballerina Lisa Macuja-Elizalde, wife of Fred Elizalde, the park's owner, showed the BFP a tweet saying "Star City will die."
Pili said the fire destroyed at least P1 billion worth of property.
He was also reported as wondering why fires started in different buildings in the amusement park at almost the same time.
The BFP's initial investigation indicated that the fire started in the stockroom of the Snow World building.
BFP-National Capital Region director Chief Superintendent Wilberto Kwan Tiu said a thorough investigation will be done to determine the cause and origin of the fire.
"If we see on the investigation that the spread of fire is beyond usual, then there is something (wrong), but as of now, we do not know yet," Kwan Tiu said.
"That is why the investigation will also focus on the degree of damage and the extent of fire, not only the point of origin and cause," he added.
The BFP said three persons suffered lacerations, abrasions and punctures.
Sad news
Presidential spokesman Salvador Panelo said the fire was truly sad news since Star City is one of the places visited by Filipino families during the yuletide season.
"To our friends in the media who are affected, we wish to let them know that we are one with them in this tragic incident," Panelo said in a statement.
"We call on government instrumentalities to extend any form of assistance to those hit by the blaze," he added.
Presidential Communications Operations Office Secretary Martin Andanar expressed concern that the fire affected the "operations of dzRH, the oldest radio station in the country. We at the PCOO are equally saddened by how this will affect the employees of MBC and the theme park."
"We trust that authorities will work hard to determine the cause of the fire and call on concerned government agencies to extend any form of assistance to those affected by the fire," he added. Alexis Romero