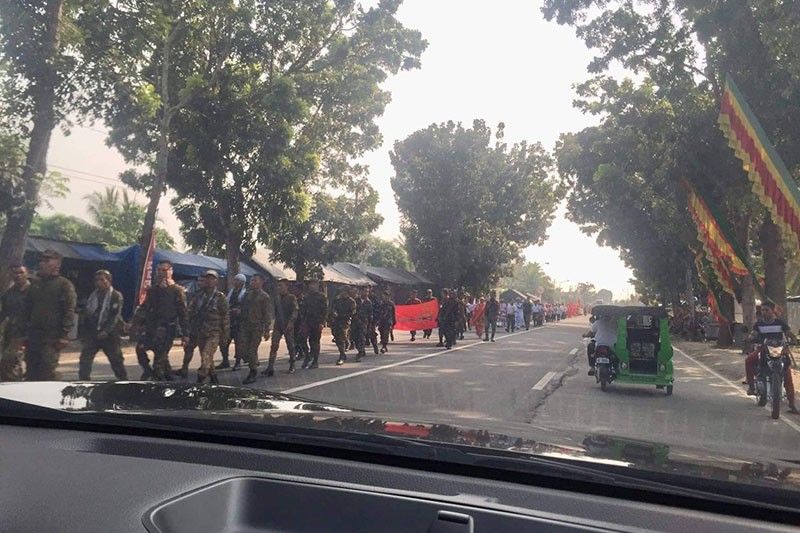 According to a Pilipino Star Ngayon report, military and police blocked the 200 MNLF members while they were parading with high-powered firearms and flags in Buluan.
Pilipino Star Ngayon/Rhoderick Beñez, file
Misuari followers turn over guns brought to peace assembly without authorization
John Unson
(Philstar.com) - September 16, 2019 - 12:50pm
MAGUINDANAO, Philippines — Soldiers on Sunday collected from followers of Nur Misuari dozens of firearms they carried in a peace rally on Saturday without authorization.
In a statement Monday, the Army's 6th Infantry Division said the group—comprised of members of the Moro National Liberation Front known as the MNLF-Misuari wing—turned in more than 30 firearms after a dialogue with the Army's 40th Infantry Battalion in Buluan town in Maguindanao.
The group's peace forum at the gymnasium in Buluan proceeded as planned, according to the 6th Infantry Division.
The MNLF members—led by Guimaludin Gulam, a known associate of Misuari—were disarmed peacefully by personnel of the 40th IB after civilians reported that some of them brought firearms to the assembly without any coordination with local authorities.
FROM PILIPINO STAR NGAYON: 200 MNLF rebels nasabat, mga armas isinuko
The MNLF and Malacañang forged on September 2, 1996 a final peace pact and both are bound by security compacts restraining members of the front from carrying firearms outside of their camps that are now named "peace zones."
Seized from the group were 21 M16 rifles, three M14 rifles, a 5.56 caliber Ultimax rifle, an M14A1 carbine, two .30 caliber M1 Garand, two .30 caliber Browning Automatic Rifle, three M203 rifles fitted with grenade launcher, an M79 grenade launcher, a vintage .30 caliber bolt-action Springfield rifle, a .30 caliber Carbine and a .45 caliber pistol.
The 6th ID said the firearms are now in the custody of the 40th IB that covers Buluan and nearby towns in the second district of Maguindanao.