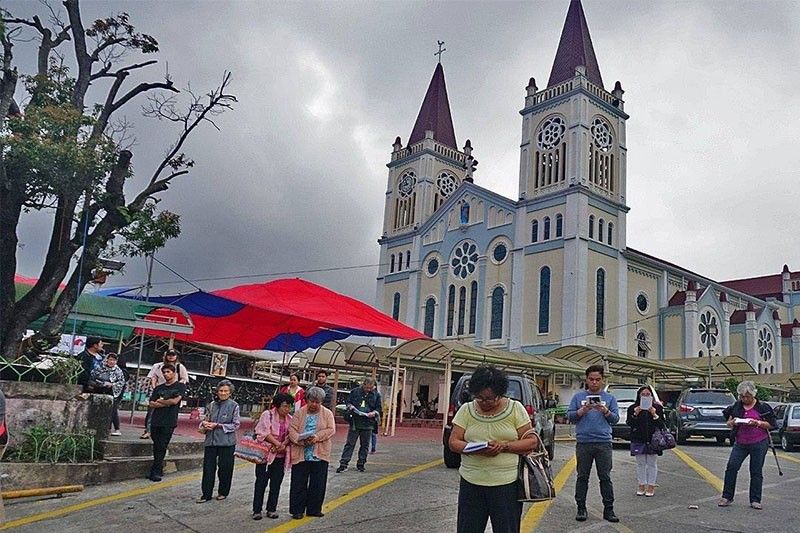 In this April 2019 photo, tourists and pilgrims visit the Baguio Cathedral and recite prayers at the stations of the cross in observance of the Holy Week.
The STAR/Andy Zapata
Baguio Muslims, Catholics in solidarity amid reported terror threat in northern Luzon
(Philstar.com) - August 11, 2019 - 5:20pm
BAGUIO CITY — Monsoon rains did not stop the local Muslim community to head to the Baguio Cathedral on Sunday and offer flowers in a show of solidarity amid a reported terror threat looming in northern Luzon.
Baguio Muslim Community President Samsudin Monib, also an "Imam," led his brethren in showing a sense of security around and inside the church with several cops in tow.
Security arrangements were placed within the perimeters of the Baguio Cathedral as part of efforts to thwart an alleged terrorism plot believed to target "Crusade Churches."
The local community of Muslims said terrorism "has no religion and it has no place in Baguio City."
Baguio Catholics felt safe at the sight of Muslims and cops and willingly accepted the roses handed out to them.
'ISIS terror going north'
Government agents and law enforcers have raised alert levels in northern Luzon citing information obtained from "intelligence reports." A supposed "intelligence alert" from the Ilocos Norte and Ilocos Sur provincial intelligence branches and a certain "Agent Pambid" of the National Intelligence Coordinating Agency warned authorities to be on the lookout for heavily armed men aboard Toyota Commuter vans with specified plate numbers.
But Ilocos Norte police chief Colonel Cesar Pawiwen said the information provided has yet to be validated.
Last Monday, Tuguegarao City police also claimed it received valuable information from Mohammad Nur Pangcoga, president of the Cagayan Muslim Association, that three wanted Maute Group members went to the city on July 30.
Lieutenant Colonel George Cabralda, Tuguegarao City police chief, said a relative of Pangcoga, whom he identified as Hadji Jalal of Marawi City called the Muslim Association leader informing him that remnants of the Maute were also in Taytay, Rizal during the last week of July.
Pangcoga told Cabralda that their relatives in Taytay, Rizal informed him that four Maute members identified as Badroding Gampong Piti-ilan, a barangay chairman of barangay Tamboro Cormatan, Masiu, Lanao del Sur; Camar Gamping Piti-ilan; Asnawi Badroding; and Naharodin Gampong Piti-ilan went to Tuguegarao City on July 30.
The four reportedly have standing warrants of arrest in Lanao del Sur for murder.
In his information report, Cabralda said the "information is probably true considering that the source is the President of the Cagayan Muslim Association." The police officer said he had already coordinated with the Tuguegarao City mayor and all barangay chairpersons in the city to be on the lookout for new Muslim personalities or faces in their villages.
'Plot uncovered in central Mindanao'
The military is also validating if the alleged plot to bomb a city north of Manila is indeed true, ahead of Eid al-Adha on Monday.
In a memorandum released August 2, Marine Colonel Glenn Celebrado, assistant chief of United Command Staff for Intelligence of the Northern Luzon Command, ordered intelligence operatives to heighten monitoring amid information that Laoag City, Vigan City, Manaoag, Pangasinan and Tuguegarao City are targets of ISIS.
These cities are considered as "crusader cities," a term used by ISIS in describing target areas to fuel what they call "Bandar Crusade" or war between Muslims and Christians. "Crusader churches" are the ISIS term for all historic Catholic Churches.
"The document is genuine but the intent for issuing it is primarily for verification as to the reliability of the source and veracity of the information," AFP spokesman Marine Brigadier General Edgard Arevalo said explaining the memorandum.
Following these threats, The Minor Basilica of Our Lady of the Most Holy Rosary of Manaoag in Pangasinan or the Manaoag Church also heightened security since it is a known pilgrimage site.
The terror threats came days after President Rodrigo Duterte expressed fears of ISIS attacks. He said he prayed to God for the country to be spared from terror attacks. — Artemio Dumlao with a report from Rosette Adel/Philstar.com