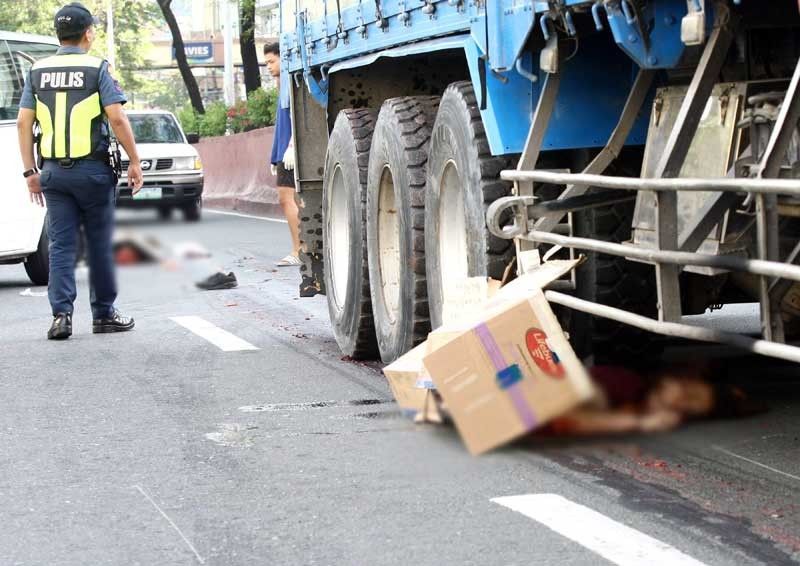 Ederlyn Buclares is pinned under a truck along Quezon Boulevard in Quiapo, Manila yesterday.
Edd Gumban
Woman cut in half in Quiapo road crash
MANILA, Philippines — A woman was cut in half after being run over by a 14-wheeler truck in Quiapo, Manila yesterday morning.
Ederlyn Buclares, 34, was thrown off a Honda motorcycle driven by her companion, Julius Tevara, after they were struck by a white pick-up truck along Quezon Boulevard.
Tevara suffered injuries and was rushed to the nearest hospital for treatment.
The motorcycle was first hit by the pick-up before it was run over by the truck, according to case investigator S/Sgt. Benito Mateo of the Manila Police District Traffic Enforcement Unit.
When Buclares' body landed on his path, truck driver Reynan Fajardo said it was too late for him to step on the brakes.
The truck ran over the victim and sliced her body, with the upper half pinned under the front wheel and the lower half at the rear.
In an interview with The STAR, Fajardo urged the driver of the pick-up to surrender, saying it was not his fault that the victims were thrown off along his path.
"I hope the driver will be bothered by his conscience. It was the other driver's fault, not mine," Fajardo said.
Police said charges of reckless imprudence resulting in homicide and physical injuries would be filed against Fajardo.