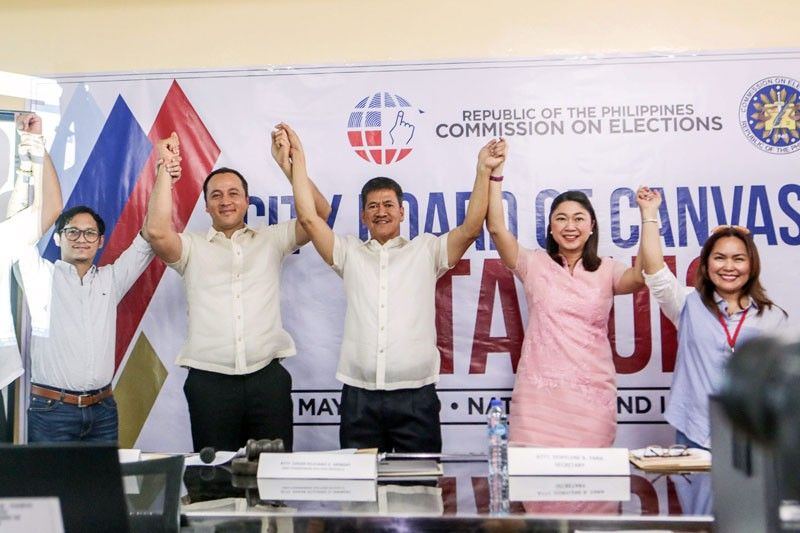 WINNERS ALL: The Taguig City board of canvassers proclaim Lino Cayetano (second from left) and his sister-in-law Lani Cayetano (fourth from left) as mayor and District 2 representative yesterday.
Geremy Pintolo
Incumbents rule polls in southern Metro Manila
MANILA, Philippines — Incumbent officials dominated the midterm polls in southern Metro Manila.
Reelectionist Makati City Mayor Abby Binay was proclaimed winner with 179,522 votes, which is 80,869 higher than the 98,653 votes for her brother former mayor Junjun Binay, followed by businessman Ricky Yabut with 23,721 votes.
Independent candidates Rene Bondal garnered 3,565 votes; Wilfredo Talag, 1,541; and Love Alanzalon with 1,101.
Binay was not present during her proclamation at the Makati City coliseum yesterday morning.
Binay's running mate, Vice Mayor Monique Lagdameo, also retained her post as she won against outgoing Makati City Rep. Monsour del Rosario, Battle Batalla, Roberto Lantin and Rodolfo Biolena.
Just like Binay, incumbent Pateros Mayor Ike Ponce has also retained his post with 18,370 votes against his opponent mayoral bet "Doc" Willie Buenaventura with 8,775.
Pateros Vice Mayor Gerald German also won with 14,600 votes against Carlo Santos, who only got 11,729 votes.
Film director Lino Cayetano was proclaimed mayor in Taguig City along with incumbent Vice Mayor Ricardo Cruz.
Former senator and foreign affairs secretary Alan Peter Cayetano won as Taguig District 1 congressman while his wife, erstwhile Mayor Lani Cayetano, won as representative of District 2.
In Las Piñas City, Mayor Imelda Aguilar secured her second term as mayor, garnering 170,972 votes or 87.8 percent of the total votes cast against her three other rivals: Louie Casimiro, Benjamin Gonzales and Conrado Miranda, all independent.
Aguilar's daughter April won as vice mayor with 161,789 votes or 86.32-percent of the total votes cast against independent candidate Antonio Abellar Jr.
Also, Camille Villar, daughter of reelectionist Sen. Cynthia Villar, won as congresswoman for the city's lone district by 173,917 or 89.78 percent of the total votes cast against her opponent Jerry delos Reyes.
The mother-and-daughter tandem and Villar all ran under the Nationalist People's Coalition (NPC), headed by Senate President Vicente Sotto III.
Meanwhile, reelectionist Muntinlupa City Mayor Jaime Fresnedi, who ran under the Liberal Party, will be serving as mayor for the third and last time after gathering 164,144 votes. He got over 112,000 votes more than his closest rival, former Bureau of Immigration acting deputy commissioner Marc Red Mariñas.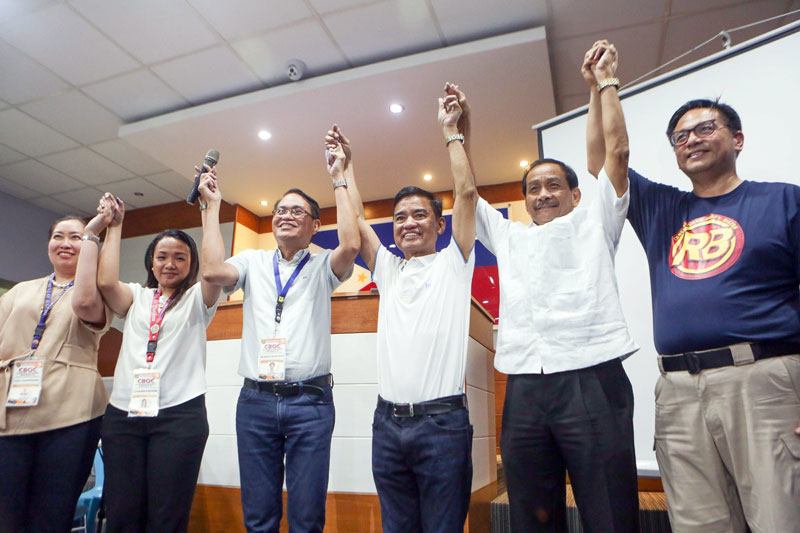 A member of the Muntinlupa City board of canvassers declares the reelection bids of Mayor Jaime Fresnedi, Vice Mayor Artemio Simundac and Rep. Ruffy Biazon as successful in a ceremony held yesterday. GEREMY PINTOLO
Also, incumbent Muntinlupa Rep. Ruffy Biazon received 169,756 votes against former councilor Rafael Arciaga, Mariñas' bet for congressman, who got 36,317 votes.
Arciaga has filed graft complaints against Fresnedi before the Office of the Ombudsman, the latest in March, due to alleged overpricing of a parcel of land.
Former vice mayor Artemio Simundac made a comeback, winning against incumbent Vice Mayor Celso Dioko, Mariñas' running mate.
He was recently implicated in an alleged vote-buying incident last weekend, with the city prosecutor referring the case for further investigation.
Outgoing Pasay City congresswoman Imelda Calixto-Rubiano won by landslide as mayor, garnering 121,391 votes. She will switch places with outgoing mayor Antonino Calixto, who won as congressman for the city's lone district in the House of Representatives by a landslide.
Two younger Calixtos secured their spots in their reelection for councilor: Antonino's son Mark for the city's first district and Mark's cousin Joey Calixto-Isidro for the second district.
In Parañaque City, reelectionists Mayor Edwin Olivarez and Vice Mayor Rico Golez, son of the late former National Security Adviser and the city's second district congressman Roilo Golez, won a second term.