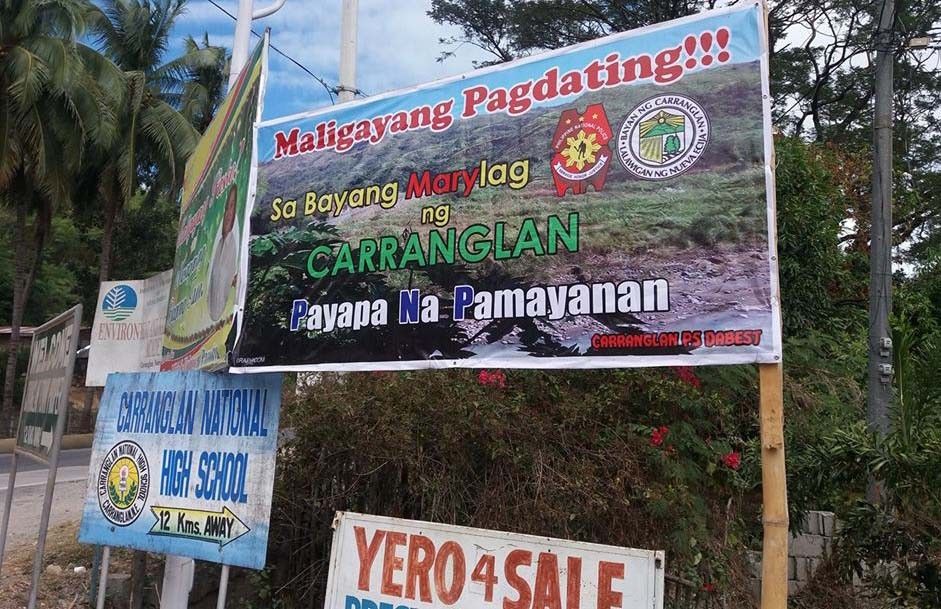 The declaration was signed by the local government, the municipal council, barangay officials, and police and military officers.
Photo from Facebook page of Carranglan Police Station
Nueva Ecija town declares CPP-NPA persona non grata
BAGUIO CITY, Philippines — Communist guerrillas, who are celebrating the 50th anniversary of the New People's Army on Friday, are "unwelcome" in Carranglan town in Nueva Ecija.
The declaration comes a week after the town of Doña Remedios Trinidad in Bulacan declared the rebels persona non grata.
The Carranglan local government unit, Sangguniang Bayan, barangay officials, police officers and personnel and the Philippine Army's 84th Infantry Battalion signed a "Declaration of Persona Non Grata against the CPP-NPA Terrorists" at the Carranglan Municipal Hall on Monday.
Maj. Gen. Lenard Agustin, commander of the 7th Infantry Division, hailed the local officials of Carranglan and congratulated the 84th IB for playing a part in the town's declaration.
Agustin said "the whole-of-nation approach marks the start of a new campaign to end the insurgency, and those who religiously practice this approach give the people a chance to have better and more peaceful lives."
Lt. Col. Honorato Pascua Jr, commanding officer of the Nueva Ecija-based 84th IB, said "the local government officials would not tolerate inactions against these terrorist groups in their respective jurisdictions." Signatories also promised under oath to the Republic of the Philippines to help in the anti-insurgency campaign of the AFP, he added.
On March 19, officials of Doña Remedios Trinidad in Bulacan also declared the CPP-NPA "unwelcome" through a resolution. The reslution stemmed from a proposal of the Army's 48th Infantry Battalion, which is based in the province.
According to Lt. Col. Valdez, commander of the 48th IB, the resolution was in line with the Department of the Interior and Local Government Memorandum Circular No. 2018-211 (Prohibition of Support to Left-Wing Rebel Groups) and Executive Order No. 70, which creates the National Task Force to End Local Communist Armed Conflict.
RELATED: Reds named persona non grata in Negros Oriental
The New People's Army in Southern Mindanao has played down similar declarations in Mindanao as "products of the relentless psywar and intimidation campaign of 'peace and development outreach programs' under the whole-of-nation approach of Oplan Kapayapaan."
The NPA claimed that officials pressure community leaders to attend peace-building seminars "force them to get in line and hold anti-insurgency placards in rallies and strong-arm them into signing declarations and such."
"To be sure, these 'declarations' are a portent and justification of more arbitrary arrests, extra-judicial killings, indiscriminate shelling and bombing and all-around wanton violations of human rights against civilians, activists and mass leaders in the region," the NPA said in early March.