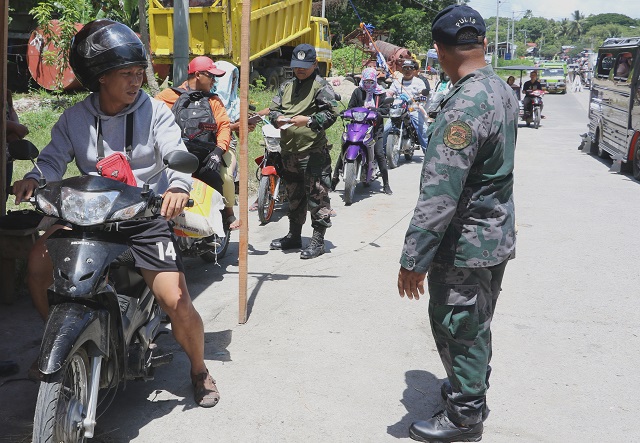 Personnel of the Cotabato City police office screen motorists at a checkpoint into the city from Datu Odin Sinsuat town in Maguindanao. JOHN UNSON, file
Tight security in central Mindanao as charges filed vs BIFF leaders
John Unson
(Philstar.com) - September 21, 2018 - 10:46am
COTABATO CITY, Philippines — More security personnel have been deployed in parts of central Mindanao after the filing of charges against two Islamic militants implicated in recent bomb attacks in the region.
Chief Superintendent Graciano Mijares of the Police Regional Office-Autonomous Region in Muslim Mindanao said Friday police in Maguindanao have also asked barangay leaders to help stop attacks by sympathizers.
"We are not taking chances. Our personnel on the ground have also been maximizing their anti-terror intelligence gathering initiatives," Mijares said.
The Regional Police Office-12 has filed multiple murder and multiple frustrated murder charges against more than a dozen members of the outlaw Bangsamoro Islamic Freedom Fighters for the fatal August 28 and September 2 bombings in Isulan town in Sultan Kudarat.
Among those named in the complaint are Esmael Abdulmalik, most known as Abu Toraife, and bomb-maker Salahuddin Hassan.
Abu Toraife is leader of one of three factions in the Bangsamoro Islamic Freedom Fighters.
Hassan, meanwhile, was trained in fabrication of improvised explosive devices by the slain Malaysian terrorist Marwan, whose real name is Zulkifli bin Hir.
The two were last spotted holding out in Shariff Saidona town in the second district of Maguindanao.
Charges over Isulan bombing
Superintendent Aldrin Gonzalez, spokesman of PRO-12 in General Santos City, confirmed on Friday that criminal cases had been filed against the suspects in the recent bombings in Isulan that killed five people and injured more than 40 others.
Gonzalez said PRO-12 is thankful to Mijares, who is ARMM's regional police director, and to Brig. Gen. Cirilito Sobejana, commander of the Army's 6th Infantry Division, for intelligence support to help prepare the cases.
Sobejana told reporters on Friday that the 6th ID has intensified checkpoint operations in Maguindanao, North Cotabato and Sultan Kudarat provinces against sympathy attacks by the BIFF.
Local governments step up efforts
Maguindanao Gov. Esmael Mangudadatu reiterated on Friday his appeal to the Department of the Interior and Local Government, the Department of Justice and the Philippine National Police to work out the allocation of rewards for the arrest of senior leaders of the BIFF.
Besides the group of Abu Toraife, the BIFF also has two other factions, one led by Imam Karialan and the other by Imam Bongos.
Local government units in central Mindanao have stepped up efforts against the BIFF, prompted by the bombings in Isulan, in General Santos City and in Midsayap town in North Cotabato in the past three weeks.
The IED attack in Barangay Apopong, General Santos City on September 16 hurt eight people, one of them a three-year-old child.
Mayor Joseph Evangelista of Kidapawan City turned over this week to the civil security group of the local government and the police more than a dozen hand-held detectors for firearms and IEDs with metallic components hidden in the luggage of commuters and motorists.
Evangelista also issued detectors to the Army-led anti-terror Task Force Kidapawan.
Evangelista has earlier urged his constituents owning pedigree dogs to volunteer them for bomb-detection training by experts to complement the capability of the city government's K9 unit.
Dozens of dog owners whom he called "patriotic constituents" have positively responded to his appeal.
In Cotabato City, local officials have expanded their nighttime security patrols along with police and Army personnel in areas within reach of IS-inspired terrorists.
The community patrols are personally led by Mayor Cynthia Guiani-Sayadi.