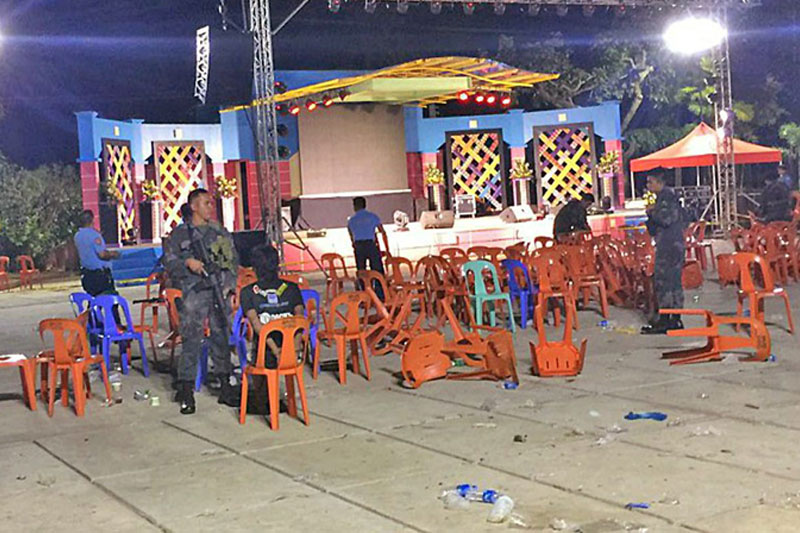 In this January 2018 file photo, probers gather evidence at a plaza in La Paz, Abra where two grenades exploded during a fireworks display.
Police release, photo
Cops nab suspect in Abra town fiesta grenade attack
BAGUIO CITY, Philippines — One of the suspects in a grenade attack in La Paz, Abra in January that killed two police officers and hurt 24 others, including the town's mayor and the province's congressman, was caught on Tuesday afternoon.
Abra police arrested farmer Joel Millare Balucas, 45, in Barangay Pulot in Lagayan town.
Authorities said Balucas, together with Roel Escalante and Eljay Biyang, lobbed two fragmentation grenades during a fireworks display at the end of the La Paz town fiesta.
The blast killed PO3 Carlos Baccali Bocaig — a Special Action Force trooper who survived the 2015 Mamasapano clash — and PO2 Frenzel Buneng Kitoyan.
Mayor Menchie Bernos, her husband Abra Rep. Joseph Bernos and 24 others were injured in the same attack.
The trio were charged before the sala of Regional Trial Court Branch 1 Judge Raphiel Alzate. They have not been allowed bail.
Rep. Bernos had asked police to speed up the probe to find out who is behind the attack.
Cordillera police said Balucas was supposed to have been in government custody since last December on three counts of attempted homicide with an unlicensed firearm, but was granted bail. He was able to post a bond of P540,000 for the three counts.
Rep. Bernos earlier said he and his wife were the targets of the attack, which he said was meant to silence them and to "spoil development gains" in La Paz and the whole of Abra.