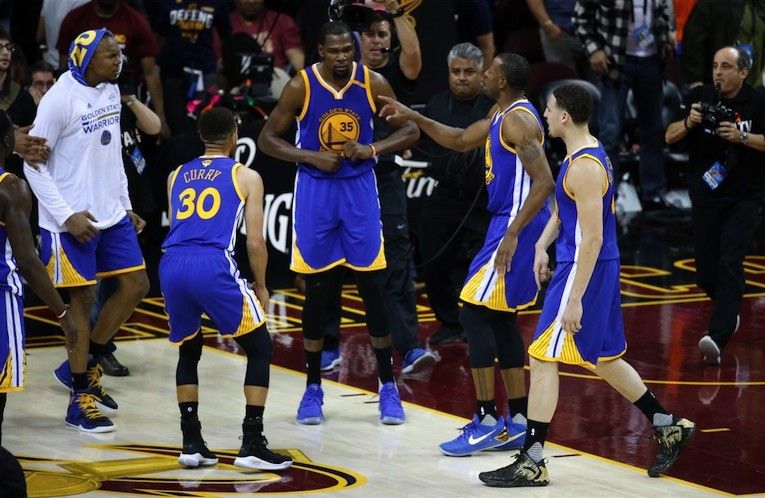 Golden State Warriors forward Kevin Durant (35) celebrates with teammates after the Warriors defeated the Cleveland Cavaliers 118-113 in Game 3 of basketball's NBA Finals in Cleveland, Wednesday, June 7, 2017 (Thursday in Manila).
AP/Ron Schwane
Warriors fan stabs cousin to death over NBA Finals Game 3 in Zambo
ZAMBOANGA CITY, Philippines — An overzealous Golden State Warriors fan stabbed to death a diehard fan of the Cleveland Cavaliers who got irked by the loss of his favorite team during Game 3 of the National Bastketball Association in a village here Thursday night, police said.
The victim, who is a cousin of the suspect identified as Marvic Macotocruz, allegedly beat up the latter. Police said another victim was also wounded while trying to stop the two.
Police Station 7 chief Superintendent Mark Azur identified the victim as Henry Macapali, a diehard fan of LeBron James and his team Cleveland Cavaliers. The wounded victim, on the other hand, was identified as Renevie-Rose Macapili, a cousin of both the victim and suspect.
Based on police investigation, the suspect and the victim, together with other companions were having a drinking spree around 10:30 p.m. Thursday in Barangay San Roque, Zamboanga City. They ended up fighting when Macapili got irked over heated discussion on the results of the NBA Finals Game 3.
Police said Macotorcuz, who was reportedly beaten up by Macapili, took a kitchen knife and stabbed his cousin near the chest.
Their 18-year-old cousin Renevie-Rose tried to intervene but was accidentally wounded.
Macapili was rushed to the hospital but was pronounced dead on arrival.
Macotocruz, who was arrested and detained at Police Station 7, was remorseful over the incident.
He told the press that he was just laughing along with the other companions over the result of the game. He said that he only defended himself after being attacked by his cousin.