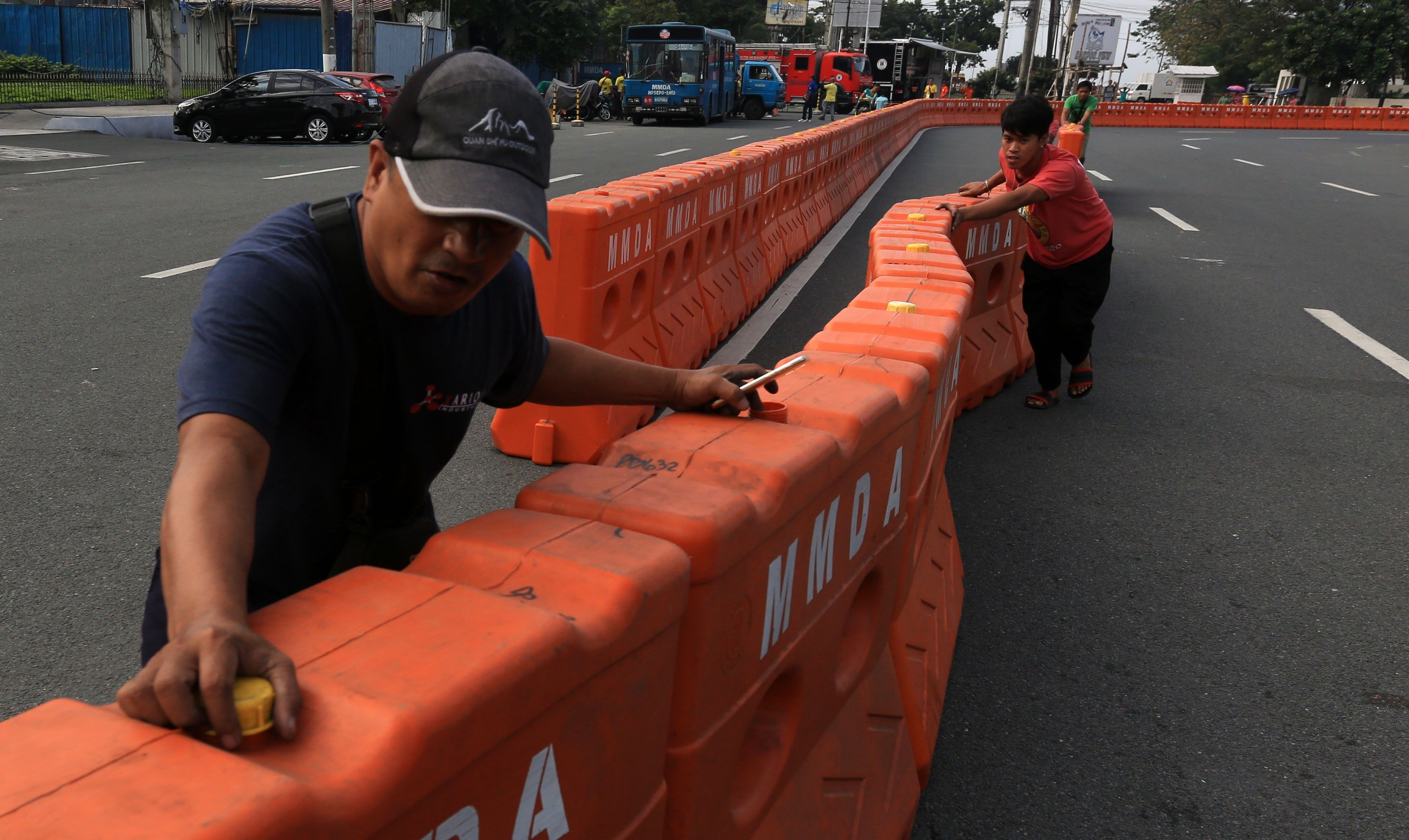 The Metro Manila Development Authority gears up for the Black Nazarene Procession this year.
The STAR/Edd Gumban
LIST: Road closures, alternate routes for 'Traslacion' 2018
MANILA, Philippines (First published Jan. 4, 2018; 1:14 p.m.)— The Manila Police District Traffic Enforcement Unit on Wednesday released a list of roads which would be closed to give way for the annual traslacion or Black Nazarene Procession slated January 9, Tuesday.
The road closures would be in effect as early as 9 p.m. on January 8.
According to MPD, the closure of some of the streets would be in effect as the procession approaches and would be opened once the tail end of the procession passes.
On Sunday, the National Capital Region Police Office also issued a traffic advisory indicating the alternate routes for motorists.
The MPD earlier released a list of the routes of the Black Nazarene procession, as well as the list of designated prayer stations. It would start in Quirino Grandstand, Rizal Park.
READ: LIST: Black Nazarene procession route, prayer stations for January 9
About 18.9 million devotees of the Nuestro Padre Jesus Nazareno are expected to participate in the religious event.
Traslacion is the commemoration of the transfer of the Black Nazarene's image from its original home in Intramuros to the Minor Basilica of the Black Nazarene Church, Quiapo. This transfer was held on Jan. 9, 1787.
Manila Mayor Joseph Ejercito Estrada already announced the suspension of classes and government work on Tuesday for the safety and welfare of employees and students.
RELATED: Manila suspends classes, gov't work on January 9 for 'Traslacion'
Below appears the list of closed roads and alternate routes for Traslacion 2018:
Closed Roads (Jan. 8, 2018; 10 p.m.)
Katigbak Drive and South Drive – One lane accessible to Manila Hotel and H2O Hotel

Northbound lane of McArthur Bridge from Bonifacio Shrine onwards

Taft Avenue from Ayala Boulevard to Bonifacio Shrine
Closed roads (Jan. 9, 2018; 12 p.m.)
Stretch of McArthur, Jones, and Quezon Bridge

Both lanes of Quezon Boulevard (Quiapo) will be closed to traffic from A Mendoza / Fugoso Street, and Espana Avenue/P. Campa Street for southbound and from Taft Avenue / Ayala Boulevard for northbound

Roxas Boulevard from Katigbak Drive to TM Kalaw Sreet
Alternate Routes (January 8)
Light vehicles intending to utilize the stretch of Bonifacio Drive and Roxas Boulevard southbound shall turn around to Anda Circle going to A. Soriano Avenue; Turn right to Gen. Luna Street to Burgos-Orosa Street, then turn left to TM Kalaw Street to Taft Avenue to point of destination;

Trucks and other heavy vehicles intending to utilize the stretch of Bonifacio Drive Southbound shall turn around Anda Circle going back to Northbound lane of Road 10 to C3 to point of destination

Vehicles coming from the southern part of Manila intending to utilize the northbound lane of Roxas Boulevard from TM Kalaw Street to P. Burgos Street shall turn right to TM Kalaw Street; left to Orosa Street going to Intramuros left to A. Soriano Avenue to point of destination

Vehicles traveling along P. Burgos Street shall turn right to Finance Road to Ayala Avenue to point of destination,

Vehicles using Taft Avenue northbound shall turn right to Ayala Boulevard to point of destination
Alternate Routes (January 9)
Vehicles coming from Quezon City using the stretch of Espana Avenue shall turn right to P. Campa Street, then turn left to A. Mendoza Street, Turn right to Fugoso Street; Turn right to C.M. Recto Avenue or left to Nicanor Reyes Street; Turn right to C.M. Recto Avenue to point of destination

Vehicles coming from Legarda Street shall turn right to C.M. Recto Avenue or turn left to Mendiola Street to their point of destination

Vehicles coming from Caloocan City utilizing Rizal Avenue shall turn right to Fugoso Street or C.M. Recto Avenue, to point of destination

Heavy vehicles or cargo trucks shall take Pres. Osmena to Pres. Quirino Avenue to Nagtahan via A.H. Lacson Avenue to Capulong Street (vice versa)

All buses using Taft Avenue northbound shall turn right to Ayala Avenue to point of destination

Vehicles coming from Reina Regente Street utilizing southbound lane shall turn right to San Fernando Street or make a U-Turn at Plaza Ruiz to point of destination

Light vehicles intending to utilize the stretch of Bonifacio Drive and Roxas Boulevard southbound shall turn around to Anda Circle going to Delpan or Moriones to point of destination