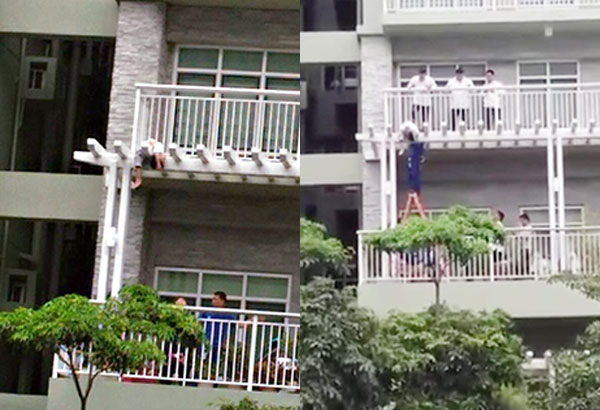 Maintenance personnel prepare to recover the body of Kim Do Young from the canopy of Two Serendra's second-floor terrace yesterday. Images taken from the Facebook posts of Reinna Athena Obligar and Niwre Llauderes.
Boy dies in fall from 39th-floor condo unit
MANILA, Philippines — A four-year-old Korean died after he allegedly fell from a 39th-floor condominium unit at the Bonifacio Global City in Taguig yesterday morning.
Kim Do Young allegedly fell from the balcony of their condominium unit at Two Serendra when he crawled onto a table and climbed the railing of the balcony.
His parents were reportedly in the unit at the time.
He landed on the canopy of the building's terrace on the second floor, Southern Police District director Chief Superintendent Tomas Apolinario said.
The boy was rushed to St. Luke's Medical Center in Taguig City, but was declared dead on arrival at around 12:05 p.m., he said.
"The condo management did not have any lapses, but the parents could be held liable for negligence," Apolinario told The STAR.
He said they are investigating the incident.