Presidential aspirants want better consultation, data-driven decisions on land reclamation
February 4, 2022 | 4:01pm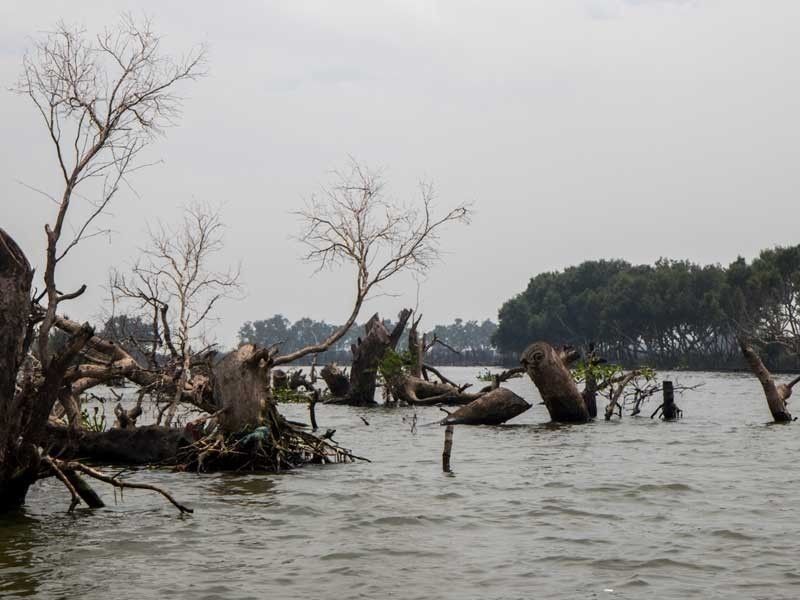 MANILA, Philippines — Presidential bets on Friday said that decisions on reclamation projects —which scientists and environmentalists say threaten the livelihood of fishing communities and coastal ecosystems — should not be rushed and should be based on consultations and on data.
During the "Panata sa Bayan: The KBP Presidential Forum" on Friday, Fr. Bob Ebisa of the Kapisanan ng mga Brodkaster ng Pilipinas Visayas chapter asked the candidates about their stand on land reclamation, or the process of creating new land from seas, riverbeds or lake beds.
Here are their responses:
De Guzman: Reclamation only benefits rich people
De Guzman, a labor leader running under the Partido Lakas ng Masa, said he is opposed to reclamation because only capitalists benefit from it by transforming reclaimed areas into business centers.
"Hindi nakikinabang ang mga mamamayan dyan. Napaparusahan pa 'yung ating environment," he said.
(People gain nothing from it. The environment also suffers.)
Scientists have stressed that reclamation destroys coastal ecosystems such as seagrass beds, mangroves and mudflats, which provide habitats for aquatic organisms and protect coastal communities from storm surge and flood.
Reclamation projects also displace fishers and their families, and affect their livelihood.
Isko: Reclamation projects as new source of income
Manila Mayor Francisco "Isko Moreno" Domagoso said yes to reclamation projects, citing the need for a "new source of income" in the face of the economic impact of the coronavirus pandemic.
"But in the same manner, we must follow all regulations with regard to protecting our environment," he said.
According to scientists' group Advocates of Science and Technology for the People (AGHAM), proper consultations are often overlooked, and approvals of environmental compliance certificates are being railroaded despite warnings from scientists and environmental groups.
Lacson: Reclamation plans should science-based
For Sen. Panfilo Lacson, policy decisions on reclamation must be science-based and data-driven.
"May mga areas na baka kailangan talaga nilang mag-reclaim pero dapat naka-base sa siyensiya at datos… Sa ibang lugar naman talagang hindi pwede," he said, adding affected communities must be consulted.
(There are areas that can be reclaimed but the plan must be based on science and data… There are also areas where we cannot do that.)
AGHAM noted the answers of Lacson and of Sen. Manny Pacquiao against the Senate's approval of a franchise for San Miguel Aerocity to construct and operate the planned New Manila International Airport in Bulacan and an adjacent airport city.
"We urge Senators Pacquiao and Lacson to explain the reason behind their votes and put into detail their specific plans for existing reclamation projects that are still facing broad opposition," AGHAM said.
According to scientists, the massive airport complex will affect food security and expose coastal communities to hazards such as flooding and liquefaction.
NewsX: Fed by the waters
Pacquiao: Assessment, consultation needed
Pacquiao said he is not against reclamation. But he cited the need for assessment of a project and consultation with affected communities.
"Ang tao ang tatanungin natin kung gusto o makatulong sa kanila o hindi. Meron namang agency to assess para suriing mabuti kung ang lugar ay dapat bang i-reclaim o hindi," he said.
(We must ask the people if they're for it, if the project will benefit them or not. There is also an agency to assess if an area can be reclaimed or not.)
Robredo: Environment, people over development
For Vice President Leni Robredo, development should never come at the expense of the environment and people.
She said reclamation plans usually go through very shallow consultations."
"Parating kino-consider ano ba 'yung epekto nito sa taong kumukontra, ano 'yung epekto sa environment. So para sakin mahalaga 'yung mekanismo pinapakinggan 'yung experts, 'yung people's councils," she said.
(We must always consider its effects on people opposing the project, on the environment. For me, it's important to have a mechanism where we'll listen to experts, people's councils.)
AGHAM called on presidential bets to prioritize measures that will protect the environment against destructive projects such as reclamation, especially as the country faces the impacts of climate change.