China hits back after Biden criticises Xi's COP26 no-show
November 4, 2021 | 7:49am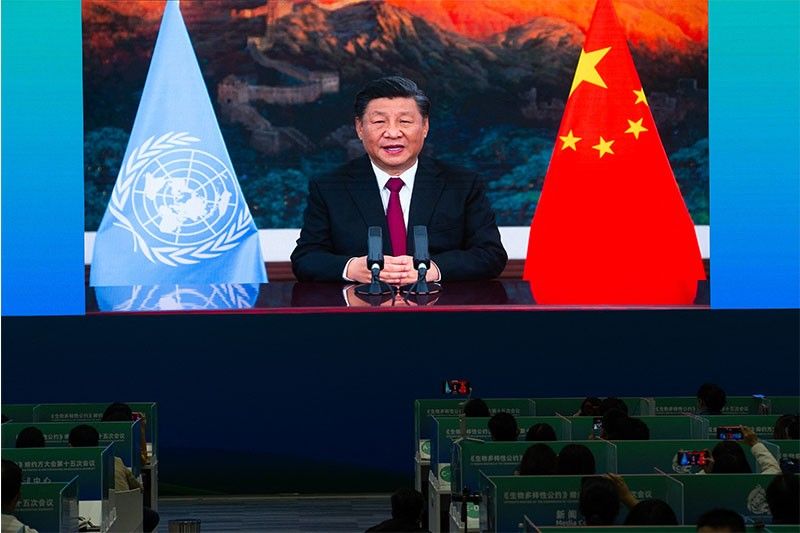 BEIJING, China — China hit back Wednesday against criticism by US President Joe Biden, who had accused Beijing of not showing leadership after President Xi Jinping skipped the make-or-break COP26 United Nations summit in Glasgow.
Xi — who leads the planet's largest emitter of the greenhouse gases responsible for climate change — has not travelled outside of China since the beginning of the Covid-19 pandemic and has not joined world leaders for COP26.
Biden on Tuesday had launched blistering criticism of the Chinese and Russian leaders for not attending the summit.
"Actions speak louder than words," Chinese foreign ministry spokesman Wang Wenbin responded Wednesday.
"What we need in order to deal with climate change is concrete action rather than empty words," he added. "China's actions in response to climate change are real."
He also made a jibe at Washington by adding that the United States pulling out of the Paris Agreement under Biden's predecessor Donald Trump had harmed global climate governance and the implementation of the accord.
Biden has apologised for Trump's decision.
COP26 has been billed as vital for the continued viability of the 2015 Paris Agreement under which nations promised to limit global temperature rises to "well below" 2C, and to work for a safer 1.5C cap.
At the summit on Tuesday, nearly one hundred nations joined a US and European Union initiative to cut emissions of methane — a potent greenhouse gas — by at least 30 percent this decade, with China among notable absentees.
Experts say the initiative could have a powerful short-term impact on global heating.
"It just is a gigantic issue and they walked away. How do you do that and claim to be able to have any leadership?" Biden told journalists before flying out of Glasgow.
"It's been a big mistake, quite frankly, for China not showing up. The rest of the world looked at China and said: 'What value are they providing?'"
As It Happens
LATEST UPDATE: May 26, 2022 - 5:15pm
Bookmark this page for updates on the United Nations climate summit, known as COP26. Photo courtesy of AFP/Tolga Akmen
May 26, 2022 - 5:15pm
Australia will present a more ambitious UN emissions target "very soon" and is bidding to co-host a COP summit with Pacific island neighbours, Foreign Minister Penny Wong said Thursday, signalling a ground shift in climate policy.
During a first solo overseas visit since her centre-left government was sworn in, Wong admitted that on the climate, "Australia has neglected its responsibility" under past administrations.
She told hosts in Fiji's capital Suva that there would be no more "disrespecting" Pacific nations or "ignoring" their calls to act on climate change.
"We were elected on a platform of reducing emissions by 43 percent by 2030 and reaching net-zero by 2050," Wong said. — AFP
March 29, 2022 - 3:31pm
Countries have proposed to hold an extra biodiversity meeting in Nairobi in June as talks in Geneva tasked with saving nature entered their final day Tuesday without an agreement.
In a document uploaded on the conference website, dated Monday, countries suggest holding a new meeting in the Kenyan capital between June 21 and 26 to "continue negotiations" on the document and other issues.
The decision is subject to official approval by the Geneva meeting before it wraps up later Tuesday. — AFP
November 15, 2021 - 7:25am
British Prime Minister Boris Johnson on Sunday hails a global accord to speed up action against climate change as "truly historic" and "the beginning of the end for coal power".
But he says his "delight at this progress" at the UN COP26 summit in Glasgow was "tinged with disappointment" because of a failure to secure the agreement of all countries to phase out hydrocarbons.
"Those for whom climate change is already a matter of life and death, who can only stand by as their islands are submerged, their farmland turned to desert, their homes battered by storms, they demanded a high level of ambition from this summit," says Johnson. — AFP
November 13, 2021 - 6:02pm
A UN climate summit text on Saturday urges nations to accelerate the phase-out of unfiltered coal and "inefficient" fossil fuel subsidies, after large emitters tried to remove the mention of polluting fuels.
The text, which comes after two weeks of frantic negotiations at the COP26 summit in Glasgow, omitted any reference to specific finance for "loss and damage" -- the mounting cost of global heating so far -- which has been a key demand of poorer nations.
The mention on Saturday of fossil fuels was weaker than a previous draft, which called on countries to "accelerate the phasing out of coal and subsidies for fossil fuels". — AFP
November 13, 2021 - 9:11am
British Prime Minister Boris Johnson appeals to richer countries to stump up more money to secure a breakthrough, exposing a central fault line at the marathon talks.
Developing economies led by India have balked at demands to do more to curb emissions without promised financial support to transition away from fossil fuels, and to adapt to the accelerating impacts of climate change. — AFP