The STAR, TV5 bag MOPC journalism awards
October 26, 2023 | 12:00am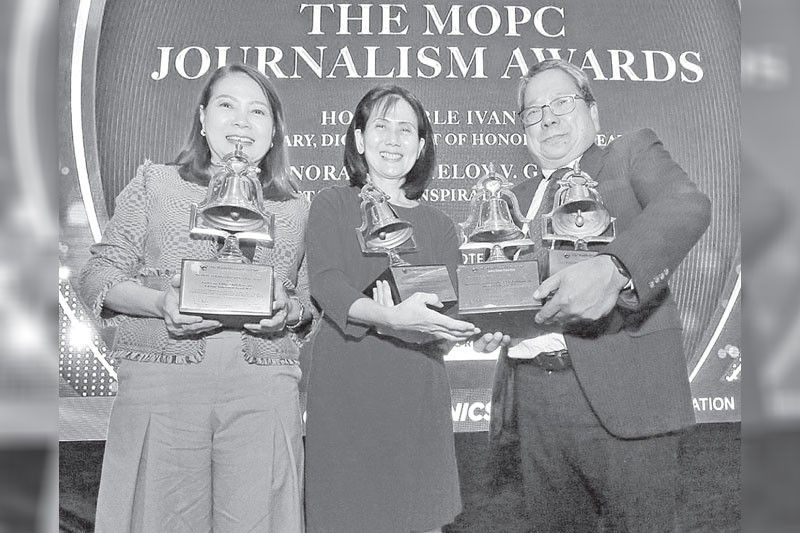 MANILA, Philippines — The Manila Overseas Press Club (MOPC) formally conferred the "Newspaper of the Year" award on The Philippine STAR yesterday.
The STAR editor-in-chief Ana Marie Pamintuan was recognized as "Journalist of the Year."
The MOPC said Pamintuan embodied the "best in Philippine journalism today – brainy, hardworking, fair and balanced, courageous, global in values, local in relevance and unyielding in the search for truth, freedom and justice."
The "Columnist of the Year" award went to The STAR columnist Alex Magno.
Magno was awarded "for the excellence, depth and clarity of his columns written from the perspective of an economist and a political scientist and for contributing to a better understanding of a broader range of issues."
The STAR, under the management of PhilSTAR Media Group president and chief executive officer Miguel Belmonte, was recognized "for excellent newspaper publishing, quality journalism, the broadest range of opinions and steadfastness in speaking truth to power no matter the political climate and the economic situation."
Luchi Cruz Valdes, news and current affairs head of The STAR's sister company TV5, received the Lifetime Achievement Award during the ceremonies held at the Fairmont Hotel in Makati.
The MOPC is Asia's oldest press club and counts among its members the owners of the largest media groups, captains of industry and top professionals and corporate titans, as well as senior journalists.
The MOPC was founded in 1945 by foreign correspondents who came with General Douglas MacArthur, who returned to the Philippines to wage the "Battle of Manila" to end the Japanese occupation of the country during World War II.
It is the first time that the MOPC has handed out journalism awards.
The other awardees are GMA Network (best TV station), retired Supreme Court Justice Artemio Panganiban (for journalism-law), Mel Tiangco (TV broadcaster), Mike Enriquez (posthumous lifetime achievement in broadcast journalism), Cheloy Garafil (distinguished journalism and government service), Dax Lucas (business writer), dzRH (radio station of the year), Deo Macalma (broadcaster), Dennis Datu (TV reporter) and Yoly Crisanto of Globe (leadership in digitalization and advancing journalism's mobile frontiers).