Meralco rates up this June; Gas prices seen higher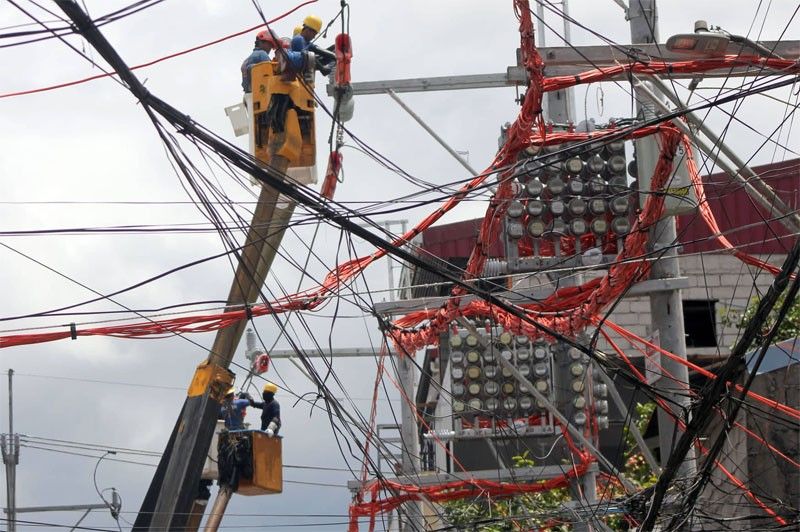 MANILA, Philippines — Customers of the Manila Electric Co. (Meralco) will see an increase in their electricity bills this month, following the completion of a distribution-related refund.
Meralco said the electricity rate this June is higher by P0.4183 per kilowatt-hour, rising to P11.9112 per kWh from P11.4929 last month.
The upward adjustment is equivalent to an increase of around P84 in the electricity bills for residential customers consuming 200 kWh, P125 for those consuming 300 kWh, P167 for 400 kWh and P209 for 500 kWh.
This is the second consecutive month of increase in Meralco rates, following a hike of P0.1761 per kWh last month.
Driving the overall rate increase was the completion of the last distribution-related refund in May equivalent to P0.8656 per kWh for residential customers.
Meralco has implemented four distribution rate true-up adjustments totaling P48.3 billion from March 2021 to May 2023, which translated to about P1.8009 per kWh refund for residential customers.
"These refunds benefitted Meralco's customers over the past two years as these helped temper increases in electricity bills at a time of financial distress and uncertainty for many," Meralco head of regulatory management office Jose Ronald Valles said.
Meralco said tempering this month's rate increase was lower generation charge, which declined by P0.4195 per kWh to P7.2502 per kWh this month due to lower costs from power supply agreements (PSAs) and independent power producers (IPPs).
PSA and IPP charges went down by P0.5871 and P0.5854 per kWh, respectively, as a result mainly of improved average plant dispatch and lower coal prices.
"In terms of the generation cost, there actually was a reduction in terms of the power rates. What is gone is that separate line item in the bill pertaining to the DRTU or the distribution rate true-up," Meralco spokesnan and vice president for corporate communications Joe Zaldarriaga said.
As for transmission and other charges, Meralco said these recorded a net decrease of P0.0278 per kWh.
The collection of the feed-in tariff allowance (FIT-All) remains suspended until the August billing month in accordance with the Energy Regulatory Commission resolution extending the collection suspension for another six months starting last March.
Meralco's distribution charge, meanwhile, has not moved since the P0.0360 per kWh reduction for a typical residential customer beginning August last year.
The pass-through charges for generation and transmission are paid by Meralco to the power suppliers and the grid operator, respectively, while taxes, universal charges and FIT-All are all remitted to the government.
Pump price increases
Hefty increases in pump prices could be expected by motorists next week following last week's rollback.
Cleanfuel said running trend showed possible price hikes of P0.90 per liter for gasoline and P1.10 per liter for diesel.
An oil industry source, on the other hand, estimated potential upward adjustments to range from P1.20 to P1.30 for diesel and from P1 to P1.10 per liter for gasoline.
"Based on the four days of trading, we will have an increase in all petroleum products," Department of Energy (DOE) Oil Industry Management Bureau assistant director Rodela Romero said in an interview with dzBB yesterday.
Romero said the estimated price increases could range from P0.90 to P1.20 per liter for gasoline, from P1.20 to P1.40 per liter for diesel and from P1.25 to P1.45 per liter for kerosene.
"Hopefully, the Friday trading could bring these down," she said.
Romero said oil prices have increased following the announcement of Saudi Arabia to cut production further by one million barrels per day for July.
The final local pump price movements will be announced by oil companies on Monday, which will take effect the next day.