Betty seen exiting Friday; signals up in Batanes, Cagayan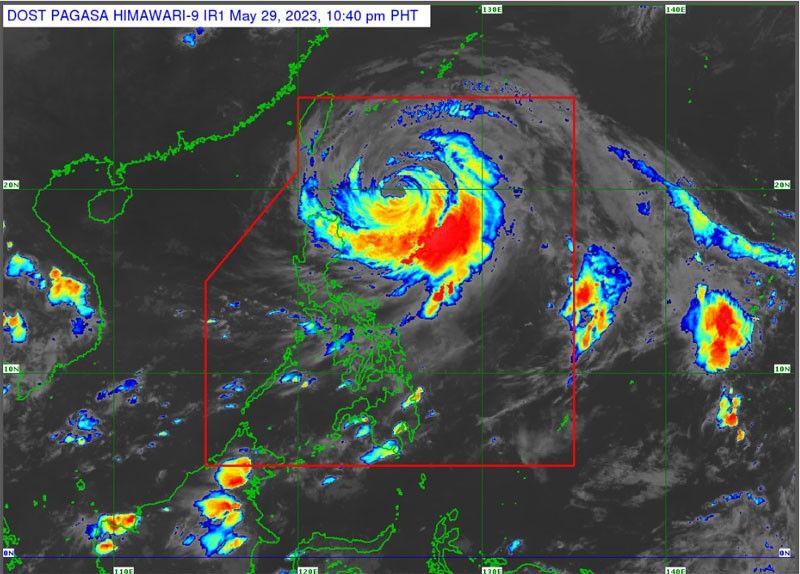 MANILA, Philippines — The Philippine Atmospheric, Geophysical and Astronomical Services Administration (PAGASA) expects Typhoon Betty to exit the Philippine area of responsibility (PAR) on Friday, even as cyclone wind signals have been raised in Batanes and Cagayan.
At a press conference yesterday, PAGASA assistant weather services chief Chris Perez said in the next three to four days, Betty (Mawar) is likely to maintain its typhoon category.
"Once it leaves PAR, it could be downgraded to severe tropical storm category. We still do not see a landfall scenario," Perez said.
The weather bureau chief added that tropical cyclone wind signal number two was hoisted in Batanes and northern portion of Cagayan, including Santa Ana, Gonzaga and Babuyan Islands.
Perez said that areas under wind signal number two should expect heavy rains in the next 24 hours. "It can result to flooding in low-lying areas, and landslide, particularly those near the mountains," Perez said, adding that aside from typhoon Betty, the southwest monsoon will bring rains in many areas in the country.
"On Tuesday morning, the center of Betty will be at 275 kilometers east of Basco, Batanes. By Wednesday morning, it will be 230 kilometers east northeast of Itbayat, Batanes. By Wednesday to Thursday, it will slowly curve away from the country and by Friday, it is possible that it will exit in the northern boundary of PAR," Perez said.
As of 11 a.m. on Monday, the typhoon slightly decelerated while moving northwestward over the waters of Cagayan. The center or eye of Betty was estimated 470 kilometers east of Aparri, Cagayan or 475 kilometers east of Calayan, Cagayan with maximum sustained winds of 155 kilometers per hour near the center, with gustiness of up to 190 km/h as it moves northwestward at 15 km/h.
He added that based on the five-day forecast track, the southwest monsoon will bring rains in the western and southern sections of Visayas and areas in Mindanao.
"By Thursday and Friday, Typhoon Betty will move slowly in the eastern portion of extreme Northern Luzon. In the next five days, the concentration of rains will be in the western section of the country, including Luzon and western section of Visayas," Perez explained.
Maritime travel halted, flights cancelled
Typhoon Betty forced the Philippine Coast Guard (PCG) to halt maritime travel on the ports of Alabat, Atimonan, Dalahican and Cotta in Quezon on Monday.
The PCG prohibited any vessels with a gross tonnage of 250 or less from sailing, based on the weather forecast released by PAGASA.
Sea voyages may continue when the weather and sea conditions permit and PAGASA declares it appropriate, according to Commodore Janus Robinson Sabas of Coast Guard Station-Southern Quezon.
Meanwhile, Cebu Pacific Air and its sister company Cebgo announced the cancellation of 10 domestic flights on Monday due to Betty.
Cebu Pacific Corporate Communications head Carmina Romero said they cancelled flights from Manila to Cauayan, Laoag, Tuguegarao and their turnaround flights while Cebgo cancelled the Manila-Masbate-Manila flights.
Romero said passengers may avail themselves of their preferred option online up to two hours before their scheduled time of departure through the Manage Booking portal.
Class suspensions
The towns of Luna and Sudipen in La Union have suspended classes in both public and private schools, as well as work in government offices on Monday due to the typhoon.
Mayor Gary Pinzon of Luna and Mayor Wendy Joy Buquing of Sudipen have also banned fishing in seas and rivers because of the strong current.
In Siaton, Negros Oriental, Mayor Cezanne Fritz Diaz suspended classes for all public and private elementary and high schools due to heavy rains brought by enhanced southwest monsoon.
Diaz added that the southwest monsoon was being enhanced by typhoon Betty and that flash floods and landslides are possible due to moderate to heavy rains.
Meanwhile, all courthouses in the province of Batanes have been suspended starting Monday until further notice due to typhoon Betty, according to the order released by Batanes acting Presiding Judge Ma. Antonia Largoza-Cantero. All pleadings and concerns on cases, Cantero said, should be addressed through the Batanes Regional Trial Court's emails.
P5.5 B crops saved
The Department of Agriculture (DA) on Monday said that at least P5.5 billion crops, including P4.84 billion rice plantations were saved after farmers in Cordillera Administrative Region, Cagayan Valley, Ilocos, Central Luzon and Bicol heeded the call of the agency to harvest early.
According to the DA, 287,826 metric tons of total palay production were secured from 64,735 hectares of plantations. The DA added that a total of P709 million worth of corn were harvested from 6,925 hectares of plantations from the five regions.
At the same time, DA assured assistance to affected farmers and fishers, including the distribution of 681,205 bags of rice seeds, 21,192 bags of corn seeds, and 20,454 kilograms of assorted vegetable seeds from all regions.
The DA will also offer at least P25,000 loan assistance to farmers and fisherfolk under the Survival and Recovery Loan Program from the Agricultural Credit Policy Council. It added that Quick Response Funds are also being readied for the rehabilitation of affected areas.
P2.7 B standby funds The Office of Civil Defense (OCD) gave assurance yesterday that concerned government agencies have at least P2.7 billion in standby funds that can be readily tapped if needed in areas affected by Typhoon Betty.
The Department of Social Welfare and Development alone has P2.2 billion in stockpile and standby funds in its central office, field offices and National Resource Operations Center. – Michael Punongbayan, Neil Jayson Servallos, Rudy Santos, Michelle Zoleta, Jun Elias, Ralph Edwin Villanueva