More areas in Luzon placed under Signal No. 1 due to Super Typhoon Betty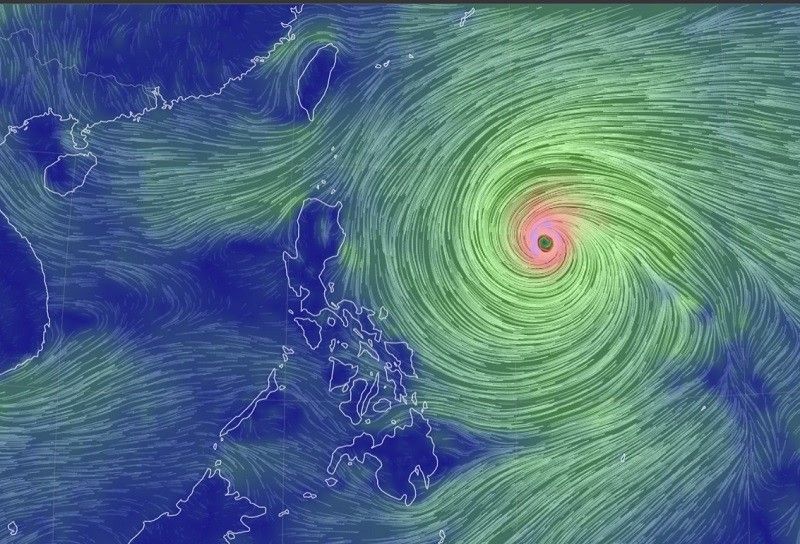 MANILA, Philippines — Super Typhoon Betty slightly weakend while moving westward, state weather bureau PAGASA said Saturday.
More areas were placed under Tropical Cyclone Wind Signal No. 1 as the super typhoon inches closer to the Philippines.
The eye of "Betty" was spotted 1,035 kilometers east of Central Luzon at around 4 p.m., according to the latest forecast of PAGASA on Saturday.
Maximum sustained winds: 185 kilometers per hour near the center
Gustiness: up to 230 kph
Movement: west northwestard
Speed: 30 kph
"Super Typhoon Betty is forecast to track westward in the next 12 hours before turning west northwestward. On Monday, the tropical cyclone will turn northwestward and decelerate as it moves over the waters east of Extreme Northern Luzon," said the state weather bureau.
"Betty may eventually become almost stationary between late Tuesday and early Wednesday when it will be closest to Batanes (i.e., within 250-300 km)."
Meanwhile, Tropical Cyclone Warning Signal No. 1 was raised in the following areas:
Batanes
Cagayan including Babuyan Islands
Isabela
Apayao
Ilocos Norte
northern and central portions of Abra (Tineg, Lacub, Lagayan, San Juan, Lagangilang, Licuan-Baay, Malibcong, Danglas, La Paz, Dolores, Tayum, Bucay, Sallapadan, Daguioman, Bucloc, Boliney)
Kalinga
eastern and central portions of Mountain Province (Sadanga, Barlig, Natonin, Paracelis, Bontoc)
eastern and central portions of Ifugao (Mayoyao, Aguinaldo, Alfonso Lista, Banaue, Hingyon, Lagawe, Lamut, Kiangan, Asipulo)
northern and central portions of Aurora (Dilasag, Casiguran, Dinalungan, Dipaculao)
Quirino
northeastern portion of Nueva Vizcaya (Kasibu, Quezon, Solano, Bagabag, Diadi, Villaverde, Bayombong, Ambaguio)
Strong winds (strong breeze to near gale strength) will be experienced within the areas where Signal No. 1 was currently hoisted.
"Betty is forecast to remain as a super typhoon over the weekend. Although it will likely maintain its strength for the next 36-48 hours, short-term intensification is not ruled out especially in the next 12 to 24 hours," PAGASA said.
"However, this tropical cyclone may begin weakening considerably on Monday or Tuesday during its slowdown period over the waters east of Batanes due to potential unfavorable conditions (e.g., effect of upwelling of cooler ocean water and dry air intrusion)," it added.
The enhanced southwest moonsoon (Habagat) may bring strong breeze to near gale conditions with intermittent gusts starting Sunday evening or early Monday in Visayas, western parts of Central and Southern Luzon, and the northern and western parts of Mindanao.
Moonsoon rains from the enhanced habagat are possible in the areas that are not directly affected by the super typhoon on Sunday, particularly:
western sections of MIMAROPA
Visayas
Mindanao
Moonsoon rains will likely to be experienced over MIMAROPA and Western Visayas by Monday and Tuesday.
Betty is the second tropical cyclone for 2023 and the first for this month of May.