Marina grounds vessels of oil tanker owner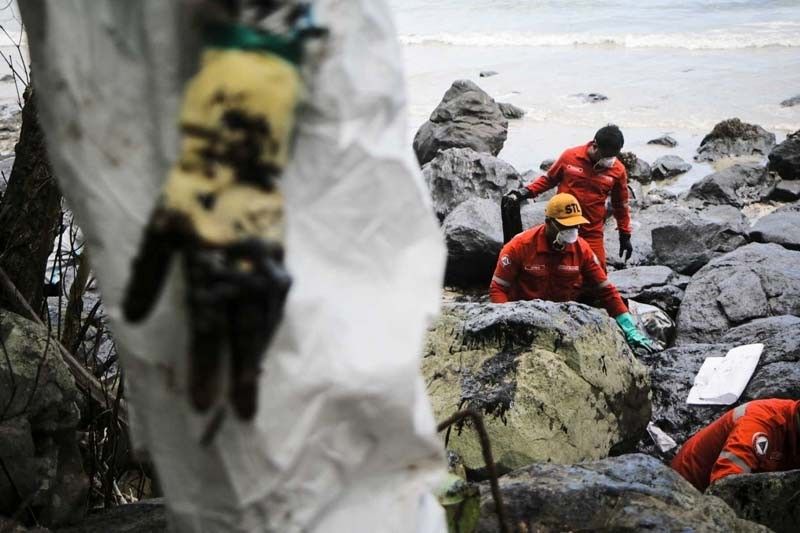 MANILA, Philippines — The Maritime Industry Authority (MARINA) announced yesterday that it has issued two cease and desist orders against RDC Reield Marine Services, the company that owns the MT Princess Empress which sank off Naujan, Oriental Mindoro.
MARINA administrator Hernani Fabia revealed this during a meeting of the Oil Spill Inter Agency Committee at the Department of Justice, the agency conducting the case buildup against those responsible.
He said one order was issued to initiate the cancellation of the company's Certificate of Public Convenience (CPC), while the other was issued to halt its remaining three vessels' operations, two of which are tankers and one a passenger vessel.
Fabia added that the cease and desist order will remain in effect pending the result of the investigation into the oil spill caused by the tanker that sank Feb. 28.
"We issued two cease and desist orders. One is for purposes of cancellation of the franchise or the CPC, the other is to cease and desist in the operations… We will conduct investigation on all the documents of competence, safety documents," he told reporters during a chance interview after the meeting.
The sinking of Princess Empress, which carried around 800,000 liters of industrial fuel, caused an oil spill that has affected the livelihoods of fisherfolk and caused harm to marine life in the area.
Asked about earlier findings that the vessel was a scrap ship that was rebuilt twice to become a tanker, Fabia said it was "newly constructed."
Earlier, Justice Secretary Jesus Crispin Remulla said the appraisals on MT Princess Empress, which has been reconstructed from scrap, and then into a carrier and later on as a tanker, make it 50 years old by transportation standards.
Fabia said this wasn't true based on their records. "If you bought, that is – then new means it is being – it's already existing. But this is newly constructed, new from scratch. Based on our records, this is new construction. We shall submit that to the NBI (National Bureau of Investigation) today. We have an investigation we conducted on that," he added.
Claims caravan
Residents, tourism establishments and the local government units affected by the ongoing oil spill in Oriental Mindoro can start filing for their compensation claims as the insurer of the sunken MT Princess Empress will start its "claims caravan" on Monday in Calapan City.
"In response to the oil spill incidents, plans are also underway for local claims offices to be opened in the affected areas. On the week of 27 March 2023, the first claims offices, also known as 'claims caravan' … will be opened in Calapan City, Oriental Mindoro," P&I Club lawyer Valeriano del Rosario said. The P&I Club is the insurer of RDC Reield Marine Services.
Del Rosario said the claims caravan will initially open at the provincial legal office of Oriental Mindoro and serve as a collecting point of completed claim forms that will be made available by Monday. He also emphasized that only "valid claimants" or those who will be able to provide the required "specific supporting documents" to prove their loss can get compensation.
"And if claimants are unable to provide such evidence, they are advised to visit the local claims offices for advice for the most appropriate method of presenting their claim … once the claimants have completed the claims forms, they have to submit the completed forms to the local claims offices," he added.
Del Rosario reminded affected individuals that their claims will be reviewed by experts who may also personally visit them. Claimants unable to receive updates within 30 days are advised to contact their claimants' offices.
Oriental Mindoro Gov. Humerlito Dolor said that the massive oil spill caused by the Princess Empress has affected 20,932 families, 61 tourism establishments and 750 community-based organizations for tourism and thousands of individuals.
Cancer from tainted fish
An official of the Bureau of Fisheries and Aquatic Resources (BFAR) on Thursday warned that contaminated fish from areas affected by the oil spill could cause cancer amid the presence of polycyclic aromatic hydrocarbons (PAH), a chemical found in crude oil or petroleum products.
"Although, this number is still within the standard of three milligram per liter of the DENR (Department of Environment and Natural Resources) Administrative Order, just the same, traces of petroleum products were detected," BFAR spokesperson Nazario Briguera said in a radio interview.
Briguera said fish samples tested positive for low levels of PAH, which is considered carcinogenic. He said PAH – harmful to humans and other living organisms – may accumulate in the flesh of the fish over time.
"PAH is considered carcinogenic and can cause cancer if ingested regularly. Let me clarify, that it could happen if the intake of fish contaminated with PAH accumulates in your body," he said.
The University of the Philippines-Marine Science Institute said that a 37.84-square kilometer oil slick, larger than Las Piñas, was observed in the latest US National Oceanic and Atmospheric Administration (NOAA) report based on a satellite image taken on March 21, 2023.
Monitoring
The Philippine Space Agency (PhilSA) continues to monitor the progression of the oil spill in the waters off Oriental Mindoro with satellite maps it was getting from foreign groups and space agencies.
Engineer Roel dela Cruz, PhilSA Space Data Mobilization and Applications Division supervising science research specialist, said that the satellite maps so far can only identify areas with thick oil slicks as these are captured or can be identified by the images.
"Thinner oil cannot be detected specially in wavy conditions. You need significant amount of oil to dampen the waves for such areas to be detected in SAR (synthetic aperture radar) images," Dela Cruz told The STAR.
Dela Cruz said that there are no satellite images yet in other areas where the slick has already been reported to be present or visible.
So far, the satellite images received by PhilSA were provided by Sentinel Asia, the US NOAA, International Charter Space and Major Disasters, Canadian Space Agency's RADARSAT-2 and the US Geological Survey's LANDSAT9 OLI satellites, the Japan Aerospace Exploration Agency ALOS-2 satellite retrieved from Sentinel Asia, and Taiwan Space Agency's FORMOSAT-5.
PhilSA said that all of the maps are still subject to field validation. – Robertzon Ramirez, Bella Cariaso, Roel Pareño, Rainier Allan Ronda