ORION to perk up onion industry
February 1, 2023 | 12:00am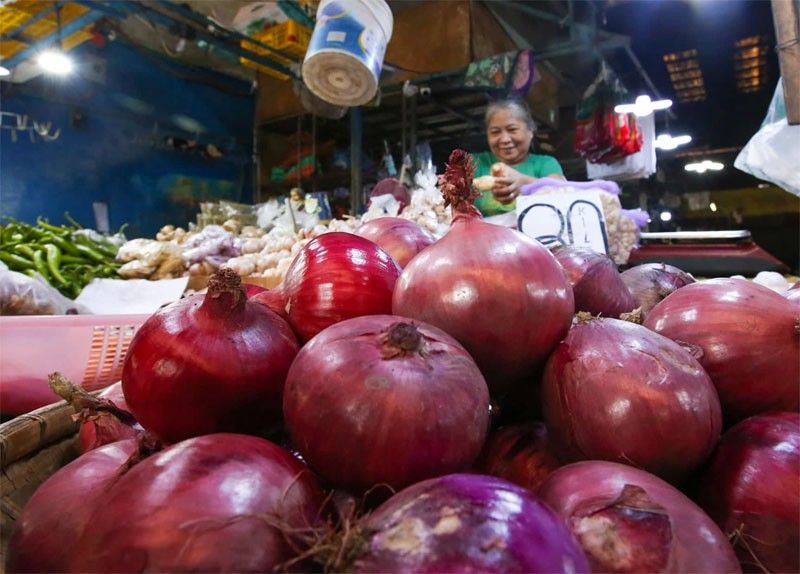 MANILA, Philippines — To support onion farmers and increase domestic supply, the Department of Agriculture (DA) will launch the Optimization and Resiliency in the Onion Industry Network or ORION program.
In a statement yesterday, the DA said ORION seeks to promote a competitive, resilient and profitable
onion industry providing high quality, safe, affordable and sustainable onion supply to meet increasing domestic demand.
"It will improve productivity and efficiency of onion plantations through PhilGAP certification, reduce pre- and post-harvest losses, intensify product distribution and logistics and ensure sustainable supply in the local market," the agency said.
Under the program, the DA will provide credit loans, which may be used for the purchase of equipment and establishment of facilities.
Farmer clusters and associations will also be organized for production and market integration.
Under ORION, innovative farming technologies will be pushed as well as value-adding processes to maximize production and income.
The DA said it would also lead regulatory activities and push for the creation of a national information database to ensure updated and relevant data on production and marketing.
The department will continue to carry out an intensified distribution scheme for production and marketing support, to allow the sector to grow and profit.
Last year, 283,172 metric tons (MT) of red and yellow onions and shallots were harvested from the 29,728- hectare production area. However, monthly requirement was posted at 21,679 MT.
On Jan. 30, the DA conducted a meeting to discuss with onion growers, traders, importers and other stakeholders the issues that caused a spike in the prices of the common food ingredient since late 2022.
The discussions highlighted the challenge that even as onion remains to be essential and is required in most Filipino dishes, production does not meet the 260,000 MT demand per year as it is only grown during the dry season and is suitable in selected provinces of Luzon and the Visayas.
Other factors affecting the price and supply of the commodity are the increase in the price of production inputs, including fertilizers and seed; low level of mechanization and high labor cost; expensive marketing and distribution scheme; limited access to credit facilities and inconsistencies in information.
The country also recorded a 35-percent loss after harvest due to lack of facilities such as cold storage and improper handling. In 2022 alone, the DA recorded a 100,000 MT loss.
Also during the stakeholders' meeting, it was recommended that the Local Price Coordinating Council under the Department of the Interior and Local Government (DILG) be tapped for more efficient price monitoring.
Onion prices surged to P800 per kilo last year amid a shortage of the commodity, despite the suggested retail price of P250 per kilo.
Because of this, the government decided to import 21,060 MT of fresh onions. But only 25 percent of the total volume were applied for by importers.
With shipments now in the country, imported red onion retails at P180 to P200 per kilo and white onions at P180 per kilo, based on the DA monitoring as of yesterday.
Local red onions are sold from P200 to P330 per kilo and white onions at P180 to P300 per kilo.
Garlic prices surge
Prices of native garlic surged to P400 per kilo, Senate President Juan Miguel Zubiri said yesterday.
"High prices of onions are over. Now, garlic prices are increasing. Taiwanese garlic costs less than P100 per kilo, but the native garlic is priced at P400," Zubiri told reporters.
"Bakit naman biglang tumaas sa P400 ang garlic? It looks like a group of traders from the north opted to increase garlic prices kasi pababa na ang presyo ng onions," he said.
Zubiri said soaring prices of agricultural products such as onion and garlic would prompt President Marcos to approve the importation of such crops.
He said the price of garlic was only P100 per kilo two months ago.
"It became P400. How did that happen?" Zubiri said, adding that garlic price in Ilocos Norte is only about P80 per kilo.
He said the Department of Trade and Industry should enforce a suggested retail price for local garlic.
"Let's not take advantage of these price increases. Some say inflationary, let's increase prices to keep up with inflation. Poor people are being taken advantage of," Zubiri said.
Zubiri, who chairs the Commission on Appointments, said he would ask Trade Secretary Alfredo Pascual for explanation when he faces the CA today.
Economic sabotage?
Sen. Imee Marcos said there is an apparent effort to sabotage prices of agricultural products as some government officials have been pushing for importation.
"It is clear that there are those who manipulate artificial shortages of crops to increase prices," she said when asked by The STAR if there are efforts to destabilize the Marcos administration.
"Why is this happening in the market all of a sudden? They say that I'm praning (paranoid), but don't we still feel that there is sabotage in the prices of local products?" she added.
The senator said the DA and other concerned agencies should probe the soaring prices of agricultural products such as onion and garlic as well as curb smuggling.
P18.6 million onions seized
Nearly 8,000 mesh bags of smuggled onions with an estimated market value of P18.6 million were seized by the Bureau of Customs (BOC) in Barangay Ayala, Zamboanga City recently.
The BOC Port of Zamboanga conducted a maritime patrol operation on Jan. 25, which resulted in the confiscation of 5,611 bags of imported red onions amounting to P8.5 million and 2,249 bags of white onions worth P10.1 million.
The BOC said it launched the operation after receiving information that smuggled onions were loaded in a vessel marked M/V Princess Nurdisza from Taganak, Tawi-Tawi bound for Barangay Baliwasan in Zamboanga City.
The onions were transported to the DA's Research Center in Barangay Talisayan, Zamboanga City for safekeeping.
The onions were seized after the vessel's crew failed to provide sanitary and phytosanitary import clearances from the Bureau of Plant Industry, in violation of the Customs Modernization and Tariff Act.
Those responsible for the smuggling of onions are facing charges of violating the Anti-Agricultural Smuggling Act of 2006. — Cecille Suerte Felipe, Robertzon Ramirez