Workers to stage rally today for jobs, wage hike
November 30, 2022 | 12:00am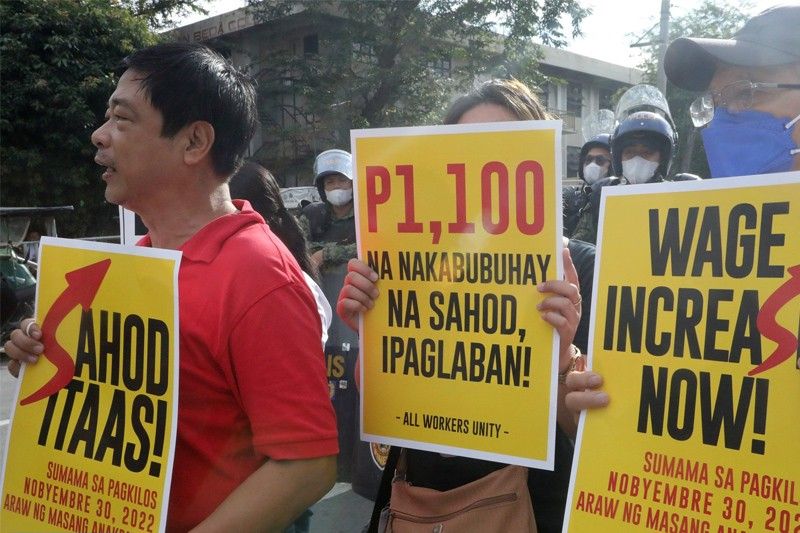 MANILA, Philippines — To commemorate Bonifacio Day, about 30,000 workers are taking to the streets to demand additional pay and more decent jobs.
Members of various labor groups from both public and private sectors have united to mount the protest rally and seek urgent government action on their demands.
According to the workers, President Marcos has been ignoring labor issues since he assumed power six months ago.
At a press conference, members of All Workers Unity sought a P100 across-the-board salary hike to enable workers to recover the lost value of their wages due to rising inflation.
But instead of granting salary hikes, the business community urged the government to focus on creating jobs.
In a radio interview on Monday, Employers' Confederation of the Philippines president Sergio Ortiz-Luis said higher wages could lead to the closure of many micro, small and medium enterprises.
He further noted that wage hikes would only benefit the formal labor sector or 10 percent of the labor force.
Aside from salary increases, workers are calling for decent employment, as well as an end to contractualization and trade union repression.
Double pay today
Workers who will report for work today are entitled to double pay, according to the Department of Labor and Employment (DOLE).
In an advisory, Labor Secretary Bienvenido Laguesma reminded employers that Bonifacio Day is a regular holiday, thus workers who will report for work are entitled to extra pay.
During regular holidays, Laguesma said workers shall be paid 200 percent for the first eight hours of work.
For services rendered beyond eight hours, Laguesma said workers shall be paid an additional 30 percent of the hourly rate.
Those workers who will not report to work shall be paid their regular daily pay.
An employee who will report for work on the day that falls on his rest day shall get an additional 30 percent on top of the 200 percent pay.
Work in excess of eight hours during a regular holiday that also falls on the workers' rest day shall be paid an additional 30 percent of the hourly rate.
Laguesma said employers must comply with the correct computation and pay their workers the right wages.
Wage hike policy
After five months in office, the Kilusang Mayo Uno (KMU) is urging Marcos to urgently certify bills increasing salaries of workers and declare his policy on wage hike by today.
Elmer Labog, KMU chairman, said it is high time for the government to review the prevailing wages for workers because of the high prices in commodities like pork, onions, among others.
Labog said they want Marcos to answer them in their request to address their needs.
"We want to hear from the President his response to the call of the labor sector to increase the salaries of workers to cope up with the high prices of commodities," Labog said.
Labog said the government has various options to find solutions on their pleadings and to help those in need, especially the labor sectors.
13th month also for contractuals
Contractual and job order personnel in government also deserve to receive 13th month pay due to the vital service they provide to the public, Sen. Mark Villar said yesterday in pushing for the immediate passage of the bill seeking to grant the said workers the same compensation as their tenured counterparts.
Villar has filed Senate Bill 1528 or the proposed 13th Month Pay Law for Contractual and Job Order Personnel to provide benefits to all government workers, including an estimated 642,000 contractual workers.
"Contractual workers (COS) and job order (JO) personnel play a vital role in government service. They fulfill their duties diligently and passionately comparable to permanent government employees. Notwithstanding, they are not entitled to mid-year and year-end bonuses, such as the 13th month pay, among other benefits," the senator said in his bill.
The measure mandates the payment of 13th month pay to all government employees regardless of their employment status.
Under the bill, the minimum amount available for COS and JO personnel shall not be less than one-half of the monthly salary of the employees based on their current contract with the government.
Villar said the bill was in line with the recent issuance of the Commission on Audit and the Department of Budget and Management extending their services of COS and JO workers until Dec. 31, 2024. – Jun Elias, Paolo Romero, Cecille Suerte Felipe