Partners, not pounds: There is more to animal welfare than rounding up strays
November 3, 2022 | 4:40pm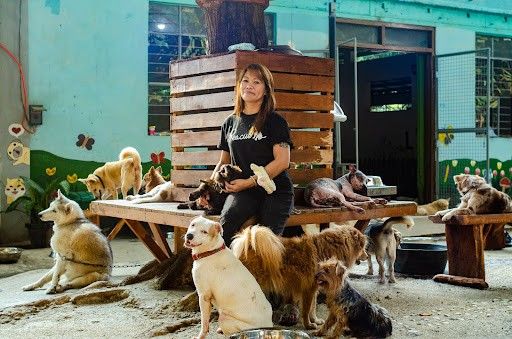 BULACAN, Philippines — It's three in the afternoon, and the familiar smell of dog food, cooked meat, and rice wafts through the air.
Dozens of dogs begin wag their tails and bark in anticipation and in unison, while their caretakers pile food onto each dog's plate.
Meanwhile, the cats wait patiently to be fed inside their enclosure.
This is how a regular afternoon goes at Pawssion Project in San Jose del Monte, Bulacan, a small shelter that Malou Perez put up in 2019.
Its sister shelter, located in Bacolod, was first to come into existence.
"Pawssion started October 2018 because of dogs on 'death row' at the Bacolod City Pound," she says.
Strays and rescues that are not adopted or claimed are often put down due to lack of space and resources at local pounds. "When I saw the [Facebook] post of the dogs on death row, just like any other regular animal lover, I shared the post; but I didn't really do [anything] about it, because at the end of the day, 50 dogs is 50 dogs."
After a visit to the pound, Perez was soon convinced she had to take them in. "I just wanted to save those dogs," she says.
The SJDM shelter was born thanks to another Facebook post, this time about 106 dogs on death row in the city.
As of mid-2022, Pawssion Project-Bulacan was home to more than 400 dogs and 100 cats—all of them rescues. Together with its sister shelter, Pawssion Project is home to over 600 cats and dogs.
'Crisis point'
In both instances, Perez says she initially had no plans of putting up permanent locations. But the problem with strays has been a force majeure that's always made her change her mind.
"You know, the problem is too overwhelming to be solved by one organization. The main problems are overpopulation, the lack of education in terms of animal welfare, and responsible pet ownership."
"The Philippines has around 13 million strays right now. It is just but impossible to rescue all of them. It is impossible."
Echoing Perez's woes, the People for the Ethical Treatment of Animals (PETA) issued a statement in June on the state of animal homelessness in the country.
"Animal homelessness has reached a crisis point in the Philippines. While countless dogs and cats struggle to survive on the streets, hundreds are euthanized every month in municipal pounds," said Jason Baker, PETA senior vice president of campaigns.
The group appeals to anyone "with the necessary time, energy, and space to adopt a cat (or dog) from a rescue group or animal shelter."
The statement accompanies the launch of the group's billboard campaign calling for Filipinos to give cats "a second chance at a better life", in line with June's Adopt-a-Cat month.
No more strays
Under local government units have the power to impound stray animals, and regulate the keeping of animals in homes or as part of a business.
"If this law was implemented fully, there should be no stray cats or dogs in the country," says Dr. Glofezita Lagayan of the Bureau of Animal Industry (BAI) via email.
But not everyone agrees.
Linda Bansil, a 46-year-old animal rescuer from Pasig, believes that stray animals should not suffer the consequences of not having a home.
"This is a fight against animals because they simply exist outdoors," she says.
"Not all animals have owners; not all cats have homes. We are born on Earth, which is inhabited by cats and other animals. How can they say 'no strays'?"

Bansil, along with her friend and partner rescuer Dada Mendizabel, practices Trap-Neuter-Return or 'TNR' for cats, a process where stray animals are trapped for desexing, and returned afterwards to their habitats.
"TNR is an effective way to control the stray population in the most humane way possible. The pounds and shelters will have less animals to rescue, foster, house and so on. Less reason too for rescuers to admit [animals] in their homes—because there are fewer rescuers."
Aside from TNR, Bansil and Mendizabel also rehome rescued animals through a Facebook page they have set up.
Dr. Lagayan of the BAI says, however, that a trap-neuter-return program would not be feasible, because it will contradict the law. The agency maintains that all animals must be kept within homes or other establishments.
One particular reason for this is the transfer of rabies — a viral disease that can cause brain damage and possibly death — to humans upon contact with an infected animal.
A rabid problem
In the Philippines, around 200 deaths occur yearly due to rabies, as per BAI data. Interestingly, the anti-rabies program and law in the country focus more on canines.
"According to the World Health Organization, dogs are the main source of human rabies deaths, contributing up to 99% of all rabies transmission to humans," says Dr Lagayan.
"Further, the global and ASEAN goal for rabies is 'Zero human deaths from dog-mediated rabies by 2030'."
The fear of rabies is still very much alive, says Perez, only contributing to the worsening stigma surrounding stray animals.
"People think that rabies is inborn. It's basically why people who do not understand that would immediately call the pound to round up strays if they see strays in their area. Because they think that when that dog or cat will bite their kid, or will bite them, they're gonna get rabies," she says.
But while the government has free anti-rabies vaccinations for domesticated animals, it only addresses one aspect of the issue.
"The only project for strays right now is the anti-rabies vaccination. So how is that addressing the overpopulation problem? That is our problem," adds Perez.
Her hopes for animal welfare are not lost, however.
She says that greater involvement from LGUs would be key in solving the stray animal crisis, since "they have the prerogative to actually allocate a budget for animal welfare."
New approaches to long-term issue
The stray animal problem may be a growing concern, but the response to, and unconventional methods to addressing it are on the rise as well.
The Quezon City LGU announced in March that stray dogs — rescued or surrendered — will also be trained as service dogs, such as emotional support or bomb detection dogs. This comes as an alternative to the city's efforts to rehome animals at its Animal Care and Adoption Center.
QC also offers free microchipping, where a small chip is implanted in an animal's body for identification. Chipped and registered pets will be easier to reunite with their owners
Registration of the owners is needed afterwards, to help locate the animal's caretaker, in the event the pet is caught outside its home.
Back in SJDM, Bulacan, the city vet will also be implementing the same technology, says Dr. Arvin Agapito, the city veterinarian.
"We are just waiting for a meeting with the Local Health Board for approval. But we have already identified a barangay for the initial implementation," he says.
"The dog catching will still be in place. This is just to regulate pet owners to register their pets with the city," the doctor adds.
Dr. Agapito believes that this project will not only regulate the pet population in the city, but also increase responsible pet ownership among the city's residents.
"Dogs should not be penalized. It should be the irresponsible pet owners who should be penalized. That's where we are headed. Our main concern is just the funding," says Dr. Agapito, who admits that funds for the city vet's projects had to be temporarily deprioritized, to address the city's COVID-19 response.
On top of the city vet's plans to implement microchipping, the department also conducts free kapon—spay and neuter—activities. One of its kapon projects was partnering with Malou Perez's Pawssion Project, where the city vet provides free desexing to the shelter's rescues.
A final plea
Perez calls for improved conditions in how Filipinos deal with stray animals.
"I think so much of what's going on right now is really the lack of education and empathy for these stray animals. And people think we're superior, that we rule the world, and these animals don't have the right to live here. I think that is the main problem."
"For me, I would understand if you don't like them. That's okay. Just don't hurt them."