Comelec confident of smooth voting process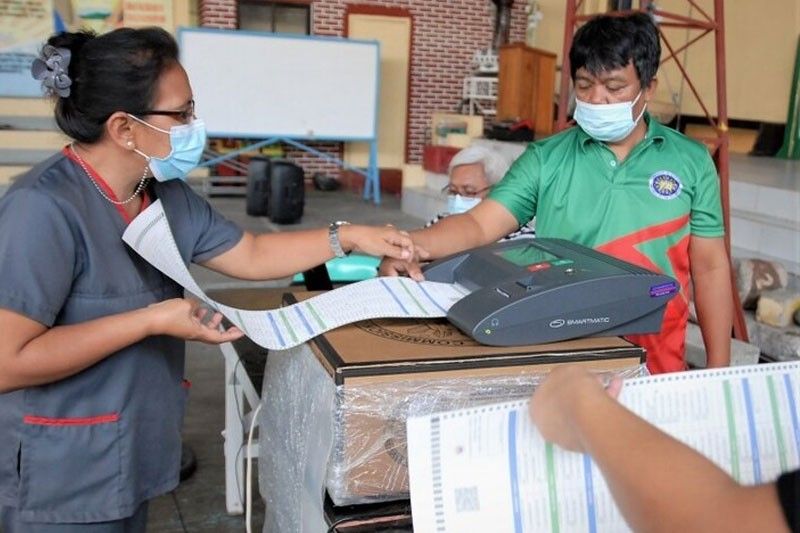 MANILA, Philippines — The Commission on Elections (Comelec) is confident that the voting process will run smoothly as it undertakes the final testing and sealing of vote counting machines (VCMs) before the May 9 elections.
Leading the inspection process at a precinct in San Juan City yesterday, Comelec Chairman Saidamen Pangarungan said: "We can see that the election process is OK. It was smooth and no malfunctions were seen. (I am) very, very satisfied. I will consider it flawless."
The Comelec hopes that this week's final testing and sealing process in all precincts nationwide, which is on schedule and open to the public, will help boost voter confidence.
Pangarungan was walked through the process of unboxing the VCM, voting, ballot feeding and the generation of election returns which he read out.
Helen Acedo, the assigned Department of Education Supervisors Official (DESO) for Xavier School, said that the 17 VCMs that were tested yielded no discrepancy between ballots and receipts.
Only test ballots, 10 of which are allotted per precinct for the purpose, were used in this process, after which the VCMs were sealed and secured at the precinct until actual use on election day.?
The official ballots, on the other hand, will only be distributed to the electoral board at dawn of May 9 before precincts open for voters at 6 a.m.
San Juan City election officer Jayvee Villagracia said the final testing and sealing of VCMs at the polling precinct at Xavier School were a breeze.
Acedo requested the Comelec to have the list of voters posted at the school entrance to help people identify and locate their assigned precinct.
On election day, waiting areas per precinct will be made available and crowd control personnel will be deployed to ensure that physical distancing and other health protocols are followed.
San Juan City is one of the areas in the National Capital Region with the least number of registered voters at over 100,000, but Acedo still reminded voters to come prepared with their list of candidates to hasten the process.
Call to vigilance
Meanwhile, poll watchdog Kontra Daya and various groups issued a joint statement calling for public vigilance on election day.
"We enjoin fellow Filipinos to guard our votes as we value the lives of our family and friends, the future of our country and the next generation. Let the people decide. Let truth and fairness prevail," the groups said in their statement.
Members of academe, artists, health workers, labor networks and professionals who signed the statement also called on the authorities to "fulfill their duties without undermining the credibility of the election process."
They also called on candidates to "affirm their pledge of promoting good governance."
"We will remain vigilant before, during and after elections as we resist vote manipulation, disinformation, violence and abuse of power," their statement read.
"We will reject any attempt to subvert the people's choice and hold accountable all those who conspire to steal our hope for a better Philippines," it added.
Aside from Kontra Daya, among the signatories of the joint statement were the Movement Against Disinformation Philippines, PHVote Coalition, FactsFirstPH Coalition, CourageON Coalition, Movement Against Tyranny, Task Force on Urban Conscientization, Bagong Alyansang Makabayan, Karapatan, BFF-Babae laban sa Fake at Fraud, Citizens' Urgent Response to COVID-19, Akademiya at Bayan Kontra Disimpormasyon at Daya, Movement for Safe, Equitable, Quality, and Relevant Education, Concerned Lawyers for Civil Liberties, San Beda Law Human Rights Advocates, Alliance of Concerned Teachers Philippines, Kilusang Mayo Uno, Federation of Free Workers, Pamantasan ng Lungsod ng Maynila president Emmanuel Leyco, UP Diliman Chancellor Fidel Nemenzo, In Defense of Human Rights & Dignity Movement, UP Diliman Kalasag, Alyansa Tigil Mina, Workers Electoral Watch and Kalikasan People's Network for the Environment.
Also among the signatories were various religious leaders and organizations including Most Rev. Honesto Ongtioco (Diocese of Cubao), Most Rev. Gerardo Alminaza (San Carlos), Most Rev. Victor Ocampo (Gumaca), Most Rev. Jose Elmer Mangalinao (Bayombong), Caritas Pilipinas, Nuestra Senora del Perpetuo Socorro Parish, Sampaloc, Manila, Franciscan Sisters of the Immaculate Conception of the Holy Mother of God, Immaculate Conception Chaplaincy, Central Maao, Bago City Negros Occidental, Religious of Mary Immaculate, Sisters for Christian Community, Handmaids of the Divine Heart (Spinola Sisters), Missionary Benedictine Sisters of St Scholastica's Priory Manila, Religious Sisters of Mercy, Montfort Missionaries, Order of Friars Minor (Franciscans), Missionary Servants of the Holy Spirit-Philippine South Province, Congregation of the Mission (Vincentian Priests and Brothers), Missionary Sisters of Mary from Butuan, Missionaries of the Sacred Heart. – Elizabeth Marcelo