Duterte says Philippines has no quarrel with China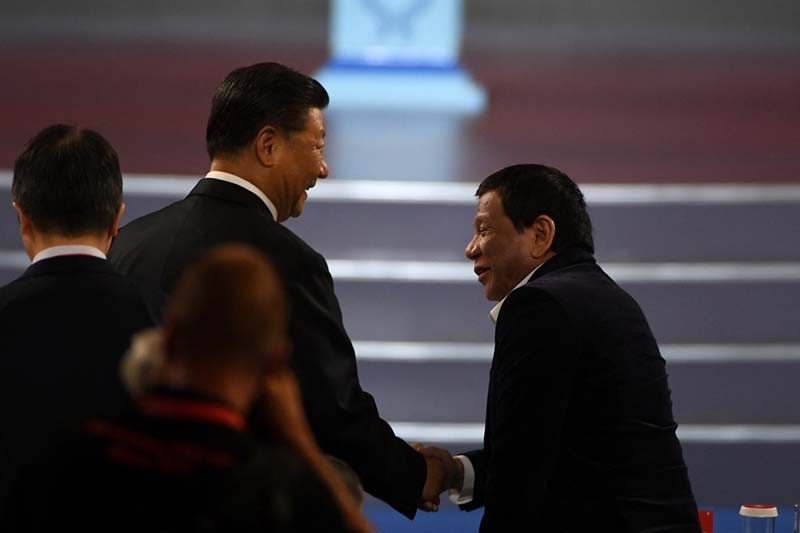 MANILA, Philippines — Despite the longstanding maritime row in the West Philippine Sea, President Rodrigo Duterte maintained that there is no quarrel between the Philippines and China and that the two countries can discuss issues related to the dispute, including the fishing rights of Filipinos.
Speaking during the inauguration of the Binondo-Intramuros bridge Tuesday, Duterte called China a "partner" in enhancing the Philippines' infrastructure.
He then told Chinese Ambassador to the Philippines Huang Xilian that Manila and Beijing "do not have any quarrel."
"I also thank and with gratitude the People's Republic of China for the confidence and for being a partner in enhancing key infrastructure projects in our country," the president said.
"Ambassador Huang, the Philippines and China we do not have any quarrel. And we can talk about the Spratly Islands and probably the fishing rights of my countrymen — plain talk, nothing else," he added.
The Chinese envoy was seen noding and applauding after Duterte made the remark.
China claims virtually the entire South China Sea, including the West Philippine Sea, the area within the Philippines' exclusive economic zone and continental shelf. Malaysia, Brunei, Vietnam, and Taiwan also have overlapping claims in the area, where more than $5 trillion in ship-borne trade passes through every year.
The presence of Chinese ships in the West Philippine Sea has affected the livelihood of Filipino fishermen, according to earlier reports.
In 2016, a Hague-based arbitral court invalidated China's wide-reaching claim in the South China Sea but the Chinese government does not recognize the ruling, calling it "illegal."
During a speech delivered before the United Nations General Assembly two years ago, Duterte said the Philippines would reject efforts to undermine the 2016 arbitral ruling, which also affirmed the Philippines' sovereign rights over its exclusive economic zone.
In a public address delivered in May last year, the president called the Hague ruling a "piece of paper" that could be thrown in the waste basket. Officials have clarified that the president was talking about China's perspective when he made the remark.