San Beda community backs Robredo-Kiko tandem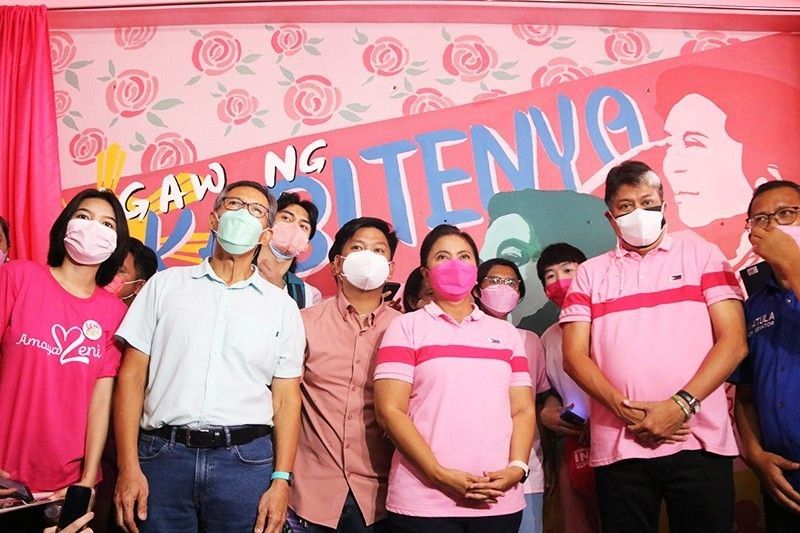 MANILA, Philippines — Hundreds of teaching and non-teaching personnel of San Beda, which counts President Duterte as one of its high-profile alumni, have expressed their support to the tandem of Vice President Leni Robredo and Sen. Francis Pangilinan in the upcoming elections.
A total of 310 former and present faculty members, non-teaching and service personnel and monks of San Beda branches in Manila, Rizal and Alabang signed the statement expressing support to the opposition candidates.
"After a long discernment on the character, platforms and track records of all the candidates running for the highest positions in the May 9 national elections, we manifest our support for the candidacy of Leni Robredo and Kiko Pangilinan as President and Vice President, respectively," they said.
"Their standing records of good governance and exemplary public service moved us to support leaders who have a strong sense of transformative and ethical leadership, accountability, transparency and integrity which we need in these trying times," they added.
The group noted that Robredo and Pangilinan's resolve in championing the most vulnerable sectors and upholding the dignity of Filipinos "is worth emulating and therefore crucial in the pursuit of our aspirations for a just, humane, orderly and freedom-loving Philippines we envision for ourselves and our future."
To stand idle in the face of threats to democratic institutions is an injustice to what Bedan education is about, they said.
The San Beda community notably endorsed Pangilinan over presidential daughter and Davao City Mayor Sara Duterte-Carpio, who is an alumna.
Earlier, the university's façade in Manila turned pink to support Robredo's candidacy.
"The San Beda community is one in support of VP Leni's presidential bid, believing that she embodies the Benedictine ideals of pax, ora et labora (peace, pray and work) and the genuine servant-leadership qualities that the Filipino nation is yearning for especially during this troubled time," Fr. Aelred Nilo, San Beda vice president for administration, said at the time.
Various educators have already endorsed Robredo's bid for the presidency, including at least 117 current and former presidents and heads of schools, colleges and universities.
Among them were former Department of Education (DepEd) secretaries Armin Luistro and Fe Hidalgo, former Commission on Higher Education (CHED) chairpersons Patricia Licuanan, Angel Alcala and Ester Garcia; and former Technical Education and Skills Development Authority (TESDA) director general Edicio dela Torre.
Faculty and other members of the academic community of the University of Santo Tomas, Ateneo de Manila University, De La Salle University and the Asian Institute of Management have also issued statements supporting the Vice President.
Also supporting Robredo and Pangilinan were over 100 members of the religious order Society of Jesus, more commonly known as the Jesuits, and the De La Salle Brothers of the Taft Community.
These include Ateneo de Manila University president Roberto Yap, former Ateneo de Manila president Jose Ramon Villarin, Ateneo de Cagayan – Xavier University president Mars Tan, Ateneo de Naga University Roberto Exequiel Rivera, De La Salle Philippines president Raymundo Suplido and De La Salle University president Bernard Oca.
Threat on Leni probed
Meanwhile, the Philippine National Police (PNP) is now investigating a Facebook user who threatened Robredo with an acid attack.
"Ready na amon accido sabya sa iya para mka balos man km sang gin himo nila kay BBM pag caravan (The (muriatic) acid is now ready to be thrown against her, to avenge what they did to BBM during his caravan)," the post of Facebook user Binalbagan Shout Out read.
Lt. Abegael Donasco, deputy spokesperson for the Negros Occidental Police Provincial Office, said they are taking action against this threat. "We will do our best," Donasco said.
She added that Col. Leo Pamittan, provincial police director, gave assurance that all police chiefs have been instructed to take all necessary measures to prevent such attacks from happening.
Robredo and Pangilingan pushed through with their campaign sortie at the Binalbagan Catholic College in Binalbagan, Negros Occidental, under heavy guard.
Policemen were augmented by Army soldiers, as requested by Binalbagan Mayor Alejandro Mirasol. There was no untoward incident.
The threat issued against Robredo on Facebook came after her campaign flyers were thrown by her alleged supporter at the caravan of rival presidential bet, Ferdinand Marcos Jr., in Talisay City in the same province. Mirasol deplored such action as well as the threat on Robredo.
Robredo 'excited' to campaign in Marcos bailiwick
Unperturbed, Robredo has expressed her excitement to meet with volunteers and supporters in Cagayan Valley, a known bailiwick of Marcos.
Robredo will barnstorm Cagayan and Isabela today, following her visits to northern Mindanao, Romblon and Negros Occidental earlier this week.
She is scheduled to hold activities in Tuguegarao City and Alcala in Cagayan, as well as in Ilagan City, Gamu, Santiago City and Echague in Isabela.
Comparing this year's campaign to her bid for the vice presidency in 2016, when she also faced off with Marcos, Robredo noted how active her supporters are in the region.
"They may not approximate the numbers of the other camp, but this is something that I did not have before," she said in a mix of English and Filipino in an interview in Romblon on Thursday.
"So now, I am more confident in visiting, knowing that someone will host us… This was not available to us in 2016, and we are fully aware of what they (volunteers) are doing from the start," she added.
In Isabela, for instance, the Vice President recognized how her supporters stood their ground when tarpaulins and other campaign materials were removed even if these were in private properties.
"I am excited to go, knowing that there are those who have the courage despite the difficulties," she added. – Gilbert Bayoran