Philippines updates list of 'green' countries
October 15, 2021 | 12:12pm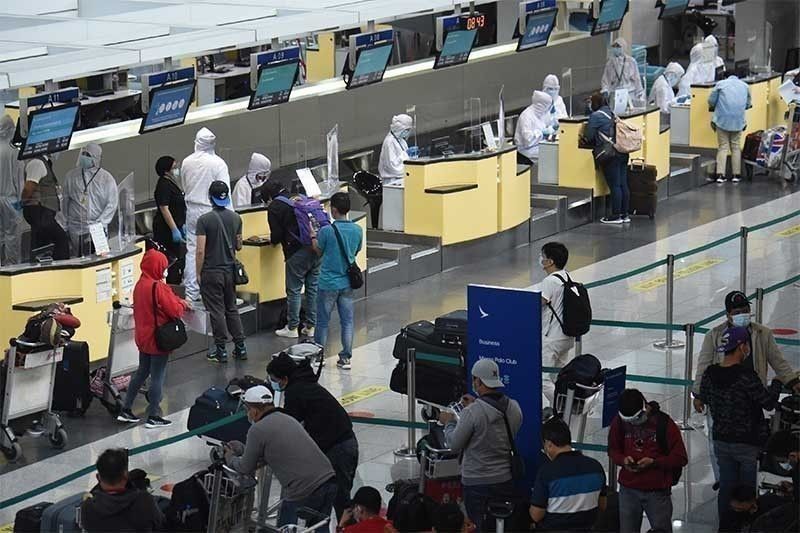 MANILA, Philippines — The Philippines has updated its list of countries classified as low risk for COVID-19, Malacañang said Friday.
The updated classification will take effect from October 16 to 31.
The following countries are under "green" list:
Algeria
American Samoa
Bhutan
Burkina Faso
Cameroon
Cayman Islands
Chad
China (Mainland)
Comoros
Republic of the Congo
Cook Islands
Eritrea
Falkland Islands (Malvinas)
Gibraltar
Hong Kong (Special Administrative Region of China)
Kiribati
Madagascar
Mali
Marshall Islands
Federated States of Micronesia
Montserrat
Nauru
New Zealand
Nicaragua
Niger
Niue
North Korea
Northern Mariana Islands
Palau
Poland
Saba (Special Municipality of the Kingdom of the Netherlands)
Saint Helena
Saint Pierre and Miquelon
Samoa
Sierra Leone
Sint Eustatius
Solomon Islands
Sudan
Syria
Taiwan
Tajikistan
Tanzania
Tokelau
Tonga
Turkmenistan
Tuvalu
Uzbekistan
Vanuatu
Yemen
Fully vaccinated Filipino and foreign nationals from "green" countries are no longer required to undergo facility-based quarantine upon arriving in the country. But they need to present a negative RT-PCR test taken within three days prior to departure from their country of origin.
Meanwhile, the pandemic task force included Romania on the "red" list.
Individuals coming from "red" countries within the last 14 days will not be allowed to enter the Philippines, unless they are Filipinos returning via government-initiated repatriation.
All other countries and jurisdictions not mentioned are under the "yellow" list.
Fully vaccinated individuals from "yellow" countries need to undergo facility-based quarantine until the release of a negative RT-PCR test taken on the fifth day. Then, they need to undergo home quarantine until their 10th day.
Foreign nationals need to secure pre-booked accommodation of at least six days. — Gaea Katreena Cabico
As It Happens
LATEST UPDATE: December 5, 2021 - 5:08pm
Find the latest travel and tourism news from around the world amid the coronavirus pandemic. Main image by AFP/Romeo Gacad
December 5, 2021 - 5:08pm
Ten COVID-19 cases have been detected among crew members and passengers on a Norwegian Cruise Line ship returning to New Orleans on Sunday with thousands on board, a US health authority said.
"The Norwegian Breakaway departed from New Orleans on Nov. 28 and stopped in Belize, Honduras and Mexico on its voyage," the Louisiana Department of Health tweeted Saturday.
"There are more than 3,200 individuals onboard."
The health department said every individual aboard would be tested for COVID-19 prior to disembarking.
"Those who test positive for COVID-19 will either (1) travel by personal vehicle directly to their personal residence or (2) self-isolate according to current (US Centers for Disease Control) guidelines in accommodations provided by NCL," the health department tweeted.
The global cruise industry has taken a severe hit during the pandemic.
December 2, 2021 - 6:17pm
President Joe Biden will announce that toughened new rules on Covid-19 testing for travelers to the United States will take effect next week, a senior administration official says.
Biden will "announce that we are further strengthening our testing requirements so that starting early next week, all international travelers will be required to test negative within one day of their departure to the United States," the official tells reporters.
This will apply to all travelers, both US and foreign, and regardless of whether they have been vaccinated, the official adds. — AFP
December 2, 2021 - 1:47pm
The government says Japan has softened its suspension of all new incoming flight bookings to make it easier for citizens to return, a day after it announced the move prompted by worries about the Omicron coronavirus variant.
The transport ministry abruptly said Wednesday it was asking airlines to stop taking all new incoming flight reservations for a month, in a surprise move affecting citizens and foreign residents.
But on Thursday, government spokesman Hirokazu Matsuno says it would be amended. — AFP
December 2, 2021 - 12:11pm
Cathay Pacific has been hit by a wave of pilot resignations in recent weeks as resentment over Hong Kong's strict quarantine regime boils over and crew scramble for emerging opportunities overseas.
The departures come as Hong Kong ties itself to Beijing's closed-border zero-Covid strategy — a move that has kept the city coronavirus-free but internationally isolated.
Hong Kong's leaders say normalising travel with China must come before the rest of the world, a strategy that has caused growing alarm within multinationals in a finance hub that dubs itself "Asia's World City".
AFP interviewed four Cathay pilots who requested anonymity. Each said they knew more than a dozen colleagues who had resigned in the last few weeks.
More were applying for jobs at rivals in places that have shifted to a strategy of learning to live with the virus, they added. — AFP
December 2, 2021 - 7:04am
UN Secretary-General Antonio Guterres slams travel bans targeting specific countries and regions imposed over the new Covid-19 variant as "unfair" and "ineffective."
"With a virus that is truly borderless, travel restrictions that isolate any one country or region are not only deeply unfair and punitive — they are ineffective," Guterres says at a news conference, calling instead for increased testing for travelers.
Dozens of countries imposed restrictions on travel from southern African states after the Omicron variant of the coronavirus was first reported in the region last week. — AFP