Ex-VPs Binay, De Castro join senatorial race
October 8, 2021 | 12:00am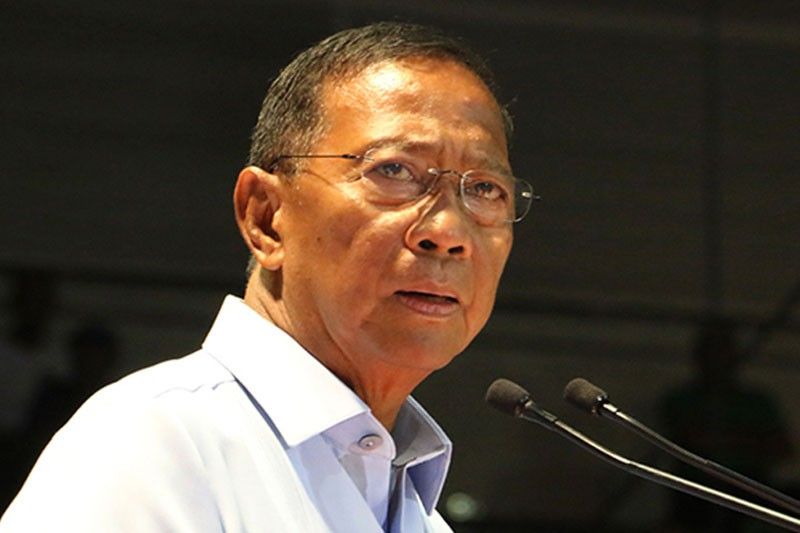 MANILA, Philippines — Two former vice presidents have thrown their hat in the race to the Senate yesterday, joining some familiar names and returning personalities at Sofitel Harbor Tent in Pasay City on the seventh day of filing the certificate of candidacy (COC).
Former vice president Jejomar Binay filed his COC for senator, presenting himself as a leader who intends to help Filipinos he claims were neglected by the government during the COVID-19 pandemic.
"We should work to rebuild our economy in a way that puts priority on creating stable jobs. We should reform our health care system. And the safety, welfare and well-being of the people should always be our foremost concern," Binay said in a statement.
Binay, once tipped to become president after a successful transition to national from local politics, has stepped back from the limelight after placing fourth in the 2016 presidential elections. In 2019, he ran but lost to former Makati mayor Romulo Peña for the city's first congressional district.
Another former vice president, Noli De Castro, also intends to return to the Senate under Aksyon Demokratiko party of Manila Mayor and presidential aspirant Isko Moreno. De Castro served as senator from 2001 to 2004 and vice president from 2004 to 2010.
"I will venture into a new kind of public service. This will be my chance to serve a wider audience if I get elected with your help," De Castro said as he announced his resignation from ABS-CBN yesterday to pursue a Senate bid.
De Castro joined Aksyon Demokratiko following a statement from Moreno that he will sign a law renewing ABS-CBN's franchise, if elected president.
De Castro joined fellow radio broadcaster and review center owner Carl Balita and civic leader Samira Gutoc in the slate of the party founded by the late senator Raul Roco.
Former House speaker Alan Peter Cayetano signified his bid for another Senate term when he filed his COC yesterday, accompanied by wife Taguig Rep. Lani Cayetano.
Former Bayan Muna representative Neri Colmenares also filed his COC for senator, along with human rights lawyer Chel Diokno.
Former defense secretary Gilbert Teodoro – who is running under the People's Reform Party of the late senator Miriam Defensor-Santiago – filed his COC through an authorized representative because he had to isolate after testing positive for COVID-19.
Meanwhile, former senator JV Ejercito admitted he is facing an "uphill battle" since his brother, former senator Jinggoy Estrada, is also running, which might divide their votes.
"Given the circumstance, this will really be an uphill battle. But it is no longer sibling rivalry. I have given this much thought because with both of us running, it will be 2019 all over again. I am just hoping for a miracle," Ejercito said during an interview with 'The Chiefs' on One News.
Both brothers failed to win a Senate seat in 2019, with Ejercito placing 13th and Estrada settling for 15th spot.
Comelec records showed 118 applications were filed yesterday: 16 for aspiring presidents, seven for vice president, 28 for senator and 67 CONAs (certificate of nomination and acceptance) for different party-list groups.
Trillanes to run for Senate
Former senator Antonio Trillanes IV yesterday confirmed he will run for the Senate under the slate of Vice President Leni Robredo, who reportedly picked Liberal Party president and Sen. Francis Pangilinan as her running mate.
Meanwhile, former senator Bam Aquino said he will not run for the Senate but confirmed he will be Robredo's campaign manager.
LP vice president for internal affairs and former Ifugao representative Teddy Baguilat confirmed he will run for senator and will file his COC today.
Meanwhile, the camp of Agrarian Reform Secretary John Castriciones confirmed he will file his COC for senator today under the ruling PDP-Laban.
Congressional races
In the local races, House Majority Leader Martin Romualdez filed his COC at the Comelec provincial office in Tacloban City.
Rep. Elpidio Barzaga Jr., president of the National Unity Party, filed his COC for reelection as representative of the lone district of Dasmariñas City.
Deputy Speakers Eric Martinez of Valenzuela City and Len Alonte of Biñan City, Laguna have also filed their COCs as they sought to be reelected for another three-year term.
In the party-list race, Jayke Joson, a long-time ally of Sen. Manny Pacquiao, filed his CONA as first nominee of Frontliners party-list. He was accompanied by newly crowned Miss World Philippines Tracy Maureen Perez.
Rep. Sharon Garin of party-list AAMBIS-OWA (Ang Asosasyon Sang Mangunguma Nga Bisaya-OWA) also filed her CONA.
To avoid getting denied, the Commission on Elections (Comelec) reminded aspiring candidates for the May 2022 polls to submit complete documents if they intend to file their COC today, the last day of filing of candidacies. – Neil Jayson Servallos, Marc Jayson Cayabyab, Delon Porcalla, Janvic Mateo, Rhodina Villanueva, Cecille Suerte Felipe