Senators seek records of 1,479 suspected Palace trolls
September 17, 2021 | 12:00am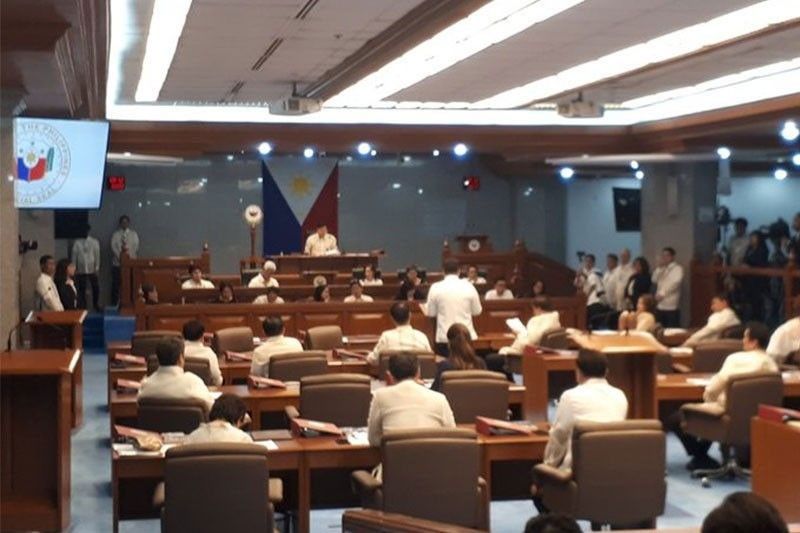 MANILA, Philippines — Senators have asked the Presidential Communications Operations Office (PCOO) for the records of 1,479 contractual employees of the Palace communications group who are suspected of being trolls.
Senate Minority Leader Franklin Drilon demanded the records of the contractual workers, 375 of whom work at the PCOO and flagged recently by the Commission on Audit (COA), to determine if there are state-funded troll farms.
During the budget hearing of the PCOO in the Senate yesterday, Drilon aired his suspicion that these contractual employees could be "trolls."
"These are the trolls?" Drilon asked lightly in Filipino. "But you won't admit that you have a troll."
Sen. Richard Gordon, who presided over the hearing, and Senators Nancy Binay and Imee Marcos supported Drilon's instructions to the PCOO.
In internet speak, a troll is defined as a person who intentionally antagonizes others online by posting inflammatory, irrelevant, or offensive comments or other disruptive content.
PCOO Undersecretary Kris Ablan denied the government has troll farms. He confirmed the PCOO alone had hired 375 employees on "contract of service" status with a budget of P76 million.
But Drilon said he found this odd considering that the agency has huge vacancies in plantilla positions. Only 2,107 out of 3,883 positions have been filled.
Under the national expenditure programs for the proposed P5.024-trillion budget for 2022, PCOO head Secretary Martin Andanar said the Palace communications group is asking for P1.9 billion for 2022 from its present budget of P1.62 billion.
Andanar said of this figure, the PCOO is allocated P740.62 million from P502.28 million this year; Bureau of Broadcast Service with P456.03 million from P405.53 million; Bureau of Communications Services with P70.59 million from P68.62 million; National Printing Office, P9.13 million from P11.89 million; News and Information Bureau, P129.20 million from P133.12 million; Philippine Information Agency with P333.54 million from P317.60 million, and the RTVM with P171.86 million from P178.79 million.
Drilon asked for proof that the 1,479 temporary hires are "legitimate and existing" and not "ghost employees," specifically the 375 employees in the PCOO that were flagged by COA. He asked the PCOO to submit their records, including their names, addresses and job description. The committee also asked for the employees' daily time records.
Ablan said they would comply but would have to seek the opinion of their legal office if the addresses can be provided, citing the Data Privacy Act.
But Drilon quickly countered the undersecretary, saying there are public funds involved.
"These are public records and you are asking for public funds. You better provide us with these documents that we need in order for us to be convinced that this budget will be properly used," Drilon said.
"So, don't invoke any confidentiality here, because these are public funds and these are subject to audit and if these are subject to audit, these are subject to scrutiny by the branch of the government who is holding the purse," Drilon told Ablan. "You are asking for the appropriation of public funds and it is our right to know. As part of our right to know, it is to make sure that they are not fictitious names."
"Even if they are trolls, we will accept that as long as they are legitimate and existing. We are not asking for their fingerprints, mind you," he said.
Drilon also questioned the rationale for the construction of a media hub in the Visayas, which he labeled as "propaganda hub," worth P200 million amid a pandemic.
Ablan said the Visayas media hub will be located in Cebu and would complement the media hubs in Davao and in Quezon City.
Aside from the P200 million for the construction of the Visayas media hub, the PCOO has also allocated P50 million for a training academy in Bukidnon.
"I think a rational assessment would tell you that these are not urgent projects – putting up a building to house an academy for propaganda and another P50 million as MOOE for another propaganda," Drilon said. "We have been hearing the budget and it is very obvious that we need funds for COVID-19 response. Every single peso of resources should go to COVID-19 response and the much-needed vaccines."
Like the P28 billion National Task Force to End Local Communist Armed Conflict's anti-insurgency fund, Drilon suggested that the PCOO projects be deferred to 2023 and the funds used to augment the country's pandemic response.