Metro Manila back to ECQ from August 6 to 20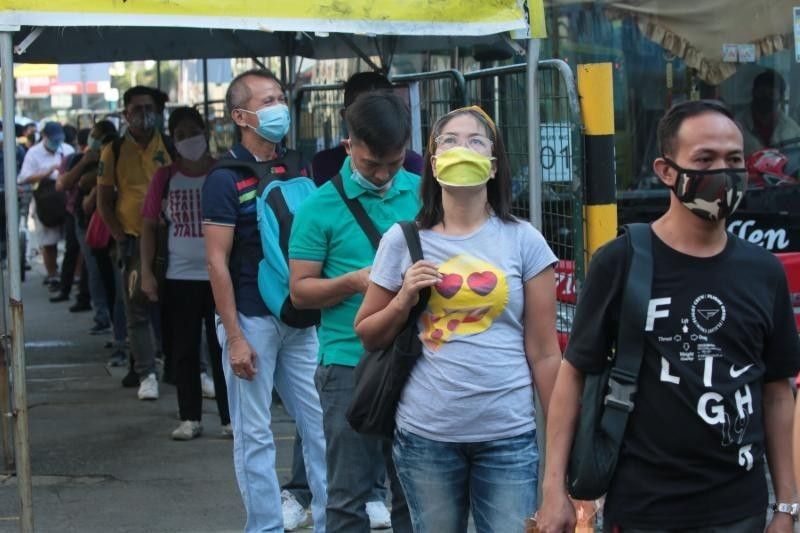 MANILA, Philippines — Metro Manila will again be locked down from Aug. 6 to 20 to try and arrest the rise in COVID-19 cases, particularly the more contagious Delta variant, even if it means disrupting business activity and displacing workers in the country's economic center.
President Duterte approved yesterday the government pandemic task force's recommendation to place the National Capital Region (NCR) under the strictest enhanced community quarantine (ECQ) beginning Friday next week, his spokesman Harry Roque Jr. said.
The capital had been placed under general community quarantine (GCQ) with heightened restrictions beginning yesterday.
Roque said officials debated for hours before arriving at what he described as a "painful" decision to impose another lockdown.
"It was a painful decision because it's difficult to be under an ECQ, but we have to do it to prevent a shortage of ICU (intensive care unit) beds and other hospital requirements. This would happen if the number of cases balloons because of the Delta variant," explained Roque.
"In the end, everybody thought that this difficult decision had to be made to save more lives," he said.
Under ECQ, only essential sectors like health, food production and distribution, banks, energy, telecommunications, airlines, funeral and embalming services and police-licensed security personnel can fully operate.
The movement of all persons will be limited to accessing goods and services from and working in permitted establishments. Minors and senior citizens, those with health risks and pregnant women shall be required to stay at home at all times except for obtaining essential goods and services, or working in industries allowed to operate.
Roque said the distribution of COVID-19 jabs in areas under ECQ would continue but there should be mechanisms to ensure the safety of health workers and vaccine recipients. He noted that under existing quarantine guidelines, gatherings essential for the provision of health services are allowed.
"With the looming threat of the Delta variant, there is no question that vaccination even in areas under (ECQ) classification is an imperative solution," Roque said.
Roque said Duterte has ordered the budget department to look for funds to aid sectors affected by the lockdown.
He said the amount may be the same as the aid to be distributed in Iloilo City, Iloilo province, Cagayan de Oro and Gingoog City – areas that have been under ECQ since July 16. Each beneficiary from the four areas will get P1,000 aid, while a family may receive up to P4,000.
Transportation
Roque, however, could not say if transportation and malls would be allowed while Metro Manila is under ECQ.
Amid the development, Transportation Secretary Arthur Tugade is hoping to maintain the current capacity in public transportation in Metro Manila through the two-week lockdown.
"Per Secretary Tugade, the recommendation of DOTr is to retain the current supply and capacity of public transportation," Transportation Assistant Secretary Goddes Libiran said.
"Restrictions will be applied on passengers – that is stricter enforcement to ensure that only APORs (authorized persons outside residence) are permitted to use public transport, as mandated by the IATF," she added, noting that the DOTr would abide by whatever guidance is given by the IATF.
Pre-lockdown restrictions
Prior to the lockdown, Metro Manila will be under a stricter GCQ. With heightened restrictions taking effect yesterday until Aug. 5, indoor and al-fresco dining are prohibited and only take-out and delivery services are allowed.
Personal care services like beauty salons, beauty parlors, barbershops and nail spas may operate up to 30 percent of the venue or seating capacity.
Indoor sports courts and venues, indoor tourist attractions and specialized markets of the tourism department are not allowed to operate.?However, outdoor tourist attractions may operate but only up to 30 percent of the venue's capacity. Only APORs are allowed to travel into and out of the NCR Plus, which consists of Metro Manila, Cavite, Bulacan, Laguna and Rizal.?The Department of Tourism (DOT) said point-to-point flights for leisure would be suspended, but returning flights for tourists residing in the greater Manila area would be allowed.
"To prevent congestion in the borders of NCR, any type of non-essential travel to and from the NCR Plus shall be prohibited. Only the travel of … (APORs) in and out of NCR Plus shall be allowed," said Tourism Secretary Bernadette Romulo-Puyat.
Religious services
?Meanwhile, Roque said in-person religious events are prohibited while gatherings for necrological services, wakes, inurnment and funerals for those who died of causes other than COVID-19 are allowed, provided they are limited to immediate family members. ?Pasig Bishop Mylo Hubert Vergara, Cubao Bishop Honesto Ongtioco and Novaliches Bishop Roberto Gaa were among the first to announce on Facebook that there would be no public masses in all parishes and chapels starting today until the last day of the NCR lockdown on Aug. 20.?"I'm asking the parishes to make their worship services available online. We will reopen our churches for public worship on Aug. 21, if conditions improve. I continue to pray for your protection and healing," Ongtioco said.
DOH: No surge yet
The Department of Health (DOH) said Malacanang's decision to reimpose ECQ in the NCR is meant to cut the spread of the Delta variant as foreseen in projections, and not because there is already a surge of cases.
"It was seen in the forecast that there will be an increase in cases in the coming weeks based on current scenarios we have right now," Health Undersecretary Maria Rosario Vergeire said. The projections, which included assumptions on the level of vaccinations against COVID-19 in the country, were made by the data analytics team of the IATF, Vergeire said.?Earlier, the DOH reported the NCR as one of six regions contributing to the rising cases of COVID-19 in the country the past two weeks with an average of 1,096 new cases per day the past week (July 23 to 29), up from 854 daily cases the prior week (July 16 to 22).?
Latest tally??Yesterday, the daily tally for COVID-19 cases reached 8,652, bringing the total to 1.58 million.
Based on DOH data, daily cases have not hit the 8,000 mark since about seven weeks ago on June 12 at 8,027.
As of now, there are 61,920 active cases of COVID-19, representing 3.9 percent of the total.
There have been 145 new COVID-19 deaths, raising the total pandemic fatalities to 27,722.
Also, 2,854 patients have recovered, raising the number of recoveries to 1.49 million.?
Facing the challenge
?The OCTA Research group welcomed the government's decision to race against the spread of the highly contagious Delta variant, saying the country is "faced with a significant challenge of reversing a surge in COVID-19 cases in the NCR."
"OCTA supports the government's decision to impose stricter measures in the NCR as a precautionary intervention to arrest the growing number of COVID-19 cases. We also laud the decision to accelerate the deployment of vaccines in the NCR," said OCTA fellow Ranjit Rye.
The Metro Manila Council (MMC) also welcomed the decision and vowed to use the two-week lockdown to ramp up vaccinations.
Metropolitan Manila Development Authority (MMDA) chairman Benhur Abalos lauded the decision for being "timely."
"The Metro Manila mayors are grateful to the Inter-Agency Task Force for its prompt and appropriate action," said Abalos.?OCTA had tagged as high-risk areas Makati, Caloocan, Las Piñas, Valenzuela, Malabon and Quezon cities.?Marikina and Mandaluyong have started preparing for the lockdown, with Marikina Mayor Marcelino Teodoro anticipating the distribution of food packs in communities to be critically affected.?Mayor Carmelita Abalos of Mandaluyong, for her part, said they will intensify their vaccination drive against COVID-19 during the two-week ECQ.?Rye said it would be crucial for the local government units (LGUs), communities and the private sector in the region to work together to implement strategies to prevent the surge from accelerating further.
"To this end, we implore our fellow citizens to strictly follow minimum health protocols and avoid nonessential travel and all forms of social gatherings outside of their family bubbles," Rye said.
In an earlier presentation, OCTA fellow Guido David said an early circuit-breaker lockdown starting Aug. 1 would "need just two weeks or even one week to regain effective control of the pandemic."?
Other classifications
Roque also announced that Gingoog City, Iloilo City, Iloilo province and Cagayan de Oro City would remain under ECQ from Aug. 1 to 7.?OCTA said Cagayan de Oro is considered as critical risk after the average number of new COVID-19 cases there reached 147 per day from July 23 to 29, up by 58 percent from 93 daily cases in the preceding week.
Cebu City and Cebu province, meanwhile, have been added to areas under modified enhanced community quarantine (MECQ) from Aug. 1 to 15 but this can still be appealed by local governments.
Ilocos Norte, Bataan, Mandaue City and Lapu-Lapu City will also be under MECQ from Aug. 1 to 15.
Twenty areas will be under GCQ with heightened restrictions from Aug. 1 to 15 but the protocols to be enforced are not as stringent as that of Metro Manila. These areas are Ilocos Sur, Cagayan, Bulacan, Cavite, Rizal, Laguna, Lucena City, Naga City, Antique, Aklan, Bacolod City, Capiz, Negros Oriental, Zamboanga del Sur, Misamis Oriental, Davao City, Davao del Norte, Davao Occidental, Davao de Oro and Butuan City.
Baguio City, Apayao, Santiago City, Quirino, Isabela, Nueva Vizcaya, Batangas, Quezon, Puerto Princesa, Guimaras, Negros Occidental, Zamboanga Sibugay, Zamboanga City, Zamboanga del Norte, Davao Oriental, Davao del Sur, General Santos City, Sultan Kudarat, Sarangani, North Cotabato, South Cotabato, Agusan del Norte, Agusan del Sur, Surigao del Norte, Surigao del Sur, Dinagat Islands and Cotabato City will be under a regular GCQ from Aug. 1 to 31.
The rest of the Philippines will be under the most relaxed modified general community quarantine for the entire month of August. – Sheila Crisostomo, Janvic Mateo, Richmond Mercurio, Robertzon Ramirez, Ralph Edwin Villanueva, Manny Tupas