DOH says booster shot for Sinovac still being studied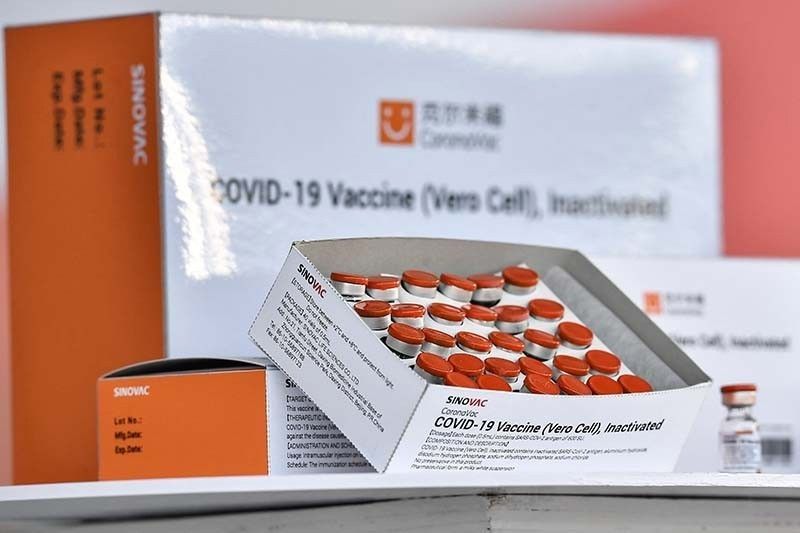 MANILA, Philippines — The Vaccine Expert Panel (VEP) is studying whether people administered with Sinovac vaccine should be given booster shots to strengthen their protection against COVID, Health Secretary Francisco Duque III said yesterday.
At a public briefing, Duque said the VEP has not recommended booster shots for those who have completed their inoculation.
But he said should the VEP recommend giving them a third dose, those who are immunocompromised will be prioritized.
"If ever we consider that, just like in other countries, the immunocompromised will likely be prioritized. But for the general population, there is no recommendation that booster shots are needed," he said.
Duque issued the statement in reaction to a study that the antibodies generated by Sinovac vaccine fade after about six months.
The study showed that administering a booster dose may help maintain the vaccine's efficacy.
Earlier, the DOH defined immunocompromised as those with autoimmune disease, HIV, cancer patients currently undergoing immunosuppressive therapy, transplant patients, those undergoing steroid treatment and patients who are bedridden or with a poor prognosis.
Duque said there is no recommendation for booster shots yet for the general population.
He said the VEP is still gathering all necessary information that could guide the Inter-Agency Task Force on Emerging Infectious Diseases and the National Vaccination Operations Center in deciding if it is time to give booster shots.
Study
According to a lab study, antibodies triggered by Sinovac Biotech's COVID-19 vaccine declined below a key threshold from around six months after a second dose for most recipients, although a third shot had a strong booster effect.
Chinese researchers reported the findings from a study of blood samples taken from healthy adults aged between 18 and 59 years, in a paper published on Sunday, which has not been peer reviewed.
Among participants who received two doses, two or four weeks apart, only 16.9 percent and 35.2 percent, respectively, still had neutralizing antibodies above what researchers regard as a detectable threshold level six months after the second shot, the paper said.
These readings were based on data from two cohorts involving more than 50 participants each, while the study gave third doses of the vaccine or placebo to a total of 540 participants.
Researchers said it was unclear how the decrease
in antibodies would affect the shot's effectiveness, since scientists have yet to figure out precisely the threshold of antibody levels for a vaccine to be able to prevent the disease.
"In the short- tomedium-term, ensuring more people complete the current two-dose schedule of CoronaVac should be the priority," the paper said.
Indonesia and Thailand agreed to give a third shot from Moderna and Pfizer, respectively, for some people who are fully vaccinated with the Sinovac vaccine, amid concerns over its effectiveness against the more transmissible Delta variant of the coronavirus.
Turkey had started offering a third dose from either Sinovac or Pfizer to some people who got Sinovac shots.
As of end of June, Sinovac has delivered more than one billion doses of the vaccine, a major vaccination tool in China, Brazil, Indonesia and Chile.
The study also said that participants in some cohorts who received a third dose of the Sinovac shot about six months after the second showed a three- to five-fold increase in antibody levels after a further 28 days, compared with the levels seen four weeks after the second shot.
Researchers cautioned the study did not test the antibodies' effect against more transmissible variants, and that further research was needed to assess antibody duration after a third shot.
The study was conducted by researchers at disease control authorities in Jiangsu province, Sinovac and other Chinese institutions.
Not far-fetched
The goal to inoculate 50 million people against COVID this year is not far-fetched as the number of individuals vaccinated per month may rise due to the expected arrival of additional jabs, Malacañang said yesterday.
"It (goal) has not changed... In July, we vaccinated almost 10 million. Maybe it won't be lower than 10 million a month and we expect it to double to 20 million a month," presidential spokesman Harry Roque said at a press briefing.
"So with the rate the vaccinations are expected to be administered, achieving the 50 million vaccinated individuals by December is not far-fetched. From the start, that has been our goal," he added.
National Task Force Against COVID-19 deputy chief implementer Vivencio Dizon said the Philippines' vaccine supply is increasing, but there were slight delays in the distribution of some Pfizer and Sinovac jabs because of documentary requirements.
"The documents were already released yesterday (July 26) so the administration of vaccines will continue," Dizon said.
He said the country recorded the highest daily jab rate of 472,000 on Thursday, which is near the daily target of 500,000.
"The supply is the most important. If we have the supply, we can vaccinate more people faster," Dizon said.
A total of 17.5 million COVID-19 vaccine doses have been administered as of July 26.
The figure is equivalent to 16.01 percent of the population covered by the vaccination program. About 11.2 million people have received their first dose while nine percent of the intended recipients or 6.31 million have been fully vaccinated or have received their second doses.
Earlier this month, vaccine czar Carlito Galvez, Jr. said the Philippines won't have a shortage of COVID-19 vaccines until Aug. 17 because it has more than the government's desired stockpile level of 10 million doses. – Alexis Romero, Robertzon Ramirez