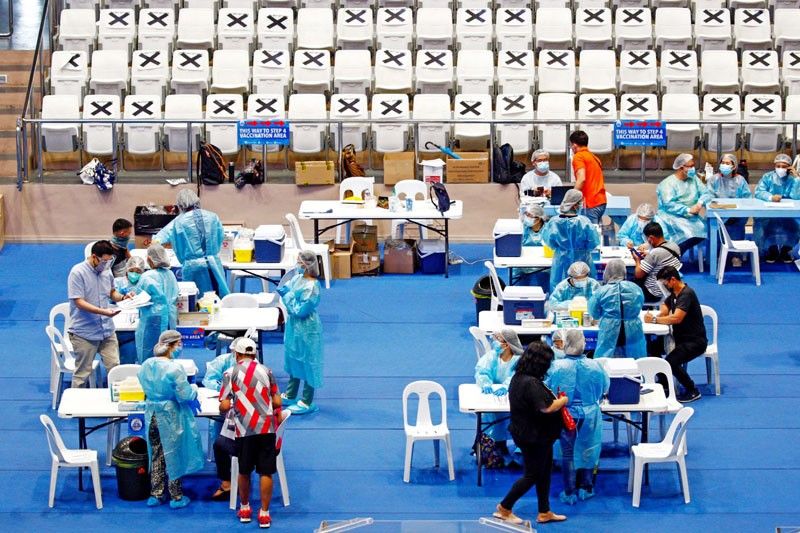 Makati residents receive the first dose of the Sinovac vaccine at the Makati Coliseum in April 2021.
The STAR/Krizjohn Rosales
Safer spaces for vaccinated, unvaccinated in public spaces proposed
MANILA, Philippines — (Updated 5:20 p.m.) Presidential adviser for entrepreneurship Joey Concepcion is proposing to make places safer for both vaccinated and unvaccinated people in business establishments to allow further reopening of the economy, which is still reeling from the impact of COVID-19 pandemic.
"The application can be on time or physical location," Concepcion said in a phone interview yesterday. He said for instance, in certain sports events like basketball, vaccinated spectators may view the game from an area separate from that occupied by unvaccinated fans.
In movie theaters, he said the segregation could be applied by setting a different showing time for those vaccinated and unvaccinated.
He said segregation is being considered by the private sector as a way to allow further reopening of the economy with some business activities still closed and prohibited from operating.
"These are ideas we are floating on how to increase capacity. In other words, right now, movie theaters are closed, etc. So how do you open it up safely? These are ideas," he said.
As more people are being vaccinated, he said the objective is to give them more mobility and access. "That is the best incentive you can give," he said.
As vaccination for economic frontliners has started, he said the private sector is ready to roll out the vaccines they have purchased as soon as they arrive in the country.
He said 1.17 million doses of vaccines from AstraZeneca would be arriving on July 14, and another 1.17 million doses in August.
The rest of the AstraZeneca vaccines would be delivered to the country from September this year to February next year.
A total of 17 million doses were purchased by the private sector and local government units from AstraZeneca.
Apart from AstraZeneca, the private sector also purchased vaccines from Moderna, which are also expected to arrive in the third quarter.
"We're ready. In fact, Zuellig is handling both Modern and AstraZeneca in terms of logistics, storage and distribution to vaccine centers," Concepcion said.
The first batch of vaccines procured by the private sector comprised 500,000 doses of CoronaVac vaccines from Sinovac purchased by the Federation of Filipino Chinese Chambers of Commerce and Industry, which arrived in the country last Thursday.
Editor's note: The version of this article posted on Philstar.com has been revised.