Government rolls out A4 vaccination today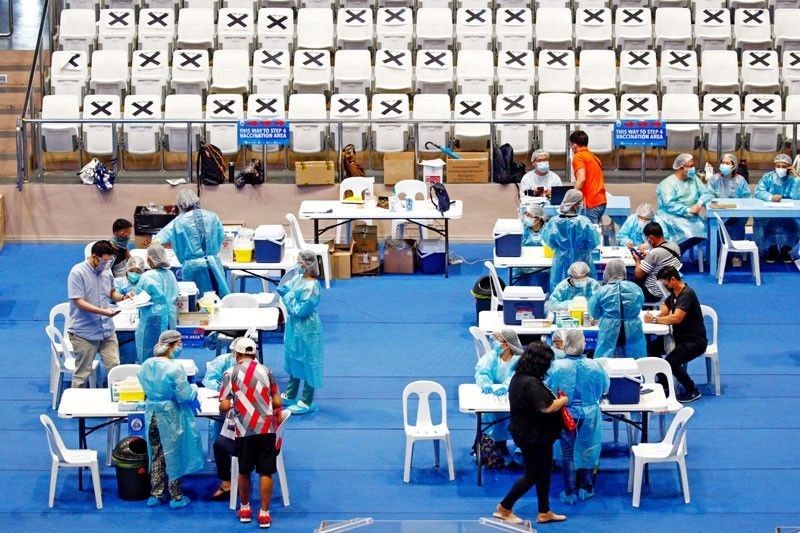 MANILA, Philippines — Immunization of essential workers, or those belonging to the A4 category, is set to start today.
"We will already begin with the simultaneous jabbing for A1, A2, A3 and A4," Health Secretary Francisco Duque III announced yesterday.
There will be a ceremonial rollout of the vaccination for the A4 group, whose immunization, Duque said, is critical for economic recovery.
"It is crucial that we already start vaccinating them as they are our economic frontliners," he explained.
An estimated 35.5 million frontline workers are listed under the essential sectors.
Duque said the Department of Health is continuously urging local government units (LGUs) to enhance efforts to reach the two vulnerable sectors.
Meanwhile, the proposal to allow fully vaccinated senior citizens outside their homes would still need to be discussed "extensively" by health experts, the Metropolitan Manila Development Authority (MMDA) said yesterday.
In an interview aired over dzBB yesterday morning, MMDA chairman Benhur Abalos said the proposal should be discussed by health experts before any decision is reached.
He added that there are a lot of factors to be considered especially if it concerns the safety of senior citizens, among the most vulnerable to the coronavirus.
"If I were to be asked, it is a good proposal. However, this is a safety issue. We should consider if it is already safe for fully vaccinated senior citizens to go out, if there are a lot of individuals who are not yet vaccinated," Abalos said in Filipino.
"We have to reach a certain level so they could go out. But we would leave it up to the experts, the health experts," he added.
However, if "population protection" is reached, the proposal may become more feasible.
The country aims to have herd immunity against COVID-19 before the end of the year. However, supply issues and vaccine hesitancy hamper the influx of vaccines.
The government is eyeing to vaccinate the next sectors of the community – economic frontliners and indigenous people – as more supplies are expected to come into the country soon.
Meanwhile, Abalos, in another interview, also asked the public to be responsible with waste management as the rainy season was officially declared in the country.
In an interview with dzMM, Abalos said the public should not just they throw their garbage anywhere as this blocks drainages and results in floods.
Metro Manila's waterways should also be cleared and uninhabited, the chairman said, so floods would be prevented.
Areas prone to flooding should also be monitored constantly.
Loosen requirements
As more supplies of the COVID-19 vaccine arrive in the country, Vice President Leni Robredo yesterday urged the government to loosen the requirements for other priority groups to speed up the immunization program.
Robredo cited the capital Manila which allows walk-in COVID-19 vaccinations for essential workers or those who belong to the A4 category, including non-residents.
She said the Quezon City government would also inoculate individuals who are non-residents, but are working in the city.
"It's OK that we were strict when we started the vaccination program because our supply is limited and we want to make sure that those who will get inoculated are those who really need it. But now that more supplies are arriving, we should be more liberal in vaccinating," Robredo said over dzXL.
Manila Mayor Isko Moreno earlier said informal sector workers will receive COVID-19 shots. He said those who are employed need to present their company IDs to get inoculated.
Meanwhile, Robredo said the Office of the Vice President is set to launch its mobile vaccination project in Manila. "We will pilot the mobile vaccination in Manila to show that it can be done," she said.
Robredo said they are targeting to inoculate about 24,000 people using the mobile vaccination clinics once more supplies arrive in the city.
"So now, we are doing time-and-motion study, we are looking for areas where we will do the mobile vaccination. Vaccinators don't need to leave the vehicle. We will first vaccinate non-medical frontliners who need protection," she said.
Get the vaccine, win a cow
The Department of the Interior and Local Government (DILG) lauded out-of-the-box initiatives of LGUs that help boost vaccine confidence in their areas amid the COVID-19 pandemic.
The DILG said these strategies can help encourage constituents to register and get vaccinated as the government ramps up its national vaccination drive.
"We are pleased that LGUs are thinking of innovative ways or 'out of the box' strategies to enjoin their constituents to get the COVID-19 shots. For now, only the vaccine can stop this pandemic. The more who are vaccinated, the earlier we can recover from this pandemic," Interior secretary Eduardo Año said in a statement.
In San Luis, Pampanga, the local government launched the "Baka Para sa Bakuna" project where vaccinated residents are qualified to join a monthly raffle to win a cow.
A similar initiative was launched in Sucat, Muntinlupa, where vaccinated residents are also eligible to join a weekly raffle to win 25 kilograms of rice.
Año said these strategies can help incentivize vaccination and increase vaccine confidence.
"The out-of-the box initiatives by some LGUs can be replicated by other LGUs so they, too, can fast-track their COVID-19 vaccination efforts. By taking giant leaps, we can all move forward towards achieving the added layer of protection against COVID-19 and its variants," he added.
Other LGUs are also using different strategies to boost the vaccination program in their localities, such as conducting house-to house registration in Biñan, Laguna, or use of technology such as in Taguig and Malabon City.
Año said the government is looking to vaccinate some 70 million Filipinos so the country can move into the new normal.
The DILG also urged LGUs to ensure that they are regularly updating their COVID-19 data in the national Vaccine Monitoring System (VMS).
Latest figures showed that only 444 cities and municipalities, or about 27 percent of the 1,634 total in the country have completed encoding their data on the VMS.
Failure to update VMS information could lead to low vaccination levels, inaccurate deployment of supply, or even irregularities such as the alleged vaccine slot-for-sale controversy. – Ralph Edwin Villanueva, Helen Flores, Romina Cabrera