2.2 million more doses of Pfizer vaccine arriving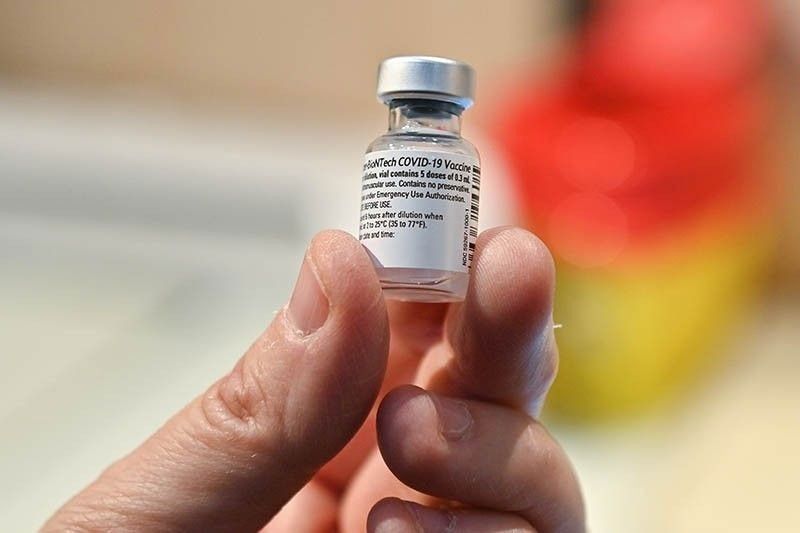 MANILA, Philippines — The Philippines is expecting an additional 2.2 million Pfizer vaccine doses from the COVAX Facility before the month ends, National Task Force (NTF) chief implementer and vaccine czar Carlito Galvez Jr. said yesterday.
"We have an arrangement with UNICEF wherein some of the supplies would go straight to Davao, Cebu (and) other areas where we will be dropping off the Pfizer vaccine so that no double handling would occur," Galvez said, adding that he was informed of the delivery on Wednesday.
He also assured the public that 1.5 million doses of the two million AstraZeneca jabs from COVAX that are set to expire on June 30 will have been injected by June 15.
The city governments of Makati and Taguig have rolled out Pfizer vaccines, with the ceremonial inoculation kicking off yesterday at Makati Medical Center (MMC) and at the Lakeshore Hall in Taguig City.
The Makati City government received 5,800 doses (195 vials) of the Pfizer vaccine, while the Taguig local government accepted 7,020 doses. Makati City Mayor Abby Binay and Taguig City Mayor Lino Cayetano both thanked the NTF and WHO for the donated Pfizer vaccines.
The local government of Muntinlupa received 7,020 Pfizer doses (1,170 vials) and is set to begin inoculation, starting today until May 18. It would be administered at the Ospital ng Muntinlupa, and the Asian Hospital and Medical Center.
In Manila, the local government received 7,020 Pfizer doses (1,170 vials) and proceeded to vaccinate 222 hospital workers at Sta. Ana Hospital, according Mayor Isko Moreno. For AstraZeneca, 12,001 residents received their first dose, while 1,042 received their second shot.
Meanwhile, 15,000 doses of Sputnik V vaccines arrived at the Ninoy Aquino International Airport (NAIA) Terminal 3 Wednesday night aboard Qatar Airways flight QR928 from Moscow via Doha, Qatar. Refrigerated trucks transported the vaccines, which require -18 degrees Celsius, to the PharmaServ Express cold storage facility in San Roque, Marikina City.
Vaccine Expert Panel (VEP) member Dr. Rontgene Solante encouraged the public to get vaccinated. "There is no disadvantage if you get vaccinated, you are at more risk without it," Solante said, stressing that people must get the first vaccine offered to them, regardless of brand or efficacy rate.
Sinopharm
Presidential spokesman Harry Roque Jr. yesterday said he does not know whether the government will pursue with the President's order to return 1,000 Sinopharm vaccines after the WHO gave the China-made vaccine emergency use authorization (EUA).
"I don't know that answer to that question. After President Duterte declared he wants to return the vaccines, there was a quick turn of events because (Sinopharm) got an EUL (Emergency Use Listing) and now the Department of Health (DOH) is applying for EUA," Roque said when asked if Duterte won't take back his order to return the vaccines.
"But I really do not know the answer to your question, I don't know what will be the decision," he said, adding that Sinopharm will be included in the country's vaccine portfolio alongside Sinovac, AztraZeneca, Pfizer and Moderna.
Glovax
Glovax and Eubiologics of Korea have signed a memorandum of agreement (MOA) with Board of Investments (BOI) head Undersecretary Ceferino Rodolfo and the National Development Corp., according to Glovax vice chairman Frank Evaristo.
Earlier, Trade and Industry Secretary Ramon Lopez showed President Duterte the proposed vaccine plant of Glovax in Clark, Pampanga. The Chief Executive gave Glovax, under its president Giovanni Alingog, the green light to proceed with the vaccine plant.
The Glovax plant will be able to supply Filipinos with locally made vaccines. PLDT Group chairman Manuel V. Pangilinan is among those who financially supported the establishment of the vaccine hub.
Vaccination sites
To save people from the virus and vaccines from spoilage, Sen. Joel Villanueva urged the national government to replicate the "drive-thru, home delivery, and village-run" vaccination modes done by several Metro Manila cities.
"We have to think outside the box and meet the vaccine recipients where it is convenient to them: in their homes, in their cars, in village halls and clubhouses, in churches and places of worship, or in the workplace," Villanueva said.
For Sen. Nancy Binay, the DOH must immediately release the stocks of COVID-19 vaccines currently stored in its facilities.
"With many emerging epicenters of COVID, the DOH have to release their stocks at facilities and distribute them to LGUs in need of vaccines. If necessary, they will open the A4 category to accommodate those who are willing to be vaccinated," Binay said. – Ghio Ong, Ralph Edwin Villanueva, Marc Jayson Cayabyab, Rudy Santos, Tina Mendez, Mayen Jaymalin, CecilleSuerte Felipe