Metro Manila council votes to ease GCQ status to MGCQ
February 18, 2021 | 12:41pm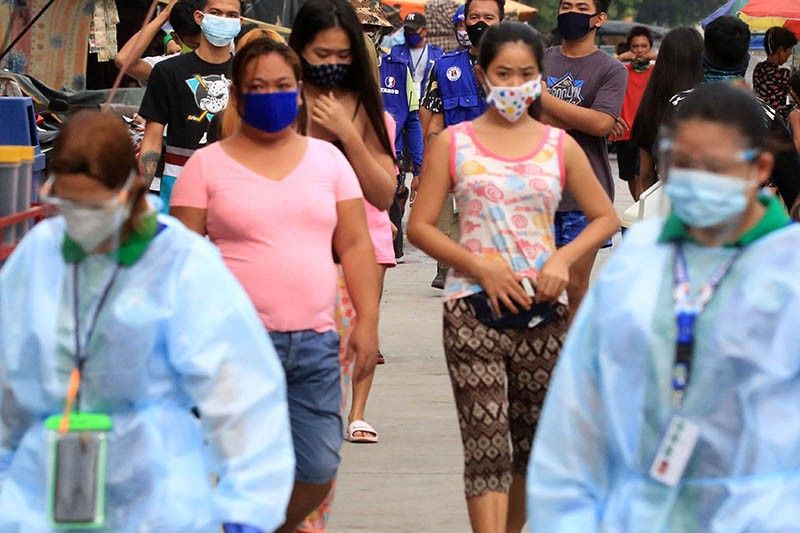 MANILA, Philippines — Though a close fight, the Metro Manila Council voted in favor of easing quarantine status anew to modified general community quarantine in March after months of GCQ, a Metro Manila mayor disclosed Thursday.
Speaking in an interview aired over DZBB Super Radyo, Navotas Mayor Toby Tiangco said that nine of the metro's mayors voted to ease quarantine status in the region to modified general community quarantine this March, while eight mayors wanted to retain GCQ status.
Although they are not binding in any way, the recommendations of the MMC have historically been mirrored by the coronavirus task force and later approved by President Rodrigo Duterte.
As it stands, much of the country is already under MGCQ, with only the National Capital Region, Batangas, Abra, Davao City, Davao del Norte, Lanao del Sur and Iligan still under the tighter GCQ.
READ: Metro Manila will be under 'constant' threat of surge if it shifts to MGCQ — OCTA
The Inter-Agency Task Force on Emerging Infectious Diseases has begun mulling easing restrictions once more to, they said, keep the economy afloat.
Over the past week, the IATF has looked at re-opening arcades and cinemas and lowering the age restrictions for individuals allowed to go outdoors.
Just the day before, the OCTA Research Group warned that a shift to MGCQ — the IATF's loosest quarantine designation — would trigger yet another surge in coronavirus cases.
The research group made the same warning in May, saying that a premature return to GCQ could add some 24,000 cases and 1,700 deaths by June — a prediction that, for the most part, was not incorrect months later, after the IATF went ahead with its GCQ classification anyway.
Earlier Tuesday, the National Economic and Development Authority also pushed for a shift to MGCQ, saying such a move would help mitigate hunger and unemployment in the country.
RELATED: Palace on quality of life survey: All of us are having a hard time
As of the health department's latest case tally Wednesday afternoon, exactly 553,424 coronavirus cases have been recorded in the Philippines since the pathogen first emerged in December 2019.
It has been 338 days since the initial enhanced community quarantine was hoisted over some parts of Luzon.
The Philippines is still under the world's longest quarantine, despite government claims of a "successful" coronavirus response.
— Franco Luna with reports from Christian Deiparine and Gaea Katreena Cabico
As It Happens
LATEST UPDATE: November 29, 2021 - 11:00am
Follow this thread for updates on COVID-19 risk levels, safety measures, and data from Metro Manila's local government units.
Photo: The STAR/Michael Varcas
November 29, 2021 - 11:00am
Metro Manila mayors have agreed to reimpose the number coding scheme in the capital region, MMDA chair Benhur Abalos says.
According to a report from state-run PTV, the number coding scheme will be implemented in Metro Manila from Monday to Friday, 5 p.m. to 8 p.m.
However, public transportation and motorcycles will not be covered by the scheme.
November 21, 2021 - 1:38pm
People in Barangay Central in Quezon City can exchange their used face shields on Monday for face masks, alcohol and vitamins, Akbayan party-list says in an advisory.
The party-list, which is joining the 2022 elections, said it will put up a "palit face shield" booth at Kalayaan Plaza Market in Kalayaan Avenue in Barangay Central.
Kalayaan Ave., Brgy. Central, Quezon City
Dr. RJ Naguit, the party-list's second nominee, said the group wants to help the public properly dispose of the face shields, which he said "have no real significant protective benefits."
The wearing of face shields, mandatory in public in the Philippines since December 2020, are no longer mandatory. Government officials said, though, that private establishments can still require them.
November 17, 2021 - 3:50pm
RiteMed Philippines Inc. announces that the first batch of anti-Covid oral drug Molnupiravir, under the brand name MOLNARZ, has arrived in the Philippines.
This will allow the company to start its distribution initially to hospitals that have secured compassionate special permits from the Food and Drug Administration.
November 8, 2021 - 10:13am
The City of Manila issues an executive order declaring the use of face shields as non-mandatory except in medical facilities.
The order cites the de-escalation of the alert level status of the Manila and the rest of the National Capital Region last November 4.
OFFICIAL MPIO NEWS RELEASE: Isko lifts use of face shields as requirement except in medical facilities. pic.twitter.com/8bPdLhEp5T

— Manila Public Information Office (@ManilaPIO) November 8, 2021
November 8, 2021 - 9:04am
Metro Manila mayors have agreed to remove the mandatory wearing of face shields, MMDA chair Benhur Abalos says.
Face shields would only be worn in critical areas, such as hospitals.
The mayors have yet to recommend this to the government's pandemic task force.