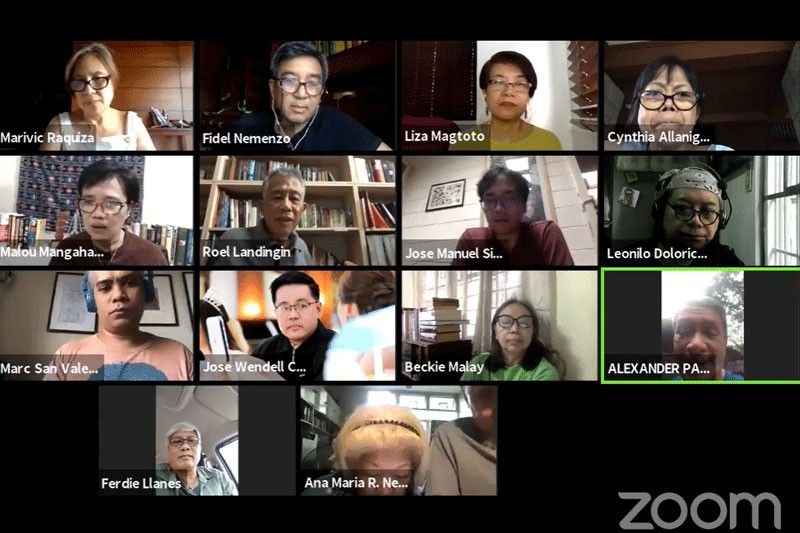 This screengrab from a January 23, 2021 press conference held by the Right to Know Right Now Coalition featuring UP alumni supposedly captured or killed as communist rebels.
Right to Know Right Now Coalition Facebook page
AFP apologizes for red-tagging UP alumni
MANILA, Philippines — The Armed Forces of the Philippines (AFP) apologized yesterday for posting an erroneous list naming University of the Philippines students and alumni as New People's Army (NPA) rebels.
"We sincerely apologize for those who were inadvertently affected by inconsistencies regarding the list of students who joined the NPA (died or captured) that was posted in the AFP Information Exchange Facebook account," read an apology from the AFP's Civil Military Operations Office (CMOO).
The military also said that a probe is now underway to determine who should be held liable for the error.
"The Office of the J7, AFP is already conducting an internal investigation as to how the list got published. Personnel who are responsible will be held to account. We want to assure the public that we are now reviewing our processes and procedures to ensure that similar incident will not happen again in the future," the apology added.
Even Defense Secretary Delfin Lorenzana considered the incident as an "unpardonable gaffe," noting that the military should indeed apologize to those who should not have been in the list.
Among those who were erroneously included in the list were lawyer Rafael Aquino and former Department of Health (DOH) undersecretary Alexander Padilla.
Malacañang yesterday advised the military to be "more prudent" in the face of mounting criticisms over the erroneous list.
"I can only suggest that they be more prudent so our Secretary of National Defense does not have to apologize," presidential spokesman Harry Roque said at a press briefing.
"I only have authority to speak for the President. Secretary Lorenzana has apologized for mistakes; let's leave it at that. But there is no overall communication plan on red-tagging. We leave that to the defense establishment," the Palace spokesman said.
For his part, Integrated Bar of the Philippines (IBP) president Domingo Cayosa said it was ridiculous for the AFP to say that three lawyers were NPA members. He also appealed to the government to set lawful polices against red tagging.
"Red-tagging is unfair, illegal and disregards due process and the rule of law. We urge government authorities to right the wrong and set firm policies against red-tagging," said Cayosa, in defense of lawyers and UP alumni Roan Libarios, Padilla and Aquino who were included in the military's flawed list of captured or killed NPA rebels.
"The named lawyers are not members of the NPA. They were never captured. They are very much alive, not dead. They are responsible and respected Filipino lawyers who serve well our country in various capacities and meaningfully contribute to nation-building," Cayosa added.
On the other hand, a recent survey from WR Numero Research said that three in 10 online Filipinos support the termination of the 1989 UP-DND accord, which prohibits state forces from entering any UP campus without prior consultation.
The study analyzed 909,967 engagements from 137 Facebook posts of local mainstream news outlets between Jan. 19 and 20. The survey also said that almost 30 percent agrees with Lorenzana's statement about UP becoming a "breeding ground" of communist rebels.
Sanctions
Senators demanded that the Philippine military sanction those involved in the "blunder."
"It takes a lot of humility for Secretary Lorenzana to publicly apologize for the AFP's blunder. That said, the AFP leadership must see to it that the ones directly responsible for such an error are censured accordingly, not only for putting the defense establishment in an awkward and embarrassing position but more so, the possible dire consequences that could occur because of such irresponsible and imprudent act," Sen. Panfilo Lacson said.
"This is unprofessional behavior and politicized men in uniform should never be tolerated. Apology is one thing, but taking action is another. Someone should be held accountable for negligence like this. Bad eggs should never be left unpunished," said Sen. Francis Pangilinan. – Alexis Romero, Evelyn Macairan, Cecille Suerte Felipe, Artemio Dumlao, Helen Flores