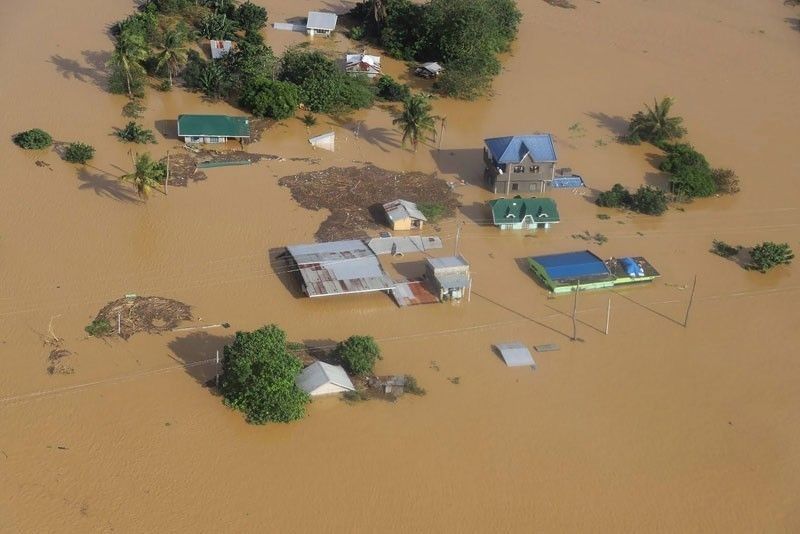 P540 billion damage to crops by 'Ulysses'? NDRRMC says figures mistakenly reported
MANILA, Philippines — The NDRRMC on Thursday admitted to erroneously reporting that damage to crops by Typhoon Ulysses (international name Vamco) had reached P540 billion as showed in its November 26 report that had since been taken down.
Usec. Ricardo Jalad, the agency's executive director, joined the regular Laging Handa briefing earlier today where upon reporting the said figure, he too had hoped that he read it wrong.
"Dito naman sa Ulysses, mas malaki ang damage reflected dito. I hope nagkamali kami rito, but nakalagay dito ay P540 billion," he said, as showed in an official transcript by the Presidential Communications Operations Office.
True enough, the 8 a.m. report on NDRRMC's website reflected the cost, including a breakdown per region.
It has since been taken down and replaced with figures showing that the aftermath of Ulysses had instead left P4.7 billion in damage to agriculture.
Sought for comment, NDRRMC spokesperson Mark Timbal told Philstar.com that the said numbers were a result of a clerical error committed by the agency's operations team.
"The figures reported to the OpCen today were erroneously identified in the billions count when they were actually still in the millions," he said in an exchange. "We apologize for this inadvertent mix-up."
The report in question, for example, showed Cagayan Region sustaining over P248 billion in damage, Bicol with more than P158 billion and MIMAROPA with some P56.4 billion.
This would have meant that the extent of damage to the sector surpassed that of Super Typhoon "Yolanda" (Haiyan) in 2013 at P35 billion, the worst to hit the Philippines particularly Eastern Visayas.
Timbal admitted that while the numbers were detailed and not only estimates, such were misread that eventually led to "faulty computations."
The updated version now showed the top three regions with the highest cost of damage to crops: Central Luzon with P1.3 billion, Cagayan with P1.2 billion and CAR with P468 million.
Info gathering, other costs
In the same exchange, the NDRRMC spokesperson explained the agency's process on coming up with its reports.
Timbal said the figures are a result of details gathered from its regional disaster response offices, as well as government agencies involved in the efforts.
"These reports, sent on a daily basis, are reviewed in the operations center, consolidated and published via the situation reports," he said.
In total, Ulysses had so far caused P15.5 billion in damage, both to agriculture (P4.7 billion) and infrastructure (P10.7 billion).
Cagayan stood as the region worst-hit by the typhoon, sustaining P6.1 billion, followed by CALABARZON with P3.04 billion and Central Luzon with P2.3 billion.
Fatalities have remained at 73, as well as missing persons at 19, but the number of injured have climbed to 83.
Ulysses affected over 4.2 million individuals across eight regions, of which, 104,691 are still in evacuation centers.
Its onslaught, together with Super Typhoon "Rolly" and Typhoon "Quinta," had led President Rodrigo Duterte to place the entire Luzon under a state of calamity.
The agriculture department in a press briefing today also reported that per its November 18 assessment, the three strong typhoons had caused a combined P12.47 billion in damage.
As It Happens
LATEST UPDATE: November 30, 2020 - 11:00am
Follow this page for updates on typhoon relief and recovery efforts in the Philippines. Image by AFP/Charism Sayat.
November 30, 2020 - 11:00am
COVID-19 facilities damaged by recent typhoons should be repaired as soon as possible, Sen. Risa Hontiveros says Monday as she called for additional funding for this in the 2021 budget of the Department of Health.
Hontiveros says an increase in the DOH budget would go to rebuilding typhoon-hit facilities in Camarines Norte and Camarines Sur, and Albay that have been rendered "completely non-functional".
She adds: "Testing and isolation are two of the most important steps in our fight against COVID-19. Any delay in the restoration of these facilities could be a major setback in our progress. The additional budget means there should be no excuses for inaction."
November 24, 2020 - 2:39pm
Akbayan visit barangays Nangka and Tumana in Marikina on Tuesday to distribute food packs to families affected by Typhoon Ulysses earlier this month.
At the food distribution were Akbayan Youth Chair RJ Naguit as well as Miss Philippines-Earth 2020 title holders Gianna Llanes, Quintana Tormes and candidate Iris Marie Mabanta.
November 23, 2020 - 7:20pm
Chinese social media giant TikTok pledges to donate approximately P15 million ($300,000) to relief efforts following typhoons that struck the Philippines.
Half of the donation will be allocated to the Philippine Red Cross for their efforts of providing hot meals and other urgent necessities in typhoon-hit areas.
"TikTok's donation will surely go a long way in further strengthening PRC's humanitarian efforts to alleviate the suffering of those who were impacted by the recent calamities. You can be sure the Red Cross will continue to be there for the people affected," Sen. Richard Gordon, chairman of the PRC, says.
November 23, 2020 - 8:24am
President Duterte's chief legal counsel has advised Vice President Leni Robredo not to publicize her aid distribution and to just let people she helped to spread the word about her activities.

Chief Presidential Legal Counsel Salvador Panelo, who recently apologized to Robredo for reacting to false information about her relief efforts, said the vice president need not inform the media about her aid distribution because local residents would talk about it.
RELATED: Panelo told to 'get facts straight' over claim Robredo rode government plane to Bicol
"If you are there, people (would) talk about it and word will spread that you have been there. It will reach the ears of those who are appreciative of what you are doing," Panelo said during his television program on state media last Friday.
Robredo has said that her team posts updates on relief operations so donors and partners will know that their help is reaching those who need it. She also said that the updates are to reassure people that they have been heard.
Whenever we get updates from the ground, we share them with the public. It is important to assure those who are distressed that (1) we heard you; (2) help is coming; (3) we are doing all we can to save you.

— Leni Robredo (@lenirobredo) November 17, 2020
"You do not have to broadcast every move, every help you want to give to the people. Mas maganda yung tahimik lang (It would be better if you do it quietly)," Panelo said. — The STAR/Alexis Romero
November 22, 2020 - 12:54pm
The House of Representatives proposes an increase of at least P5 billion worth of calamity fund in the 2021 national budget for the rehabilitation of areas affected by recent strong typhoon.
Speaker Lord Allan Velasco says the two chambers of Congress will convene the bicameral conference after the Senate approves its own version of the proposed P4.506-trillion budget for next year.
"Given the tremendous damage caused by these successive strong typhoons, it is imperative that we augment the calamity fund in next year's spending plan. We have to help our people rebuild their lives and their communities," Velasco says.