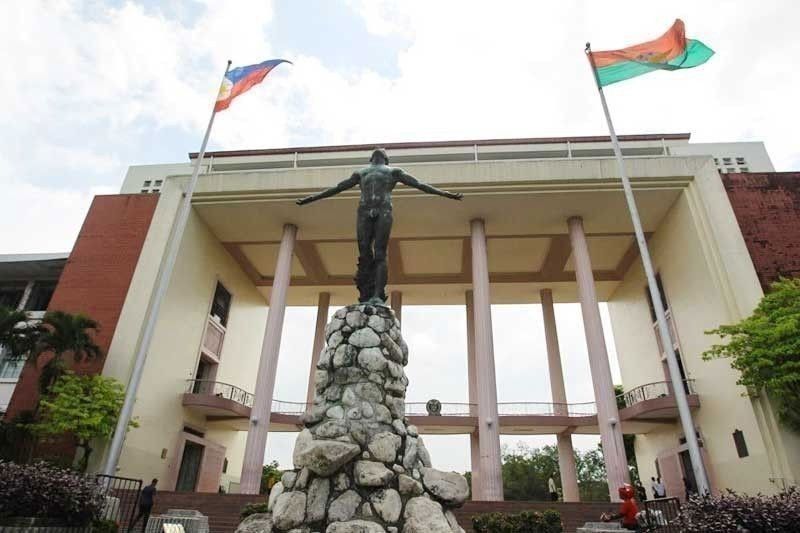 The UP Diliman campus is seen in this undated file photo
File
UP climbs to 69th in Asia on QS University Rankings
MANILA, Philippines — The University of the Philippines has climbed higher in the list of top Asian universities according to the 2021 QS Asian university rankings.
Results of the Quacquarelli Symonds' ranking for the region released Wednesday night showed the state-run institution up by three notches to 69th out of 634 universities in Asia from the 72nd spot last year.
This places UP at 396th in the world university rankings, still by the QS, compared to its 356th spot last year.
Overall, it is the only Philippine university to increase in its standings. Ateneo de Manila stood at the 135th place from 2020's 124th spot, De La Salle at 166th from 156th, and University of Santo Tomas at 186th from 179th last year.
How are universities ranked?
The QS bases its ranking on key indicators such as a university's academic reputation (30%), employer reputation (20%), faculty to student ratio (10%), international research network (10%), inbound (2.5%) and outbound (2.5%) exchange, international faculty (2.5%) and students (2.5%), as well as faculty members with doctorate degrees (5%), papers per faculty (5%) and citations per paper (10%).
A report on UP's website said it has published 4,885 papers from years 2014 to 2018, and its publications were cited 22,921 times from 2014 to 2019.
The academic reputation standing, in turn, had come from a global survey of academics which yielded 102,500 responses, the report continued. A similar survey was used for employers with 52,000 responses.
Other institutions that landed in the Asian ranking include the University of San Carlos in Cebu (451th - 500th), Ateneo de Davao, Mapua University and Siliman University in Dumaguete (501st - 550th) and Mindanao State University - Iligan Institute of Technology (551st - 600th).
Adamson University, Central Luzon State University, Central Mindanao University, Central Philippine University and Xavier University were also at 601st+ spot.
The Commission on Higher Education has welcomed the number of higher educational institutions in the country included in the ranking, now at an overall 14 which was up by half from the 2020 edition.
Singapore's premier university topped the Asian ranking, with majority of institutions in the Top 10 list coming from China.
National University of Singapore
Tsinghua University (China)
Nanyang Technological University (Singapore)
The University of Hong Kong
Zheijang University (China)
Fudan University (China)
Peking University (China)
The Hong Kong University of Science and Technology
Universiti Malaya (Malaysia)
Shanghai Jiao Tong University (China)
Threat of defunding
The development comes as UP faces the threat of having its funding cut over an academic strike over the government's response to the COVID-19 pandemic and to recent typhoons, and that did not originate from the state university.
Presidential spokesperson Harry Roque said he has explained to Duterte that the strike is an intiative of students of the Ateneo de Manila University.
RELATED: Government response to typhoons, pandemic leaves students up in protest
Lawmakers have since pushed back on the possibility of pulling out UP's funds, with Senate President Pro Tempore Ralph Recto remarking that state universities are "no-cut zones" and should instead receive more funding.
UP Diliman Chancellor Fidel Nemenzo also addressed Duterte's accusation that the university does nothing but "recruit communists", stressing that the institution is no place for "intolerance, bigotry and red-tagging."
"We will strongly defend the University's time-honored traditions of academic freedom and critical thinking. UP's proud history of service and activisim has shown that we can do both," he said in a November 20 statement.