'Rolly' leaves at least 16 dead, 114k families in evacuation centers
November 2, 2020 | 10:24am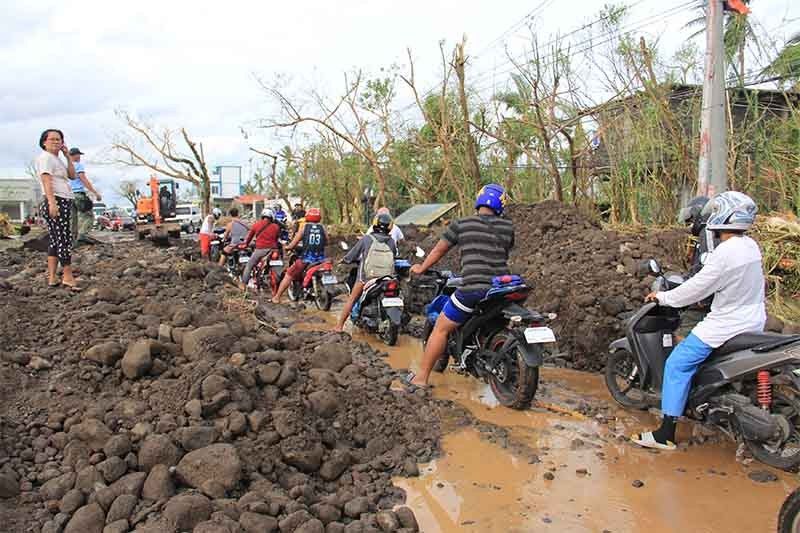 MANILA, Philippines (Updated 3:30 p.m.) — Typhoon Rolly that battered parts of Bicol and parts of Southern Luzon left at least 16 people dead and affected more than two million Filipinos.
A situation report from the Office of Civil Defense from the Bicol Region however showed 16 people died due to Rolly. Of these, 10 are from Albay, six are from Catanduanes.
OCD Region V also reported three missing persons, all from Guinobatan town.
The National Disaster Risk Reduction and Management Council deputy spokesperson Rachelle Miranda however said the stated numbers are still for verification.
In the latest NDRRMC situation report released Monday afternoon, it said that 11 people are dead while two are injured from the Calabarzon and Bicol regions.
NDRRMC official Ricardo Jalad also in a news briefing on Monday morning that Rolly affected 372,653 families or 2,068,085 individuals in 12 regions. The affected families are from the regions of Ilocos, Cagayan Valley, Central Luzon, Calabarzon, Mimaropa, Bicol, Western Visayas, Central Visayas, Eastern Visayas, Zamboanga Peninsula, Cordillera Administrative Region and the National Capital Region.
A situation report released on Monday morning however listed 372,716 families or 1,468,296 persons affected in four regions.
As of 11:00 a.m. on Monday, the NDRRMC said 114,382 families or 416,195 persons are served inside and outside evacuation centers.
Jalad said assessment on the cost of damages due to the typhoon is still ongoing.
Rolly also affected or damaged 19 road sections and four bridges in the regions of Cagayan Valley, Central Luzon, Bicol and CAR. Of these, 15 roads and 4 bridges are not passable, the NDRRMC report said.
The NDRRMC also reported interruption of water supply in Albay, Camarines Sur, Camarines Norte, Catanduanes, Masbate and Sorsogon in the Bicol Region.
The council also reported 147 cities or municipalities experiencing power outages in the Calabarzon, Mimaropa, Bicol and Eastern Visayas regions.
Teams deployed to Catanduanes
Jalad said the Office of the Civil Defense on Tuesday will send its Emergency Telecommunications Team to Catanduanes via the Philippine Coast Guard aircraft.
"They are already in the airport," he added. The team will be bringing equipment that will establish satellite voice and data communication in Catanduanes, the OCD official also said.
Rolly made its first landfall in Bato, Catanduanes at 4:50 a.m. of Sunday, November 1.
Jalad added that the OCD in Bicol region and the military's 9th infantry division deployed a team via Philippine Air Force helicopter to Catanduanes to help establish communication in the area through satellite phones.
State weather bureau PAGASA, in its forecast early Monday morning, located Rolly at 100 kilometers west southwest of Subic Bay, packing sustained winds of 65 kph and gusts of up to 80 kph.
Rolly, which will likely weaken into tropical depression due to "increasingly unfavorable conditions," is expected to leave the Philippine Area of Responsibility Tuesday morning. — Kristine Joy Patag
As It Happens
LATEST UPDATE: November 18, 2020 - 4:45pm
Follow this thread for updates on tropical cyclone Rolly (international name: Goni).
November 18, 2020 - 4:45pm
Australia provides an additional P28.52 million to support Filipino communities affected by tropical cyclone Rolly in the Bicol Region.
This will help the government provide food, repair damaged homes and support emergency medical teams in the region. Australia's latest commitment will directly assist 23,345 people, including 2,990 women and girls.
"This support is even more critical following Typhoon Ulysses that caused further hardship for the people in the Bicol Region. Australia stands with the Philippines in this time of need," Australian Ambassador Steven Robinson says.
November 9, 2020 - 5:49pm
President Rodrigo Duterte may place the regions of CALABARZON, MIMAROPA, and Bicol under state of calamity because of the impact of typhoon "Rolly," Malacañang says.

The National Disaster Risk Reduction and Management Council has approved a recommendation to place the three Luzon regions under state of calamity to fast-track the recovery of the typhoon-ravaged areas.
"Most likely, but let us wait for the document that will come from the Office of the President," presidential spokesman Harry Roque said at a press briefing when asked if Duterte would adopt the recommendation of the council. — Alexis Romero
November 2, 2020 - 7:26pm
The provincial board has placed Camarines Sur under state of calamity following the onslaught of Typhoon Rolly.
In a resolution released Monday, the local government cited strong winds and torrential rains, as well as the extensive flooding and other damages brought about by the typhoon.

November 2, 2020 - 5:25pm
At 3 p.m., Tropical Storm Rolly was located 225 kilometers west of Iba, Zambales.
The cyclone bears maximum sustained winds of 65 kph and gusts of up to 80 kph. It is moving north northwestward at 15 kph.
November 2, 2020 - 3:00pm
Vice President Leni Robredo posts photos of the first signs of devastation brought about by Typhoon Rolly in Camarines Sur.
Robredo says she left Manila before dawn on Monday to visit the typhoon-hit province.
The vice president will also be visiting Albay and Catanduanes.
Left Manila before dawn today. Just arrived CamSur and these were the first signs of devastation we saw. Will be going around Albay and Catanduanes, as well.

Posted by Leni Gerona Robredo on Sunday, 1 November 2020