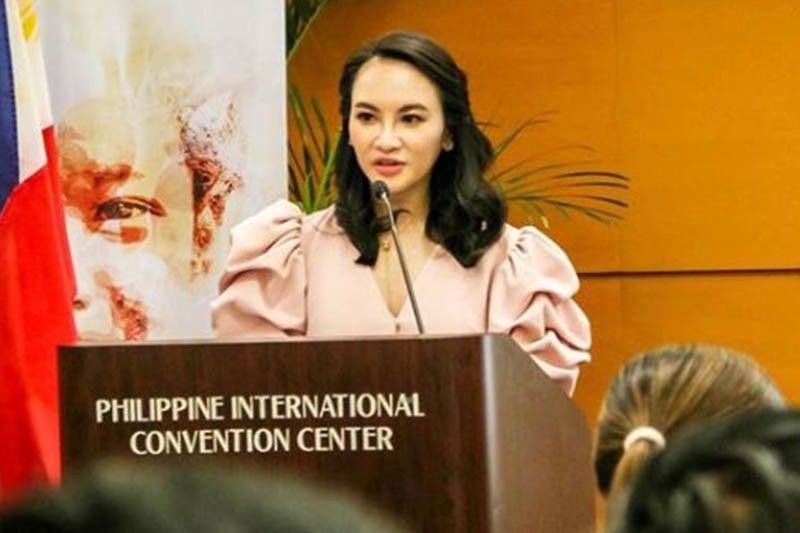 Villar's wife, Department of Justice (DOJ) spokesperson Emmeline Aglipay, said in a television interview that her husband would be among the government officials to be investigated for alleged corrupt practices in the DPWH "if evidence warrants."
Emmeline Aglipay-Villar, Instagram
Wife says DPWH chief not yet off the hook
MANILA, Philippines — Public Works and Highways Secretary Mark Villar is not yet off the hook in the investigation on the alleged corrupt practices in his department even if he was repeatedly defended by President Duterte.
Villar's wife, Department of Justice (DOJ) spokesperson Emmeline Aglipay, said in a television interview that her husband would be among the government officials to be investigated for alleged corrupt practices in the DPWH "if evidence warrants."
Aglipay stressed that "no one is exempt" in the investigation.
"He (Duterte) said in his memorandum that all government officials and employees are included in the investigation," Villar said when asked on the credibility of a "mega task force" created to probe corruption in the government.
She stressed that she would not join the task force "given that there is a conflict of interests," but said that she would only act as a spokesperson for the DOJ until the task force designates its own spokesperson.
"But as to the investigation to be conducted on the DPWH, I will not take part," she said.
Villar's statement came after she was asked if her husband would still be included in the investigation after the DPWH secretary, along with Health Secretary Francisco Duque III, seemed to have been cleared by the President from anomalies.
She said Duterte "was just expressing his trust and confidence" in her husband and Duque.
Duterte had ordered the DOJ to create a mega task force to look into the alleged corrupt practices and irregularities in the government in his bid to have a clean government before his term ends in June 2022.
Villar said the remaining one and a half years of the Duterte administration is substantial to complete several investigations, file complaints and get criminal charges started to be tried in the Sandiganbayan.
She, however, lamented that the conviction of erring government officials would take about more than two years.
DPWH official sued
Meanwhile, a DPWH regional director is facing criminal and administrative charges before the Office of the Ombudsman for allegedly meddling in the political affairs of his congresswoman wife in Quezon province.
In his complaint filed yesterday, Arkie Manuel Yulde, a councilor of Lopez, Quezon, urged the ombudsman to investigate DPWH Region 1 (Ilocos) director Ronnel Tan for supposed violations of Republic Act 3019 or the Anti-Graft and Corrupt Practices Act, RA 7160 or the Local Government Code of the Philippines, and RA 6713 or the Code of Conduct and Ethical Standards for Public Officials and Employees.
Yulde said Tan, between April and September this year, directed several barangay captains not to attend any meeting or conference with Quezon Gov. Danilo Suarez, a political rival of his wife, Quezon 4th District Rep. Helen Tan.
Yulde said Tan warned barangay captains that should they defy his order, they would no longer receive project fundings from his wife.
"The respondent being a high and influential official of the government could very well make good his/their warning, the fact that he is a regional director of the DPWH, the latter being the agency implementing the infrastructure projects of lawmakers," Yulde stated in his complaint.
In a phone interview with reporters, Tan denied prohibiting the barangay captains from meeting with Suarez. – Elizabeth Marcelo