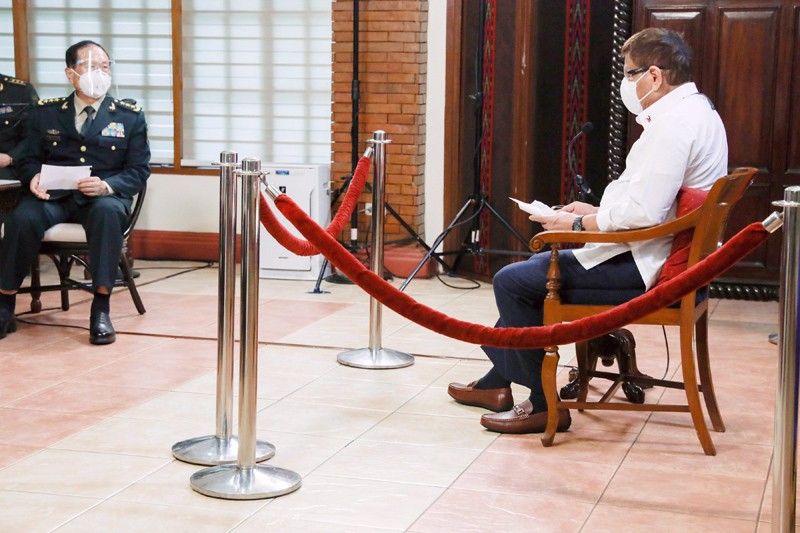 President Duterte meets with Chinese defense chief Wei Fenghe in a physically distanced setting at Malacañang the other day.
STAR/File
Philippines, China: Code of Conduct key to peace, stability at sea
MANILA, Philippines — President Duterte and visiting Chinese defense chief Wei Fenghe have agreed on the importance of a code of conduct in the South China Sea in securing and maintaining peace and stability in the region.
Wei, who arrived in Manila last week as part of his Southeast Asian tour, paid a courtesy call on Duterte at Malacañang Friday afternoon.
The Philippines is embroiled in a dispute with China over the latter's seizure of land features in Philippine waters as well as its sailing and flying restrictions on local patrols and fishing vessels.
Other countries with overlapping claims in the South China Sea are Brunei, Taiwan, Indonesia, and Vietnam. Vietnam was not part of Wei's itinerary.
In his meeting with Wei, Duterte urged a peaceful way out of conflicts and said international law must be followed, amid increased regional friction over military activities by Beijing and Washington.
Wei's tour of four Southeast Asian countries coincides with some rhetorical sparring between the US and China over the disputed waterway.
"We must always be guided by our commitments in international law. Any and all disputes must be resolved peacefully," Duterte said in a statement.
The President acknowledged China's continuing support for the Philippines' defense modernization since 2017.
Duterte also cited the recent signing of the "Protocol between the Department of National Defense of the Republic of the Philippines and the Ministry of National Defense of the People's Republic of China on China's Provision of Military Assistance Gratis to the Philippines."
The President likewise noted the strategic importance of the South China Sea as a vital sea lane where navigational and other freedoms under international law are guaranteed.
"All relevant players with a stake there must see themselves as playing an important stabilizing role," Duterte said.
Wei, meanwhile, conveyed to Duterte the importance to China – particularly to President Xi Jinping – of its warm relations with the Philippines.
The Philippines, particularly its military, has a deep mistrust of China over what it sees as intrusions into its territory, bullying of its fishermen and denial of access to its energy resources. Vietnam and Malaysia have made similar complaints this year.
China maintains its activities are lawful, because they are in its waters.
Ties have improved somewhat due to Duterte's courting of and praise for the Chinese leadership.
Wei had earlier met with Defense Secretary Delfin Lorenzana, an outspoken critic of China's maritime conduct.
A statement from the Department of National Defense summarizing the meeting said Lorenzana and Wei committed to resolve disputes amicably and advance mutual trust and interests.
However, that statement contrasted sharply from one issued earlier but later retracted, which said Lorenzana had told Wei that any activities infringing on Philippine maritime territory would be challenged by its navy.
Lorenzana said the Philippines would patrol its waters, according to the retracted statement, which referred to the 2016 ruling of the Permanent Court of Arbitration based in The Hague on the South China Sea that Lorenzana had told Wei would be adhered to "without any possibility of compromise or change."
The arbitration case is highly sensitive to China because the tribunal invalidated its claim of "historic" jurisdiction over nearly the entire South China Sea.
The defense department gave no reason for revising the statement and did not respond to questions from the media. China's foreign ministry did not immediately respond to a request for comment.